On the afternoon of March 23, 2017, a lecture held by the Faculty of Law of M. U. S. T. and sponsored by the Macau Foundation. The speaker, Prof. André Janssen, is Associate professor of the School of Law of City University of Hongkong. The main research areas of Professor Janssen are Contract Law, Tort Law, Commercial Law, Law & Economics and Comparative Law. The lecture was presided over by an Assistant professor BI Jingwei.
At four o'clock in the afternoon, the lecture began, and under the title «The European Influences on the German Contract law: Past, Present and Future», Professor Janssen brought a vivid and wonderful lecture to the faculty staffs and students of M. U. S. T.. The lecture is divided into three parts. Professor Janssen first started from the geographical location of Germany in Europe, starting with the ancient Rome, highlighting the influence of the Roman law on the development of German law. Then, Professor Janssen told the story of the reunification of the German Empire in 1871, and the need to develop a civil code that embodies the unity of Germany. The German Civil Code, which was eventually enacted in 1900, incorporates the traditions of Roman law and German law itself. Finally, Professor Janssen also expressed his views and opinions on the impact of the current EU on the laws of the Member States, including Germany.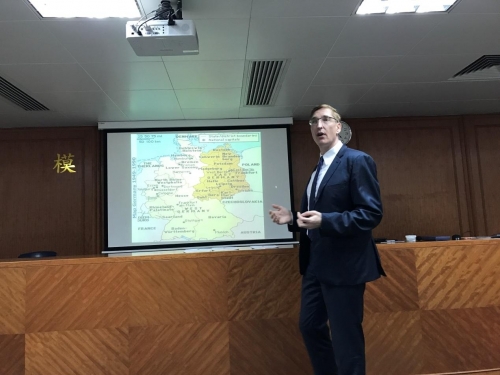 After student's enthusiastic questions and the warm response of the professor, this lecture has made a successful conclusion.
After the lecture, Professor Janssen also communicated with some of our faculty staffs on the recent developments in German civil law, the possibility of Brexit's influence on Europe and its member states.