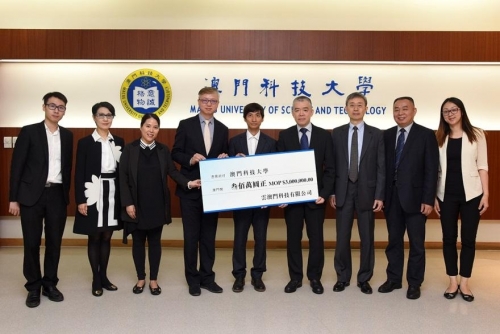 Mr. Azure Lao (middle) hands the $3M check to Vice President Tong Ka Lok (4th right) and Vice President Pang Chuan (4th left)
Mr. Azure Lao, alumnus of Macau University of Science and Technology, made a donation of MOP$3 million to his alma mater to help promote joint development of the industry, education, and research, a warm ceremony for was held at M.U.S.T. in the morning of May 2, 2017. This is the first time that M.U.S.T. receives a large-sum donation from an alumnus. Vice President Tong Ka Lok, Vice President Pang Chuan, Dean Zhang Du of Faculty of Information Technology, Director Lin Guang Zhi of the Institute for Social and Cultural Research, and Chief Director Samantha Chiang Siu Ling of the MUST Alumni Federation.
Mr. Azure Lao graduated from the Faculty of Information Technology at M.U.S.T. in 2005, major in Computer Technology and Application. He became an entrepreneur in 2005, and has been working in the software development industry of Macau for over a decade; he is now Executive Director of M-Cloud Platform Development Limited, President of Macau Software Industry Association, and Chairman of Board of AI Galaxy Technology Group, Macau IT System Company and Macau Kam Ian Advertisement Design Limited. Mr. Azure Lao speaks highly of and shares recognitions of the developmental philosophy of his alma mater; by way of the donation, he wishes to collaborate with his alma mater in promotion of joint development of industry, education, and research. He hopes that he can joint with the University in moving forward research, contributing to Macau's science and technology development, and constructing smart city in Macau.
Vice President Tong Ka Lok extended thanks to Mr. Azure Lao for his generous support for the alma mater, noting that the donation has special significance for the University. He pointed out that the University and the alumni are one family, that the two parties can enhance exchanges and interactions. M.U.S.T. has been committed to promote industrialization of research outcomes; the donation helps bring together partnership of the University and corporations, providing teachers and students with more opportunities to get in touch with the industry and learn the latest market development, and enabling the application of the University's research outcomes in the society.