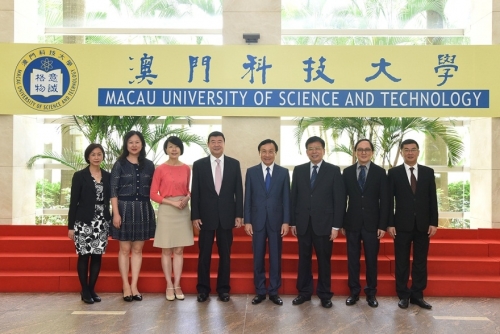 Photo of Chancellor Liu Chak Wan (4th left), Secretary Alexis Tam (4th right), and other delegates
Dr. Alexis Tam Chon Weng, Secretary for Social Affairs and Culture of Macao S.A.R., visited Macau University of Science and Technology on July 24, 2017. The delegation was warmly received by Dr. Liu Chak Wan Chancellor of M.U.S.T., President Liu Liang, and Administrative Committee Member Ms. Chen Ji Min of the M.U.S.T. Foundation; joining the Secretary on the visit were Ms. Heidi Ho Lai Chun and Mr. Charles Lam, Advisers of the Office of Secretary for Social Affairs and Culture.
Escorted by Dr. Manson Fok, Dean of the Faculty of Health Sciences, Secretary Tam visited the Center for Continuing Medical and Health Education and the Center of Excellence for Professional Medical Development of the Faculty, and was given an introduction to the training and advance teaching facilities provided by the Faculty for professional medical staff. Afterwards, Dr. Valencia Chang Chi Wai, Administrative Officer of University Hospital and medical staff gave the delegation a tour of the Hemodialysis Center at the Hospital; Secretary Tam talked with the patients sincerely and expressed his concerns for their needs.
The delegation also visited the Lunar and Planetary Science Laboratory, M.U.S.T. - Partner Laboratory of Key Laboratory of Lunar and Deep Space Exploration, Chinese Academy of Sciences of M.U.S.T., where Director Chan Kwing Lam and Assistant Director Mei Bao introduced the development and research outcomes of the Laboratory, and the "Love Science Golden Seed Scheme", which is especially designed for Macau's secondary students.
Secretary Tam gave praises to M.U.S.T., for nurturing a large number of excellent talents for society, and the educational standard of the University has kept growing; he further affirmed that he would continue to support the University's development in excellent quality education and extraordinary research, hoping that M.U.S.T. would make greater contributions to Macau's sustainable development in society and economy.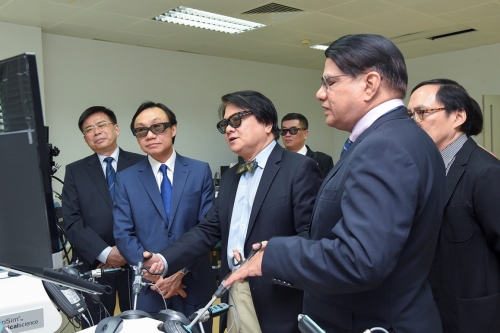 Dr. Billy Chan, Director of the Center of Excellence for Professional Medical Development presents the advance medical facilities to Secretary Tam.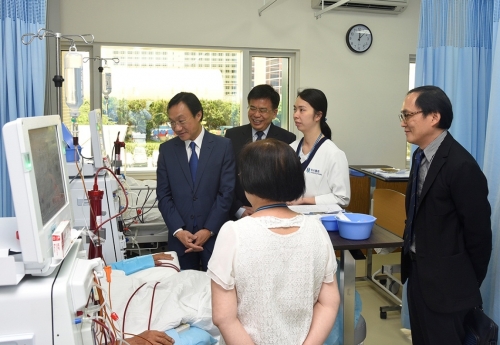 Secretary Tam visits the University Hospital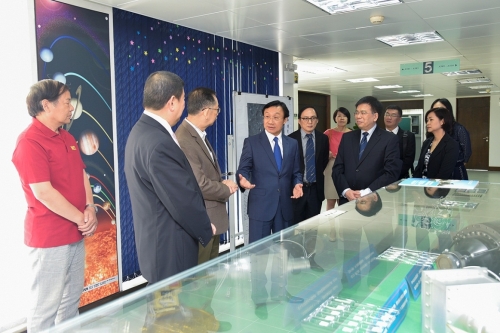 The delegation was given a tour at the Lunar and Planetary Science Laboratory