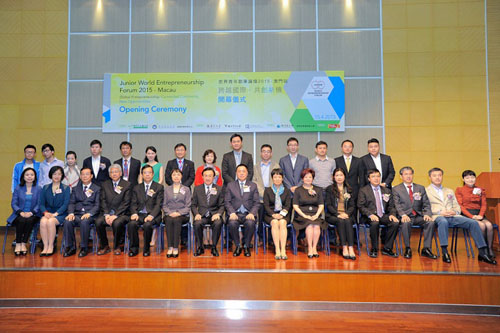 The opening ceremony of the Junior World Entrepreneurship Forum (JWEF) Macau 2015 was held at Macau University of Science and Technology (MUST) on the morning of April 15th. The JWEF Macau 2015 is jointly organized by Macau Youth Federation and Centre for Entrepreneurship and Career Planning of MUST, supported by Nanjing University of China, National Central University of Taiwan, and Hong Kong Baptist University and sponsored by Macau Foundation, Tertiary Education Services Office of Macau SAR, and Vitasoy International Holdings Ltd.. Over a hundred people attended the ceremony including local citizens and students from Nanjing University of China, National Central University of Taiwan, Hong Kong Baptist University, University of Macau, MUST, and so on.
The opening ceremony of JWEF Macau 2015 started at 10 am and officiating guests included Mr. Leong Vai Tak , Secretary for Economy and Finance, Macau SAR, Mr. Tam Chon Weng, Secretary for Social Affairs and Culture, Macau SAR, Ms. Xu Ting, head of Culture and Education Department of the Liaison Office of the Central People's Government in Macau SAR, Mr. Liu Yu, Director-general of Department of Public Diplomacy and Information, The Office of the Commissioner of the Ministry of Foreign Affairs of China in Macau SAR, Ms. Ho Kuai Leng, the Administrative Committee member of Macau Foundation, Mr. Sou Tim Peng, Director of Economic Services of Macau SAR, Ms. Io Iok Fong, Functional Head of Tertiary Education Services Office, Macau SAR, Professor Zhang Shuguang, Senior Vice President of MUST, Mr. Ma Chi Ngai, President of Macau Youth Federation and Professor Chen Xi, Vice President of MUST.
In his address, Mr. Ma Chi Ngai, President of Macau Youth Federation emphasized that leading young people towards creativity, innovation and entrepreneurship plays a crucial role in tackling national or regional challenges resulted from economic transformation. According to him, the local environment for entrepreneurship has been improved greatly in the recent years. There are lots of governmental and nongovernmental measures to encourage and assist youth entrepreneurship, including "Youth Entrepreneurship Action Plan", and relevant workshops and competitions in various forms. The national and international development trends have brought new opportunities for young entrepreneurs. The trends mainly include the positioning of Macau as a World Centre of Tourism and Leisure and a platform for economic cooperation between China and Portuguese speaking countries, the daily expanded and deepened cooperation between Guang Zhou, Hong Kong and Macau, strengthening links between Macau and Henqing in Zhuhai, Nansha in Guangzhou and Cuiheng in Zhongshan, the particularly encouraging "Hengqin Entrepreneurship Valley for Macao Youth" plan, and Macau's new round of development in line with the nation's "One Belt, One Road" strategic plan. Meanwhile he advised young people in Macau to be cautious in starting up businesses despite the more and more favorable business environment. Due to enormous risks, young people should prepare themselves well before taking real action. Some prerequisites should be satisfied first such as personal qualities like perseverance, decisiveness, courage, and ability to draw lessons from experience and also acquisition of managerial knowledge and skills, etc..
Senior Vice President of MUST Professor Zhang Shuguang mentioned in his speech that with the theme of "Connected Continents, New Opportunities", this forum provides young entrepreneurs in the four regions across the strait an internationalized and specialized platform to further and deepen their exchanges and cooperation, so that young people in these regions can gain more knowledge and opportunities and find it easier to realize their entrepreneurship dreams. The core values of MUST, according to Professor Zhang, are "multiculturalism and inclusiveness, international perspective and connections, social responsibility and contribution, and creativity and innovation" to which MUST is committed in carrying out its mission. This forum actually exemplifies the university mission in action and encourages young people to join hands with people from different regions and cultures to build up new businesses, and to better undertake their social responsibility in the future.
Chairwoman of the event organizing committee Ms. Chen Qiao delivered an appreciation speech on behalf of the organizers. She highly appreciated the twelve outstanding entrepreneurship tutors, experts, scholars and successful young entrepreneurs for their patient guidance and professional comments at this event. Thanks to all the efforts, this forum becomes a good platform for young people to gain insights from entrepreneurs and specialists as well as practice opportunities for themselves.
After the opening ceremony, Mr. Li Chunyu, President of Korean ALAKALA Cosmetics Co. Limited, Professor Tang Yen-po, President of Taipei College of Maritime Technology, and Professor Li Jiahua, head of KAB Entrepreneurship Education (China) Research Institute delivered speeches respectively on the topic of "Connected Continents, New Opportunities". There were sub-forums on that day on topics "Cultural & Creative Industries and Tourism Development", "Emergent Trends in E-commerce Entrepreneurship" and "The Development of and Future Trends in Macau's Entrepreneurship" respectively.