At 20 o'clock on April 24 (8 o'clock US Eastern Time), the Global Innovation and Entrepreneurship Exchange Project Competition (GE2) sponsored by the University of Massachusetts held an online awards ceremony. Student Silan HU, a freshman majoring in computer science from the School of Information Technology of our school, led team members (Kaijun Yuan and Yifan Ji from Nanjing University of Posts and Telecommunications, and Michael Zhou from the University of California, Santa Barbara) into the top four in the competition and won the third runner-up.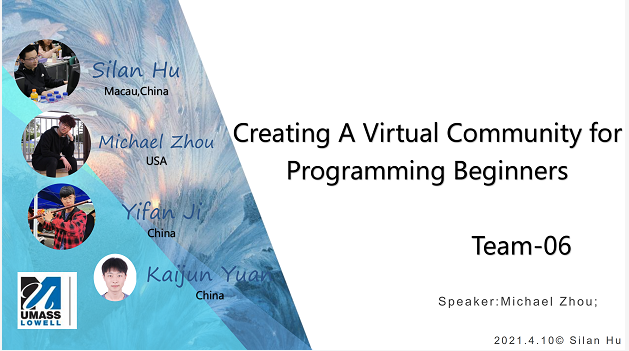 Third runner-up team member
| | |
| --- | --- |
| Participate in the online summary awards | Award certificate |
The theme of this competition is "Challenges and Opportunities in the Entrepreneurship of SMEs in the Post-epidemic Era." The global registration for the competition started in January. From March 20th to April 20th, experts in entrepreneurship and innovation from all over the world were invited to complete a lecture on related topics every weekend, including economic recovery, social media marketing, information technology, and the medical industry. And opportunities in the tourism industry, consumer lifestyles after the epidemic, and new opportunities in the online economy. Improve the students' comprehensive ability from various aspects such as market research, technological innovation, business analysis and related software use, and business plan writing. In the end, more than 300 college students from nearly 20 countries, including China, the United States, India, Japan, Kenya, France, Thailand, Guyana, Singapore, and other countries, successfully formed 81 participating teams and completed their business plans within one month. Recorded the project speech video, played it on the Manning School of Business website and Facebook, and other social media, and ranked it after voting by netizen s, and scored by students and experts. The team led by Silan Hu from our school won third place in the competition.