On November 24, 2022, the awards list for the "Huawei Cup" - the 19th China Post-Graduate Mathematical Contest in Modeling was announced. The team from the Faculty of Innovation Engineering (FIE) and Space Science Institute (SSI) of Macau University of Science and Technology, with the guidance of Assistant Prof. Ye Ben, won the First Prize. The master students Yang Qian, Zhao Jie, and Shi Xinjie are members of the team. The competition was held on October 6-10, 2022. In total, 17,970 teams from 437 postgraduate institutions participated in the competition.
The China Post-graduate MCM is one of the theme competitions of the "China Postgraduate Innovation & Practice Competitions" (CPIPC) jointly hosted by the China Academic Degrees and Graduate Education Development Center and the Children & Youth Science Center of the China Association for Science and Technology, undertaken by East China University of Science and Technology, and sponsored by Huawei Technologies Co., Ltd. It is the largest scale and the most influential national postgraduate discipline competition in China, which is accessible to all postgraduate students nationwide. The competition's purpose is to stimulate the innovative vitality and learning interest of graduate students; to improve the comprehensive ability of graduate students to establish mathematical models and use computers to solve practical problems; to broaden their knowledge; and to cultivate innovative spirit and the awareness of teamwork. Importantly, the competition aims to train and search for outstanding graduate students, and to strengthen exchanges and cooperation between universities and research institutes as well as enterprises.
The Macau University of Science and Technology commits to the principle of attaching equal importance to teaching and research, cultivates a campus spirit of "Harmonious Perfection and Continuous Innovation", makes active efforts in exploration of characteristic educational mode of graduate students, provides incentives and support for graduate students to take part in the CPIPC. This is the 12th time that the graduate students have participated in this competition. During the 12 years, the teachers of the mathematical modeling group have been actively organizing and guiding postgraduate students to participate in the China Post-Graduate Mathematical Contest in Modeling, and conducted pre-competition counseling work to improve the participation level of postgraduate students.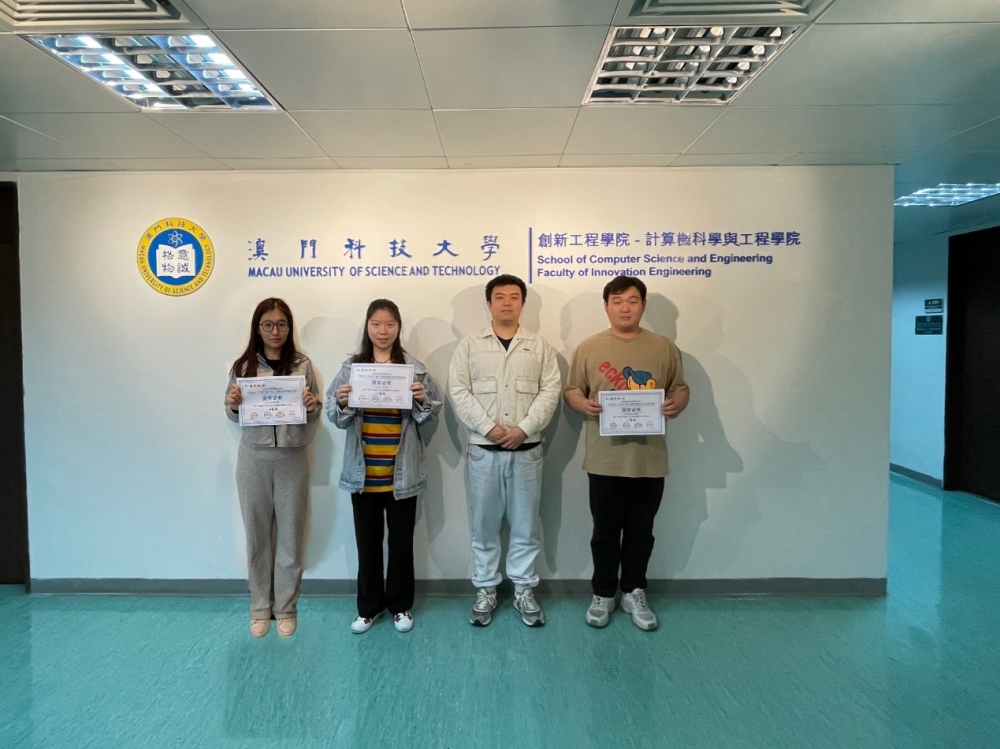 From left to right:Zhao Jie, Yang Qian, Asst. Prof. Ye Ben, and Shi Xinjie