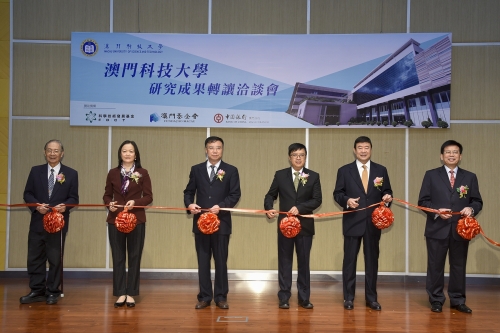 Group Photo of Officiating Guests (from left to right):
Zhou Li Gao, Zhong Yi, Xu Jun, Ma Chi Ngai, Liu Chak Wan and Liu Liang
Sponsored by the M.U.S.T. Foundation, Macao Foundation, and Bank of China (Macao branch), the 1st "M.U.S.T. Fair for Transfer of Research Outcomes" was held by Macau University of Science and Technology in auditorium 101 of Block N. on October 17 & 18, 2016. The Fair aims to showcase the innovative research technologies and achievements of M.U.S.T., make research achievements meet the demands of the industry, empower industrialization of research outcomes, facilitate optimization and upgrading of the products of the industry, and propel development of economy. Over a total of 80 firms from mainland China, Macau, and Hong Kong and a total of 150 people attended the Fair; 30 projects signed agreements at the site. Mr. Xu Jun, Assistant Deputy Director-General of the Economic Affairs Department, representative of Deputy Director-General Yao Jian of the Liaison Office of the Liaison Office of the Central People's Government in the Macau S.A.R. , Chairman Ma Chi Ngai of the Macao Science and Technology Development Fund, Vice Chairman Zhong Yi of the Administrative Committee of the Macao Foundation, Chancellor Liu Chak Wan of M.U.S.T., Chairman Zhou Li Gao of the University Council of M.U.S.T., and President of M.U.S.T., Chair Prof. Liu Liang served as officiating guests for the Opening Ceremony of the Fair.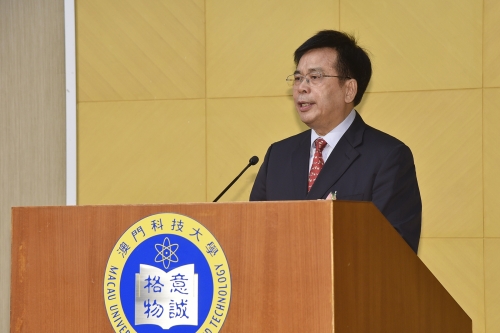 Chair Professor President Liu Liang addressed the Fair; he noted that since entering the 21st century, development of science and technology and the industry has projected new trends and characteristics, the world's major economy entities are all picking up paces in planning and assigning new development of science and technology, some developing countries are also increasing input into science and technology, and to drive development through innovation has become a major trend all over the world. Over the past years, Macau's economy has been going in the direction of adequately diversified development, which historically coincides with the new trends of science and technology development and the layout of the national development strategies, and also makes available historical opportunities for Macau. Macau has extraordinary advantages in its geo-location, unique strengths in its culture, well-equipped infrastructures, and desirable environment for conducting businesses; such are important foundations for innovation of science and technology and development of the cultural creative industry. In April this year, the Macao S.A.R. government launched its first "Five-Year Development Plan", making known the development notion of "enhancing innovative development and formulating a network for collaborative innovation", which has injected Macau's economy with new vigor for its diversified development and made clear new directions for innovation of science and technology. Several days ago, Premier Li Ke Qiang visited Macau and attended the "Forum for Economic and Trade Co-operation between China and Portuguese-Speaking Countries"; during the events, he announced a series of new measures to empower Macau's role as a bridge and platform in contributing to the development of the nation and to boost diversified development of Macau's economy and society, which has broadened the development space of Macau's science and technology innovation and cultural creative engagements, and made available unprecedentedly strong impetuses. As the largest-scale comprehensive university in Macau, M.U.S.T. has always upheld serving the community and contributing to societal development as its missions. The University has engaged in innovative research in many academic fields such as Traditional Chinese Medicine, Food and Drug Safety, Smart City, System Control Science and Engineering, Protection of Urban Environment, Art Design, and Innovative Finance. Over the past three years, the University's research publications in international top SCI and SSCI English journals have increased five times, more than 50% of these papers were published in the Q1-zone top journals, such as Science, Nature, and other world top science journals, and the University has been granted more than 160 international patents. At the Awards Presentation Ceremony of the 3rd Macao Science and Technology Awards held on the 12th of this month, Macau University of Science and Technology claimed the only two first prizes of the Awards available this year. Such science and technology achievements and patents extend to multiple fields, and are of great values for further development and appliances; if they can meet with the development demands of the industry, they could transfer into more substantial productivity and become intrinsic drives for economic development. President Liu Liang spoke that M.U.S.T. would formulate scientific judgment over the development trends of science and technology, act in accordance with its own characteristics and strengths as well as the demands of development for Macau society and economy, identify key areas and favorable fields, and make greater efforts to achieve more scientific discoveries and technological inventions. Meanwhile, it is also hoped that the University could join hands with the government and the industry and engage in full-range, multi-disciplinary, in-depth cooperation so as to produce more highly added-value products that satisfy the need of the market, foster emerging industries, and boost sustainable development of the future economy.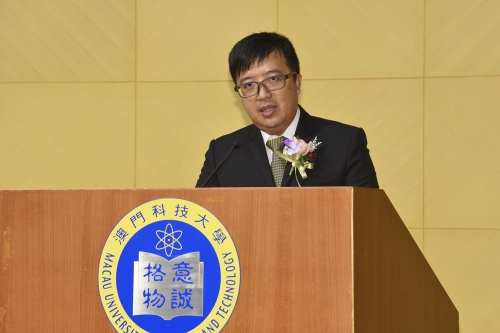 Chairman Ma Chi Ngai of Macao Science and Technology Development Fundalso spoke at the Ceremony. He noted that this has been Macau's first-ever fair for industrialization of research outcomes which is held by a university, which has great significances for the academic community as well as the industrial community. The international community has always seen science and technology as the primary productivity, and scientific innovation has always been propelling the time, society, and economy to advance to greater heights. Earlier, Premier Li Ke Qiang of the State Council came to Macau for inspection and announced to boost Macao's role of being a platform in facilitating China-Luso cooperation, and that the Central Government would provide full support for Macau to speed up constructions for the many centers for exchanges between China and Portuguese-Speaking countries, including the Cultural Exchange Center and the Youth Innovation and Entrepreneurship Center; such news has greatly boosted the confidences of people who work in scientific research. In addition, the first-ever "Five-Year Development Plan" of the Macao S.A.R. also made innovation a primary development strategy, which is in line with the new development principles made known by the nation's "13th Five-Year Plan", and made a special point to reinforce the notion of innovative development and to formulate a network for collaborative innovation. The relevant policies for development of science and technology are being perfected so as to fully advance Macau's all-range city development from top to bottom. In order to provide better coordination for the implementation of the S.A.R. government's policies, the FDCT has devoted itself to promotion of science and technology innovation and transfer of science and technology achievements over the course of past years; starting from last year, the FDCT has held a great many talks and consultations, and interacted closely with universities, enterprises, youth entrepreneurship societies, the Science and Technology Industrial Park, and other relevant units, in hope of establishing sufficient communication channels for further cooperation, seeking advices to help the FDCT to formulate regulations in relation to science and technology that suit the science and technology practitioners, cater to the industrial demands, and meet with the needs of the Macau society at its current status, and making contributions to the industrialization of science research outcomes. The FDCT will soon launch a grants plan for research development by the industry, enabling the academia to meet with the industry and jointly make true of elevation for Macau's industrial research capacity and technological standards. For the purpose of creating a new pleasant atmosphere for entrepreneurship and innovation, different communities need to join hands to improve the quality of entrepreneuring environment, fully exert the strengths of the local universities, bring more research outcomes down to more practical uses, and provide incentives for the youth to devote themselves to science innovation. As we know, training of talents has been the key for innovation of science and technology; this important responsibility falls on the shoulders of the local universities in Macau.
The Fair held four special-topic promotion talks under the themes of life science and technology, information technology, and cultural creative, and presented a total of 110 invention patents and projects of art design and innovative finance. At the lunch reception, Bank of China (Macau branch), Huawei (Macau branch), Zhong Zhu Healthcare Holding Co., Ltd., and Zhongshan Zhongzhi Pharmaceutical Holdings Limited gave presentations, sharing experiences on industrial development and industry-education-research collaborations.