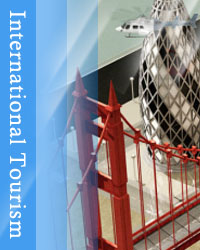 When taken as a whole, there is no sector that exceeds tourism, hospitality and entertainment in Macau and the scope of impact on the economy, employment and enhancing quality of life for residents and visitors. We believe that the Faculty of Hospitality and Tourism Management (FHTM) at Macau University of Science and Technology offers the best undergraduate and graduate programs among the leaders in tourism and hotel education. Our outstanding undergraduate programs include International Tourism Management, Hotel Management, and Food and Beverage Management. The Master's degree programs encompass the foci of international tourism with two areas of specialization: Meetings, Incentives, Conventions and Exhibitions (MICE) and Event Management; and Hotel Management. The Doctor of Philosophy in Tourism Management aims to train professionals with high academic standards. As Macau has become Asia's prime tourism center, many opportunities for growth await you.
The Faculty thinks globally and is a world-class institution. After gaining the "TedQual" (Tourism Education Quality) certification from the United Nations World Tourism Organization (UNWTO) in 2007, we were named one of the "Top Ten China Tourism Hotel Industry Training Bases" in 2008 and 2009 consecutively. In 2017, the Faculty was delighted to receive the renewal of the UNWTO.TedQual Certification for a time period of 4 years (8 March 2017 to 7 March 2021). The Faculty has actively participated in formal-exchange and research projects around the world, countries like United States, Japan, Korea and New Zealand. As well, it is involved in various study abroad programs including the internship in the Disney World in the United States. We are promoting experiential learning by offering a wide array of curriculum, services and active learning. We have the leading teaching restaurant, the Seasons, and guest house operated by our students. In addition, the culinary laboratory offers a hands-on experience and an in-depth knowledge of culinary arts and restaurant management. Students who balance their academic life with activities outside the classroom make lifelong friends, enjoy their time here, and have a more rewarding experience. The Faculty of Hospitality and Tourism Management is the proud member of PATA (Pacific Asia Travel Association) and CHRIE (Council on Hotel, Restaurant and Institutional Education).
We invite prospective students and their parents, alumni, and business partners to explore our website (http://www.must.edu.mo/en/fhtm-en) and discover how we can be part of your future. You are welcome to join us as we strive to continuously enhance teaching effectiveness and academic excellence.
Professor Pang Chuan
Dean, Faculty of Hospitality and Tourism Management