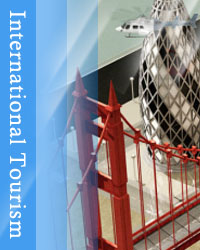 Welcome to the Faculty of Hospitality and Tourism Management at the Macau University of Science and Technology. We are committed to providing our students with the best possible education to prepare them for their future careers in tourism, events and hotel management. This is one of the largest and most dynamic sectors of the modern economy providing not only jobs but a myriad of other opportunities. In order to prosper in this fast moving job market our students need to be practically grounded with the ability to work effectively from the moment they are employed. But in order to prosper they also need to flexible and creative, and to have the ability to think critically and to reflect on how they relate to their colleagues and customers. Asia, and especially China, is experiencing a massive upsurge in tourism and leisure, and as it grows this sector is becoming increasingly diverse, as tourists develop new expectations and experiences. While tourism confers undoubted benefits, not least in terms of happiness and health, it also raises questions about sustainability, such is the size of this sector. Today's professionals need to combine a sense of entrepreneurship with an awareness of their environmental responsibilities and an ability to appreciate cross cultural relations.
To meet the needs of both our students and future employers, the faculty staff is constantly thinking about not only what they teach but also how they teach. Employability is central to our programme and to equip our students to meet the challenges of industry we need to provide them with appropriate practical lessons and to enhance their understanding through experiential learning. In order to support these aims we need also to examine and recreate the knowledge base that informs our teaching and thus research is increasingly becoming essential to our programme.
I am pleased to say that we are building on the previous successes of subject field that originally came into being in 2003 as the Department of International Tourism Management. Four years later it had grown to become the Faculty of International Tourism in 2007, and by February 2012 it had been renamed as the Faculty of Hospitality and Tourism Management. At the time of its latest metamorphosis, it had become a leading institution for tourism and hospitality management education and research, with near 3000 undergraduate and postgraduate students and a large body of full-time teaching staff. After gaining the 'TedQual' (Tourism Education Quality) certification from the United Nations World Tourism Organization in 2007, the Faculty was named one of the 'Top Ten China Tourism Hotel Industry Training Bases' in 2008 and 2009 consecutively. These results indicate that the Faculty of Hospitality and Tourism Management at the MUST has outstanding performance and is ranked amongst the largest and most commendable academic institutions in Macau.
Whether you are a student who intends to enrol or a parent, a prospective employer of our graduates you can be assured of a warm welcome by our Faulty. We would be delighted to show you our new and modern facilities, meet with you on a one-on-one basis, and to introduce you to some of our current students, our campus and programmes. Our faculty members are drawn from many countries and are thus able to provide diversity of thought and experience for our students, an essential ingredient for operating in today's international tourism environment.
The Faculty of Hospitality and Tourism Management aims to become the leading international centre for the study of tourism, events and hospitality management in Macau and to promote excellent teaching and research. It is our mission to cultivate those professionals who will become the next generation of leaders. As the Dean of this faculty it gives me great honour to welcome you. Come visit us and find out just how exciting it is to be involved in the educational part of what has been acknowledged as the world's leading economic sector.
Prof. Michael Hitchcock
Dean, Faculty of Hospitality and Tourism Management
Contact Us
If you need any further information, please feel free to contact us:
Tel:853-88972381;
  853-88972382
E-mail:
FHTM_inquiry@must.edu.mo
---
Address:
M117, Macau University of Science and Technology, Avenida Wai Long, Taipa, Macau
Fax:853-28825990
---