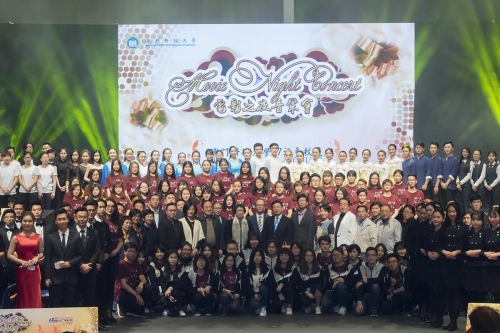 Group photo of the guests and performers
Movie theme songs filled the night to celebrate the 17th anniversary of Macau University of Science and Technology at the University gymnasium on March 27th. Movie Night Concert organized by the Art Troupe of MUST drew over 500 audiences from academic staff, students, family and friends to share the joy of the anniversary.
Over 250 members from Art Troupe performed well-known soundtracks, such as Star Wars, Jurassic Park, Harry Potter and Sister Act. The concert was featured by the MUST Scotland Bagpipe and Drum Team, Chinese Folk Dance Team, Ballroom Dancing Team, The University Symphonic Band, The University Choir, Martial Arts Team, The Piano Team and The University Orchestra and the MUST Band.