Three outstanding teachers of Macau University of Science and Technology received the "2016/2017 Teaching Excellence Award" in recognition of their exceptional teaching performances. This year's winners are: Dr Wei Hui Ping, Associate Professor from the University International College, Dr Zheng Ying Feng Assistant Professor from the University International College, and Mr Wang Guan Qian Lecturer from the Faculty of Humanities and Arts.
The Teaching Excellence Award aims to honor teachers who have outstanding performances in teaching, and their commitments in pursuing perfection in teaching, also to recognize their contributions to the continuous improvement of teaching and learning quality of the University. The winners will be role models to inspire and encourage the newly joined teachers at the University.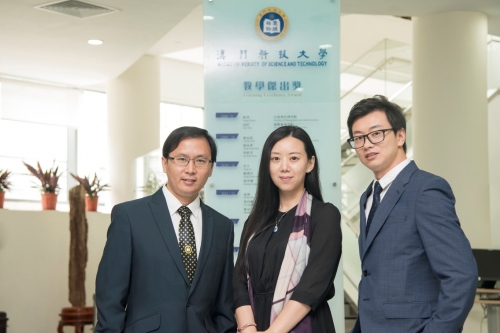 2016/2017 Teaching Excellence Award winners: (from left) Assistant Prof. Zheng Ying Feng, Associate Prof. Wei Hui Ping, and Lecturer Wang Guan Qiang
Associate Professor Wei Hui Ping currently teaches the Master of Teaching Chinese as a Foreign Language program; upholding "sincerity, dedication, and complementary growth of teaching and learning" as her teaching philosophy. With rich teaching experience, she provides guidance and motivates students to learn actively. Most of her students are currently working as Chinese teachers in more than ten countries in Asia and Africa.
Assistant Professor Zheng Ying Feng has great passion for education and dedicates his full efforts to teaching. He has worked at M.U.S.T. for over a decade and mainly teaches Chinese language subjects for undergraduate students and foundation courses. He insists to have interactions with students in classes, and teaches according to students' attributes; he connects Chinese language with daily life and students' preferences, which greatly stimulate students' motivation and interest in learning.
Lecturer Wang Guan Qiang has worked at M.U.S.T. for four years; he currently teaches landscape design for undergraduate students. Lecturer Wang believes in attaching equal importance to both theories and practice, integrates a lot of real-life cases in classes, and shares his entrepreneur experience with students, which has highly improved students' practical capabilities.
The evaluation and assessment process of the Teaching Excellence Award was rigorous. The assessment committee first conducted preliminary assessment to the nominated teachers and got a candidate list. Then, the assessment committee further conducted comprehensive assessment to the candidates in terms of their teaching ability, teaching attitudes, and teaching portfolios, which then followed by an overall assessment by class observation, face-to-face interview and review of students' evaluation results in relations to the candidates. Finally, the aforementioned three teachers were voted at the meeting to win this year's Teaching Excellence Award.
The Teaching Excellence Award was set up since 2008, M.U.S.T. has awarded 25 teachers, their names have been engraved in the Honor Board for permanent display. The Award represents the University's commitment in teaching quality improvement and dedication to enhancing the quality of learning and teaching in the University. The award-presentation will be held at the Opening Ceremony of the University in the coming September.