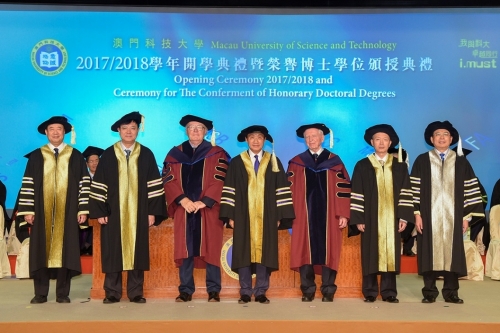 (From left): Dr. Liu Chak Wan, Mr. Xue Xiaofeng, Professor David Christian Ward, Dr. Alexis Tam Chon Weng, Professor Harald zur Hausen, Mr. Yuan Hengge, President Liu Liang
Macau University of Science and Technology held the 2017/2018 Opening Ceremony and Ceremony for Conferment of Honorary Doctoral Degrees in the D Conference Hall at the University on September 9, 2017 at 11 am. Dr. Alexis Tam Chon Weng, Secretary for Social Affairs and Culture of the Macao S.A.R., officiated the ceremony and conferred Honorary Doctor of Science to Professor David Christian Ward, from Yale University, renowned biologist and member of the United States National Academy of Sciences, and Professor Harald zur Hausen, world-renowned German virologist and winner of Nobel Prize in Physiology or Medicine. The ceremony was organized to welcome this year's new students, including 2,000 undergraduates and 1,300 graduate students.
Other principal guests that attended the Ceremony included Deputy Director Xue Xiaofeng, Liaison Office of the Central People's Government in the Macao S.A.R.; Deputy Commissioner Yuan Hengge, Office of the Commissioner of the Ministry of Foreign Affairs of the People's Republic of China in the Macao S.A.R.; Mr. Chang Kun Hong, Deputy Director of Macao Tertiary Education Services Office; Dr Liu Chak Wan, Chancellor of MUST, members of the MUST. Foundation, the University Council, and the Advisory Committee of MUST, representatives from award presenting institutions, representatives of other local higher institutions and secondary schools.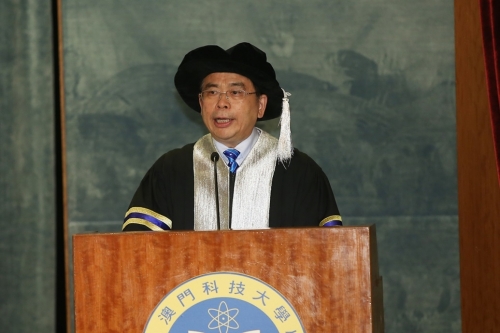 Chair Professor Liu Liang, President of MUST, addressed the ceremony noting that MUST has had 17 years of development, and in recent years, the University has achieved leaping development in overall academic standard, science and technology innovation ability, and cultural impact. The University provides a platform for students to achieve their dreams, and encourages the students to adapt to the diversified and accommodating campus culture fast, take initiatives in in-depth and in-breadth exploration of knowledge, and place importance in cultivation of qualities. The President encouraged students to strive to become comprehensive talents, who are not only equipped with professional knowledge but also humanistic qualities, to harvest a rich and colorful life while serving the community. President Liu Liang also noted that the University greatly admires the scientific achievements and significant contributions Professor Harald zur Hausen and Professor David Christian Ward have made in bettering human well-being, and believed that as is the case for all the honorary doctors the University has had in the past years, the daring spirit demonstrated by the two professors in scientific explorations and their commitment to creation of greater values for the human society will help boost the confidences of MUST scholars to develop excellent quality education and extraordinary research, and stimulate young students to set higher life goals and make determination to work hard to fulfill the goals.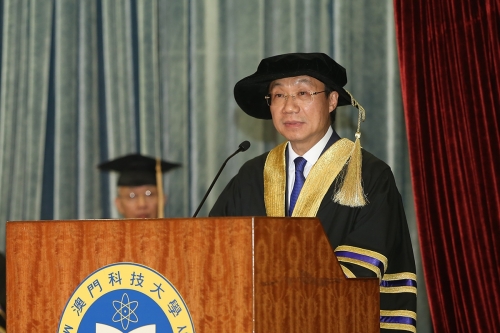 Dr. Alexis Tam Chon Weng, Secretary for Social Affairs and Culture of the Macao S.A.R. addressed the ceremony. He congratulated Professor David Christian Ward and Professor Harald zur Hausen on being conferred honorary doctoral degree of MUST, and thanked them for their support to the education and science and technology development of the Macao S.A.R. The Secretary also pointed out that MUST has been implementing the policy of attaching equal importance to both teaching and research actively, made exponential efforts to bring in young and mid-age academic leaders and backbones in different disciplines, and promote internationalization and industrialization of research outcomes at the University. The Macao S.A.R. felt greatly encouraged by the glorious achievements MUST has made and its bright future ahead. He also wished, standing on a new starting point, the students would have full confidence, and have a fighting spirit to strive to become better, setting higher goals and making unwavering support, to fulfill dreams and create a bright future.
Mr. Wang Guanqiang from Faculty of Humanities and Arts, teacher representative to deliver speech, he said MUST has fulfilled its motto by putting into practices. The University proved that it only grew stronger with challenges and difficulties experienced. He encouraged students to learn the true essence of the University motto and act on it by "dedication to practical studies and enhance knowledge, ability, and quality." He also reminded students to cherish the opportunity of studying at MUST, to fully explore their imaginations in this innovative, international, and humanistic context, and to demonstrate their talents, and to fulfill their aspirations.
Li Xin Yue, undergraduate student representative, said the vigorous study atmosphere of MUST, where different schools of thoughts meet and exchange, helping students to broaden their horizons; she expected to keep pace with the University together.
Li Ya Qing, graduate student representative, expressed that through the open campus of Avenida Wai Long, catched the attention of every one who set foot on the campus is the University motto, it constantly reminding the students to concentrate on studies and practice what they learn so as to improve their knowledge, ability and quality.
At the ceremony, the University presented the Dean's List scholarships to outstanding students and the Teaching Excellence Awards to winning teachers. Mr. Ip Sio Kai, Deputy general manager of the Bank of China Ltd (Macau Branch), presented the Bank of China Research Awards to excellent researchers; Mr. Xu Delai, Chairman and President of Zhongzhu Healthcare Holding Co., Ltd, presented the the Zhongzhu Medicine & Life Science Excellent Teacher Award to outstanding teachers and researchers..
Professor Harald zur Hausen is a world-renowned German virologist; in 2008, he was awarded Nobel Prize in Physiology or Medicine for his discovery of human papilloma viruses causing cervical cancer, which has saved millions of women's lives. Professor David Christian Ward is a renowned biologist and member of the United States National Academy of Sciences; he is responsible for several major research outcomes of great significances in the fields of genetics, virology and optical imaging technology, which have been applied to research of diseases that threaten human health, such as genetic diseases, infectious diseases, and cancer, and have greatly bettered mankind health.