The 3rd Sino-Asia Pacific Medical Forum was held in Manila from November 20th – 22nd. It continued its momentum two days later in Macau, at the 40th Sino Luso International Medical Forum on November 24th – 26th, 2017.
This stimulating 7-day scientific program hosted over 600 medical experts from 20 countries and regions. These include the USA, United Kingdom, Australia, Austria, Germany, Greece, Portugal, Brazil, Costa Rica, Haiti, Jamaica, Cape Verde, Turkey, Egypt, India, Bangladesh, the Philippines, People's Republic of China, Taipei, Hong Kong and Macau SARs, and among others.
President of the Sino-Asia Pacific Medical Forum, Prof. Manson Fok, commented, "We warmly welcome all our delegates back to the 3rd Sino Asia Pacific Medical Forum. The purpose is to emphasize the importance of collaborations and to build long-term relationships with all our health stakeholders. This has grown and strengthened over the past three years. We have participants not only from our Asia Pacific region but also from around the world. We have invited renowned international medical experts as keynote speakers to share their experiences and expertise."
Prof. Fok, who also serves as the Dean of the Faculty of Health Sciences at the Macau University of Science and Technology (MUST), continued, "We are proud to have invited Professor Harden, the inventor of OSCE which has been adopted as gold standard all over the world in medical education and recognized as one of the leading international figures in medical education. Professor Harden also received an OBE for his contribution to Medical Education."
Prof. Fok added, "We have many VIP guests attending these medical discussions. They include Gusi Peace Prize Chairman Ambassador Barry Gusi, Under Secretary of Health of the Philippines, Dr. Herminigildo Valle, Hon, the immediate past Secretary of Health, Dr. Paulyn Jean Rosell-Ubial, and the Philippines Medical Association President Dr. Irineo Bernado III."
Dr. Billy Chan, Vice President of Sino-Asia Pacific Medical Forum commented, "From the People's Republic of China there will be a strong team of medical professors from Peking University of Chinese Medicine coming all the way from Beijing to attend this important event. Led by Prof. Wang Yaoxian, Dean of the First Clinical Medical College of Peking University of Chinese Medicine, Prof. Wang will be presenting at the symposium his paper on the exploration of mechanisms for Chinese medicine treatments for renal diseases."
Launched in Manila and Macau in November 2015 with the singing of a joint communiqué by former Portuguese President Ramalho Eanes, it was organized by the Sino-Asia Pacific Medical Forum Committee, and the Macau Healthcare Management and Promotion Association (MHMPA).
Following the Manila event, the 40th Sino Luso International Medical Forum was organized, which brought together world class experts in Sports medicine from the USA, Portugal, Cape Verde, Taipei, PRC and Hong Kong.
The aimed to bring internationally renowned experts in the field of sports medicine to present their latest research based knowledge and share with medical doctors, surgeons, sportspersons, paramedics and associated sports science experts in Macau SAR.
This forum also assisted many of local athletes in achieving the finest performance by taking full advantage of human and generic potentials, health, and good quality medical care.
This forum is designed to provide Macau healthcare professionals with updates around optimizing patient musculoskeletal health with a focus on imaging, tendinopathies in sports, ACL reconstructions, stress fractures, total knee replacement, among others. The forum comprised many amazing guest speakers, from orthopedic surgeons to sports medicine physicians.

Quests group photo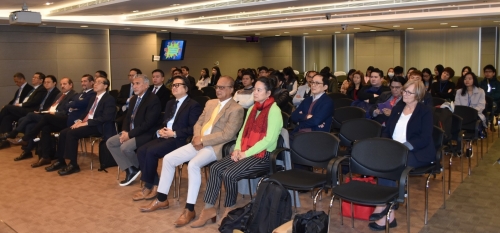 Scene of the forum