Faculty of Hospitality and Tourism Management of Macau University of Science and Technology held "Smart Tourism for Smart Cities" symposium in N101 of the library building on May 4, 2017. The symposium was organized by Macau University of Science and Technology and co-organized by Macao Foundation. Scholars from across the two straits and four regions met and engaged in in-depth exchanges on development of smart tourism. Professor Pang Chuan, Vice President of M.U.S.T. addressed the Symposium, while Professor Xie Philip Feifan, Dean of Faculty of Hospitality and Tourism Management, and Professor Zhang Du, Dean of Faculty of Information Technology, delivered welcome speeches.
While addressing the Symposium, Vice President Pang Chuan noted that this has been the first time that M.U.S.T. held an academic conference on smart tourism. "Smart tourism" is a brand new proposition, which utilizes new technologies such as cloud computing and the Internet, portable terminal internet access devices, automatically reflects relevant tourism information, and allows tourists to make timely arrangements to adjusts their itinerary via the Internet. Construction and development of smart tourism will be eventually reflected to four areas: travelling experience, tourism management, tourism services, and tourism marketing through the aspect of consumers and tourism resources.
At the Seminar, Professor Rob Law, Dean of the School of Hotel and Tourism Management (SHTM) of the Hong Kong Polytechnic University gave a keynote speech titled "Internet Applications to Hospitality and Tourism"; Mr. Li Nong, Chief Executive of National Smart Tourism Platform of China gave an introduction to the 12301 national smart tourism public services platform; Mr. Chan Ka Leong, Vice President of Macao Collective Wisdom Policy Center gave a speech titled "Issues and Solutions for Smart Tourism in Macao". Mr. Dennis Lee and Dr. Edward Lor from Hong Kong Applied Science and Technology Research Institute respectively talked about mobile technology in smart tourism and application of video analysis in smart cities. Dr. Yuan Yulan from Jinwen University of Science and Technology, Taiwan, and Dr. Wang Dan from Hong Kong Polytechnic University also gave talks at the symposium.
Professor Xie Philip Feifan concluded the Symposium on the prospects and future development of smart tourism. Guests and about 250 teachers and students attending the symposium engaged in in-depth academic exchanges and discussions to contribute ideas and wisdoms for development of smart tourism; which projected strong academic atmosphere.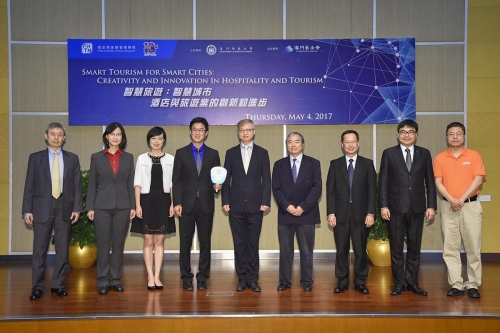 Group photo of the speakers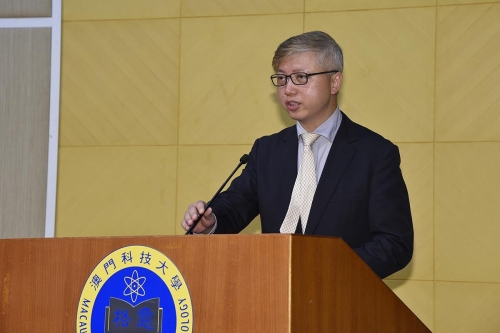 Vice President Pang Chuan addressed the opening ceremony