The Largest-Ever M.U.S.T. Career Day Makes Available
4,000 Job Vacancies by 165 Companies
Macau University of Science and Technology launched its annual M.U.S.T. Career Day on the 14th and 15th of March, 2018. The event has been well received by the industry, making available 4,000 job vacancies by 165 firms and organizations, including 30 firms from mainland China and Hong Kong ; the number of participating companies has overwritten the record of previous years. At the job fair, there were 135 recruitment booths, in addition to which, there will be 40 career talks to be held from March 8 to 26, addressing corporate cultures, demands of talents, professional development, internship arrangement, job interview skills, and other subject matters of great interest to graduating students. The event is sponsored by the Macao Foundation.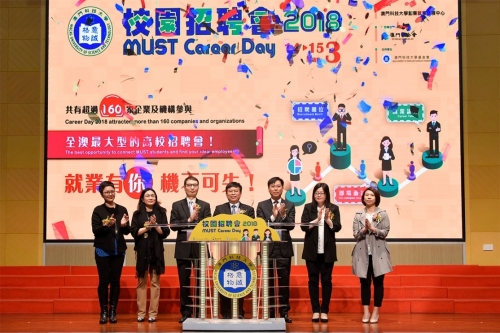 Group photo of officiating guests (from left to right: Acting Director Lei Wai Chan, Director Fong Fong Tan, Acting Vice Director Chan Ka Ho, President Liu Liang, Director Hong Bo, Director Mang Sui Yee Margaret, and Director Choi Ka I)
The Opening Ceremony of the 2018 MUST Career Day was held in Room N101 of the MUST Library Building in the morning of March 14. Attending guests to the ceremony include MUST President Liu Liang, Acting Vice Director Chan Ka Ho of the Macao Higher Education Services Office, Director Hong Bo of the Department of Education and Youth Affairs of the Central Liaison Office, Director Fong Fong Tan of the Planning and Recruitment of Civil Servants Department of the Public Administration and Civil Service Bureau, Director Mang Sui Yee Margaret of the Employment Department of the Labor Affairs Bureau, Acting Director Lei Wai Chan of the Economic Activities Development Department of the Financial Services Bureau, Director Choi Ka I of the Division of Promotion & Data Dissemination of the Statistics and Census Service Bureau.
President Liu Liang addressed the Opening Ceremony; he noted that this year 2,000 undergraduates and 900 postgraduates will be graduating from the University faculties and institutes this year to join the workforce and contribute their expertise for societal development. The Center for Entrepreneurship and Career Planning of the University tracked and surveyed 575 alumni from the 2016 graduated undergraduate students, and discovered the following patterns:
Local graduates with high employment rate and satisfying career destinations
More than 80% of the local alumni (accounting for 49% of all respondents), who responded to the survey successfully, reported to have chosen to seek employment after graduation, of whom 99% chose to seek employment in Macao. 37% of the respondents reported to make a monthly salary of MOP 17,000 or more; 45% reported to earn a monthly salary of 11,000 to 17,000 MOP. These show that the employment status of MUST local graduates were satisfying. Most of the local graduates are employed in the trade/retail business, and the rest are working in tourism/food and beverage/hospitality, gaming and entertainment, bank/finance/insurance, public administration, and medical health/social services.
Non-local students with high rate of seeking further studies and high rate of taking employment in the Guangdong-Hong Kong-Macao Bay Area
The survey has also found that 50% of non-local graduates have chosen to seek further studies, while another 43% of them have chosen to seek employment in Guangdong-Hong Kong-Macao Bay Area. Obviously, non-local graduatestend to have a high rate of taking employment in the Guangdong-Hong Kong-Macao Bay Area, which reflects the University's strategic goal of cultivating talents met the needs of development in the bay area.
President Liu Liang extended thanks to the participating companies for their support to the University, promising that the University would continue to work hard to train innovative spirits and practical abilities in its students so as to improve their employment and entrepreneurship prospects. He also extended encouragement to students, advising them to conduct good planning for their career paths, growths, and ways to success.
At the site of the MUST Career Day 2018
A student by surname Chen, who majors in human resources, expressed that Macao has many hotels and casinos, which provide a great demand for talents of human resources; thus, he was confident in finding jobs where he could contribute his human resources expertise; he also thought that the success of seeking employment has the most to do with the competitiveness of the job seekers and little to do with the advantages of being a local resident. Another graduating student who is from Guang Dong and majors in accounting mentioned that he planned to seek employment back in mainland China, citing that the salary and welfare system of mainland companies are very impressive.