Macau University of Science and Technology (M.U.S.T.) signed MoU with two Macao enterprises at the 5th Macau Industrial Products Show organized by the Industrial Association of Macau on September 28, 2018, in hope of promoting industry-education-research collaborations between universities and companies. The University will join forces with local companies to assist the cultural creative industry by training creative talents, promoting Macao arts and crafts, and strive for a new milestone for cooperation between universities and local firms in a synergetic industry, education, and research development.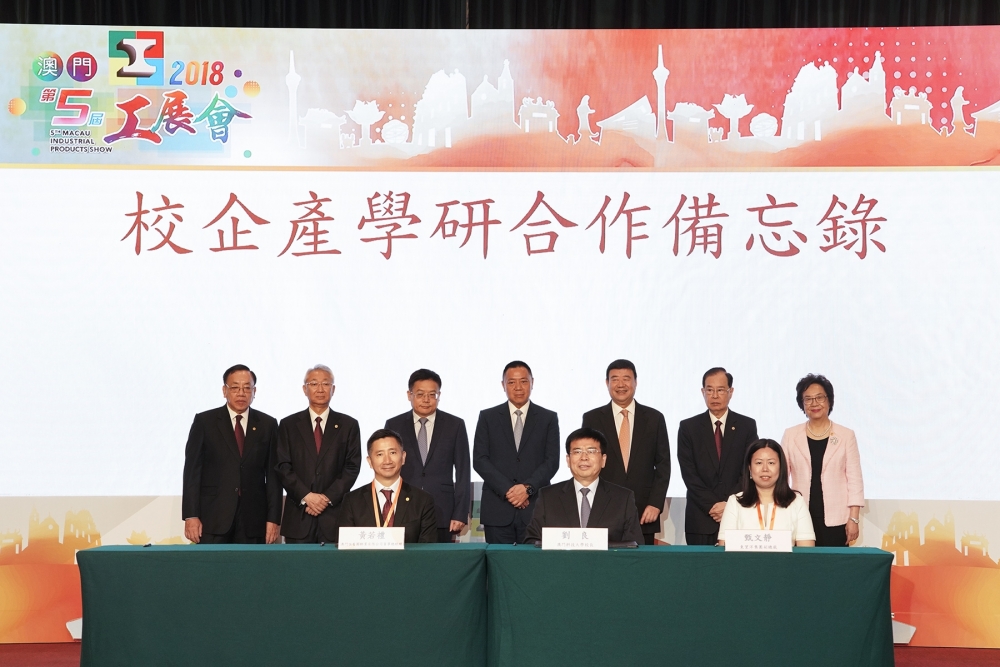 Secretary Leong Vai Tac (mid-back), Director Liu Bin (3rd left back), Chancellor Liu Chak Wan (3rd right back) and other guests witnessed President Liu Liang (mid-front), Managing Director Wong Yeuk Lai (front left) and Vice President Ian Man Cheng (front right) sign MoU for industry-education-research collaborations
The ceremony was held under the witness of Mr. Leong Vai Tac, Secretary for Economy and Finance of the Macao S.A.R., Mr. Liu Bin, Director of Department of Economy of the Liaison Office of the Central Government of the P.R.C., Dr. Liu Chak Wan, Chancellor of M.U.S.T. and others. President Liu Liang of M.U.S.T. signed MoU with Mr. Wong Yeuk Lai, Managing Director of Macao Choi Heong Yuen Bakery, and Ms. Ian Man Cheng, Vice President of Tong Mong Ieong Enterprise Ltd, in response to the Macao S.A.R. government's policy in advancing the cultural creative industry, to set up an university-enterprise partnership that creates diverse cooperation opportunities, including cultural creative lectures, professional exchange of ideas on design, industrial tour activities, internships and drill opportunities, and oversee the development and training of talents for the industry. Other guests who attended the ceremony include Vice President Tong Ka Lok, Dean Zhang Zhiqing of Faculty of Humanities and Arts, and Assistant Dean Chiang Siu Ling.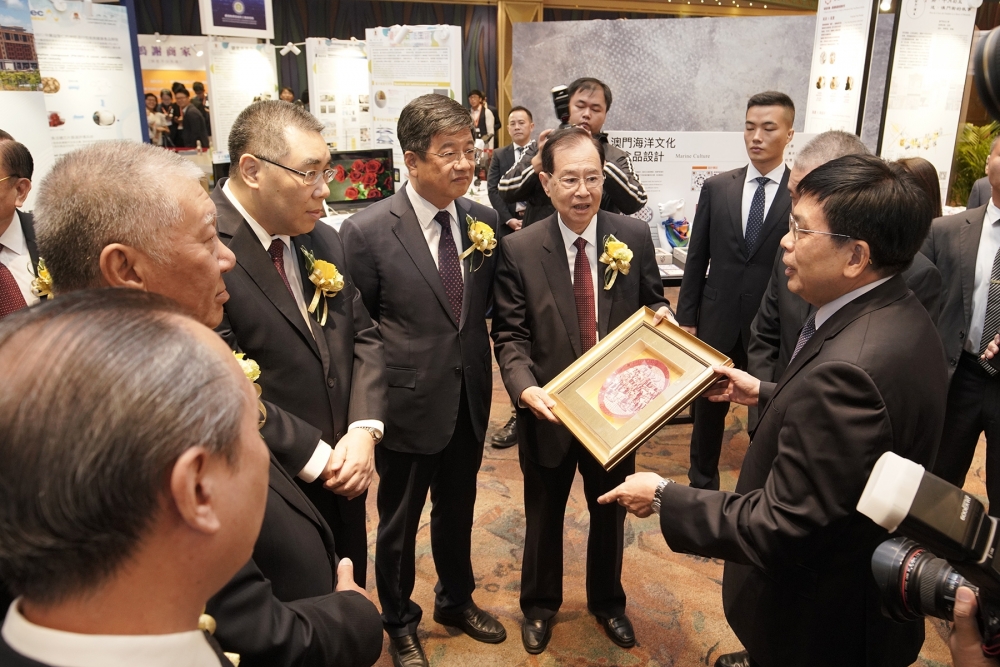 President Liu Liang presented the FA's students design works to Chief Executive Chui Sai On, Vice Chairman Ho Hau Wah of the Chinese People's Political Consultative Conference, Director-General Zheng Xiaosong of the Liaison Office of the Central People's Government in Macao, and President Chui Yuk Lum of the Industrial Association of Macau
As co-organizer of the 5th Macau Industrial Products Show, the Faculty of Humanities and Arts of M.U.S.T. exhibited a number of design works created by students of the Faculty's design program, including souvenirs, product packaging, ceramic tea sets, and conservation research projects, providing opportunities for the public to envision the creations of industrial design and the potential of creative culture.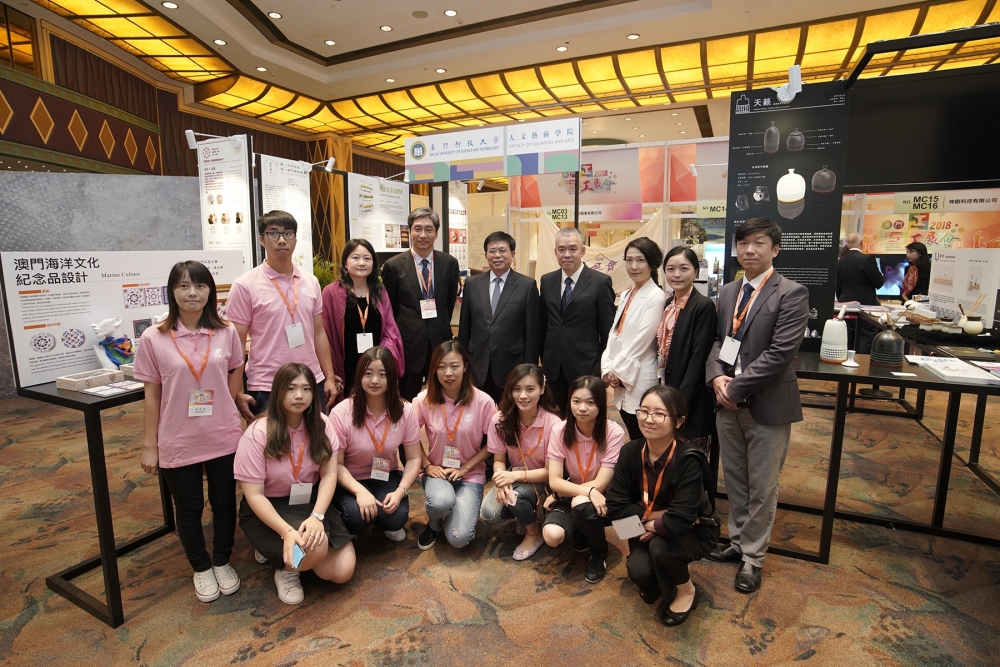 President Liu Liang (mid), Vice President Tong Ka Lok (4th right), and teachers and students of Faculty of Humanities and Arts at the Industrial Products Show