M.U.S.T. Holds Opening Ceremony Welcoming Seven Thousand New Students
President Joseph Hun-wei LEE Calls on Students, the Future Belongs To Them
The Macau University of Science and Technology held the 2023/2024 Opening Ceremony at the University's Block R Academic Complex at 11 a.m. on September 9, 2023. This academic year, M.U.S.T. welcomes over 7,000 undergraduates and graduate students. M.U.S.T. also conferred the "2022/2023 Teaching Excellence Award" to outstanding teacher Assistant Professor Chen Yue from the School of Business and announced the winners of the "2022/2023 President's Medalist Award" during the ceremony.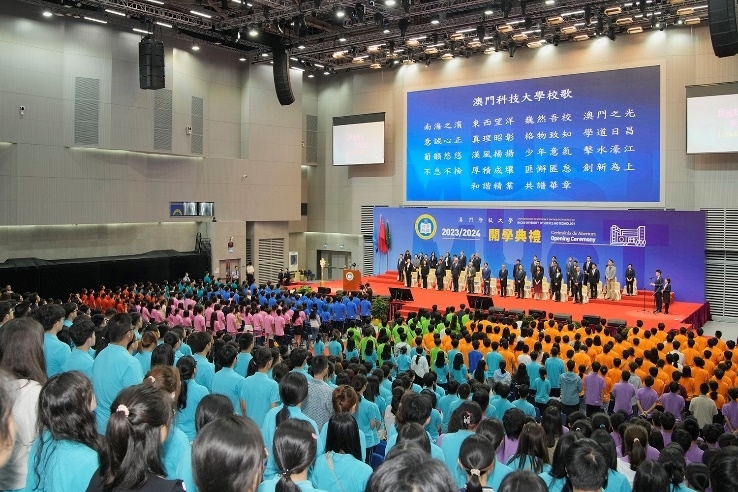 M.U.S.T. welcomes over 7,000 new students for the 2023/2024 Academic Year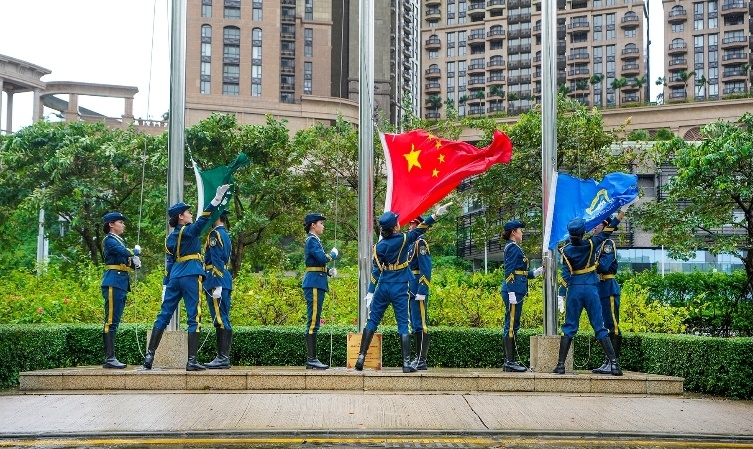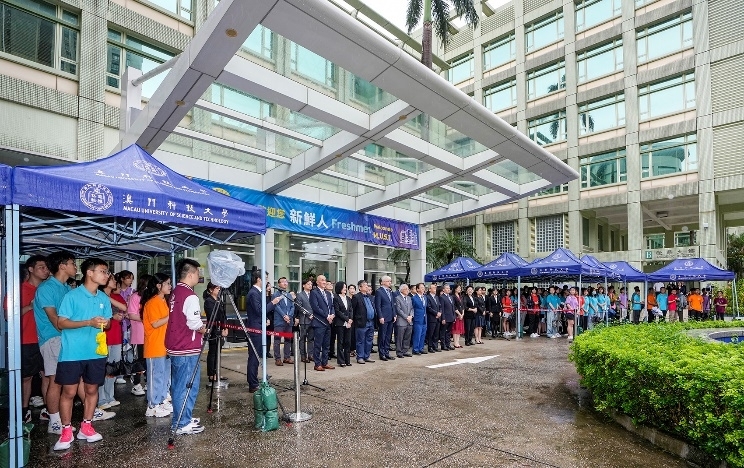 M.U.S.T. held the 2023/2024 Flag-Raising Ceremony
Before the Ceremony, M.U.S.T. held a Flag-Raising Ceremony for the New Academic Year at 8 a.m.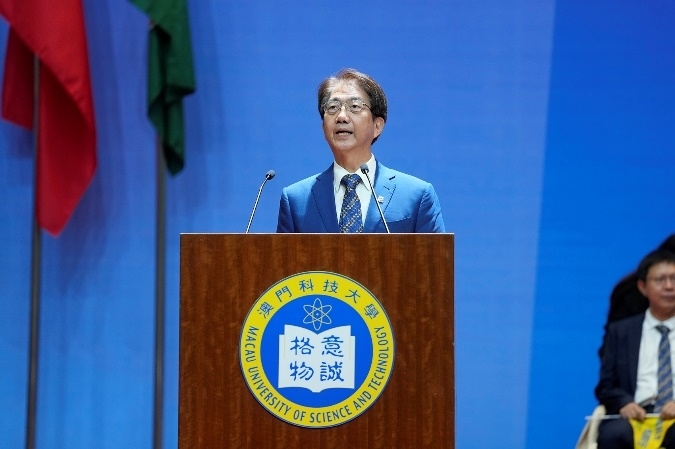 President Joseph Hun-wei LEE delivered a speech
President of the University, Chair Professor Joseph Hun-wei LEE delivered a speech. The President said that for the first time in three years, with the Covid pandemic finally behind us, he is greeting new students face to face. He congratulated all freshmen embarking on a new journey of learning and life. M.U.S.T. is a young and dynamic university that never stops moving forward. Quality and innovation are the core values of M.U.S.T. Students will be cultivating these values to respond to the challenges and complexities of the contemporary world and their coming years will be a time to gain knowledge and understanding, and to develop strengths and talents. Finally, President LEE offered some advice to the students that they should cultivate good habits of critical thinking, have an open mind for inter-disciplinary education and embrace diversity, and connect to the world. This advice will help them acquire sound habits of mind in their learning within the broader context of our recent educational developments.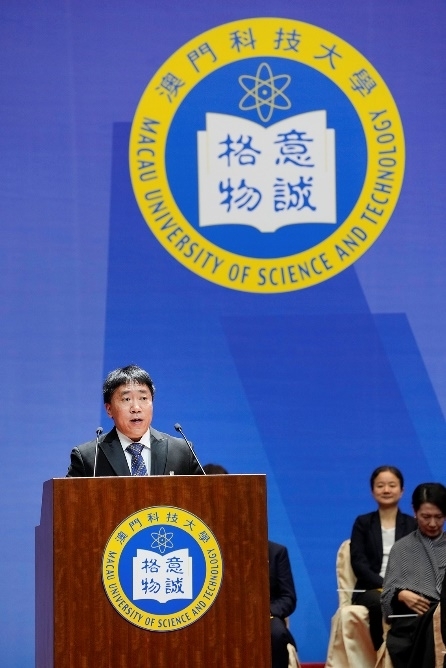 Teacher representative, Assistant Professor Chen Yue from the School of Business spoke at the ceremony
Assistant Professor Chen Yue from the School of Business spoke as a teacher representative. He shared his thoughts with all new students that they should be prepared to be independent and positive, to study hard and play hard, and set their goals and broaden their horizons regarding how to make better preparations for the journey, while also encouraging them to make the best of their youth and shoulder the responsibility to contribute to the prosperity of their nation and society, to the best of their ability. All the teachers and staff will fully support and help them to fulfill their dreams. He sincerely wished all of them the best of luck in their wonderful journey of learning and a fruitful stay at M.U.S.T., full of well-being, achievements, and happiness.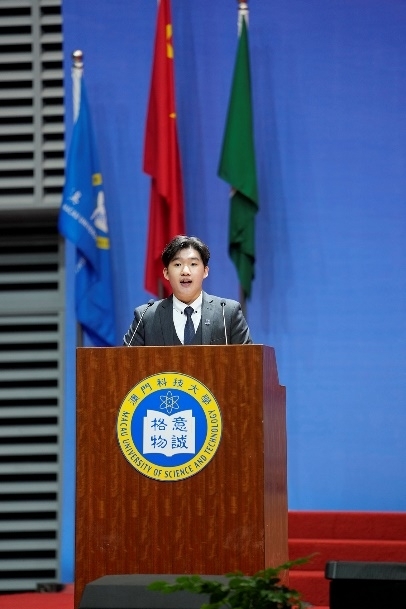 Undergraduate student representative Tong Ngo Laam spoke at the ceremony
Undergraduate student Tong Ngo Laam from the Bachelor of Medicine and Bachelor of Surgery program of the Faculty of Medicine spoke at the ceremony as a representative of undergraduate students. He said that learning is the path to realizing dreams and aspirations. Aspirations serve as the blueprint for life and are important stepping stones to achieving personal growth. During his university journey, he hopes to connect with like-minded partners who share the same aspirations and together, firmly grasp the direction of their lives. With a down-to-earth and proactive attitude, students can pursue personal growth, aspire to become leaders of their own and be the driving force for future progress in society. Finally, he extended his heartfelt wishes to all new students for a profoundly enriching journey of learning and seamless professional endeavors.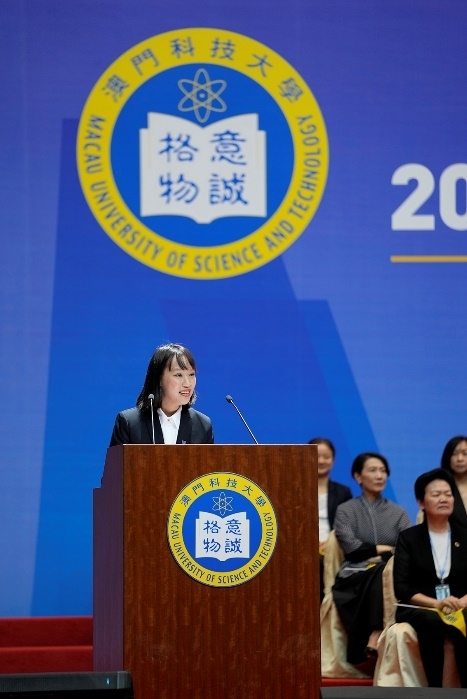 Chen Lingyi, a student from the PhD Degree of Communication program of the Faculty of Humanities and Arts, spoke on behalf of new graduate students
Chen Lingyi, a new PhD Degree in Communication student at the Faculty of Humanities and Arts, spoke on behalf of new graduate students. She said that M.U.S.T, as a young university ranked among the world's Top 250 Universities, has gained an outstanding academic reputation in technological innovation and multicultural environment. The University is renowned for its rigorous curriculum, distinguished faculty members, and cutting-edge research facilities. She is confident that the University will provide students with the knowledge, skills, and experiences necessary to thrive in an increasingly interconnected world. At the same time, she encourages all new students to join forces, carrying boundless enthusiasm and unwavering spirit, and to continuously enrich their story and their lives at M.U.S.T.