The Masters Series Lectures of Science and Technology "Human Languages, Past, Present & Future" hosted by Macau University of Science and Technology were successfully held on September 13, 2023, at Auditorium D. Professor Wang Shiyuan, Academician of Academia Sinica, Chair Professor at The Hong Kong Polytechnic University, and Famous Linguist brought us a lecture. Chair Professor Joseph Hun-wei LEE, President of M.U.S.T., delivered an online speech to welcome and thank Professor Wang Shiyuan for his keynote speech to the teachers and students of M.U.S.T. Vice-President Pang Chuan and Dean Zhang Hongming of UIC also attend the lecture.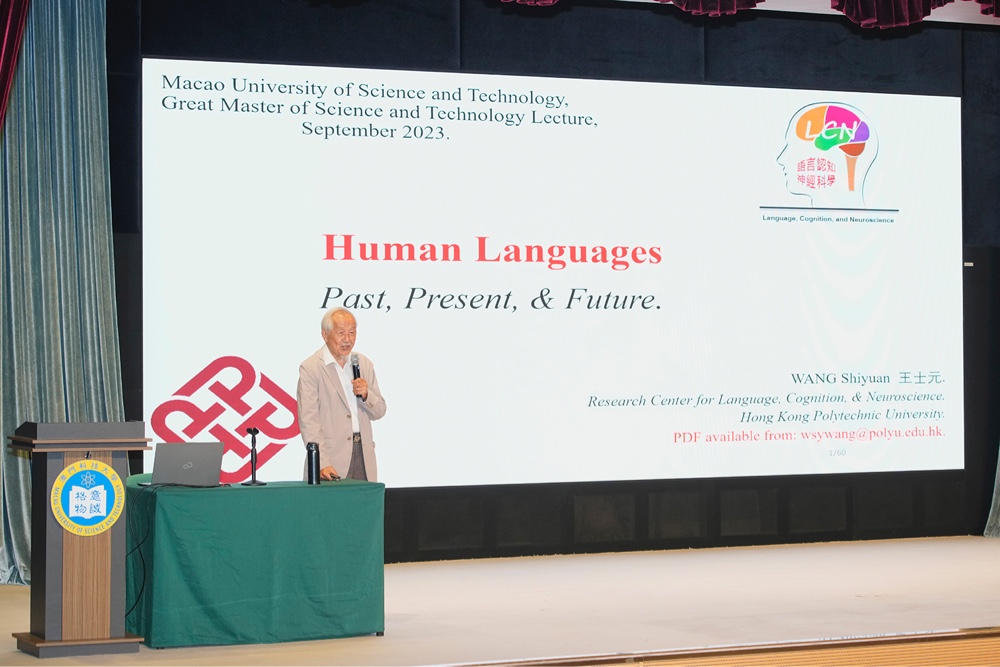 Professor Wang Shiyuan
At the beginning of the lecture, on the topic of "The Language Problem Faced by Mankind", from the introduction of the French painter Paul Gauguin, Professor Wang began by asking three questions about the human condition, telling the evolution of the human brain from a biological point of view. He compared the brains of different human evolutionary periods from a scientific perspective and the appearance characteristics of humans and gorilla primates to show that the relationship is close. Professor Wang also mentioned the use of techniques such as DNA extraction from fossils to detect DNA from human skulls. He believes that human beings could continue to create culture and learn from history, thanks to the ever-changing language of mankind. Then he compared the languages of different regions, showed the subtle changes in sound through hands-on experiments, and vividly showed how vocal organs at different stages work in the form of GIFs. Next, the professor expressed his insights on the impact of the computer age on the brain.
At the end of the lecture, Professor Wang made a summary and said that the study of human language involves a variety of disciplines, and it is also inseparably linked to human civilization and information transmission between generations. The lecture ended successfully after the Q&A session, and the students expressed a clearer and more scientific understanding of human language.