The Faculty of Hospitality and Tourism Management (FHTM) of Macau University of Science and Technology and SJM Resorts, S.A. ("SJM") co-organized a Culinary Demonstration Workshop by Chef Federico Pucci on November 1st, 2023. Federico Pucci, Head Chef, Palazzo Versace Macau of Food & Beverage of Grand Lisboa Palace Resort Macau, was invited to demonstrate Western cuisine cooking techniques in an event that attracted over 50 FHTM year one undergraduate students. This workshop was sponsored by the Macao Foundation.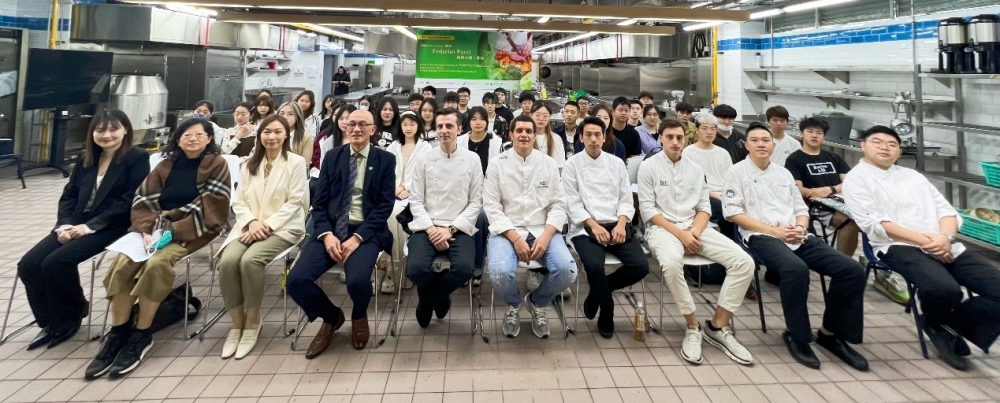 Group Photo
The guests were warmly welcomed by Professor Ben K. Goh, Dean of FHTM and Dr. Liu Jing, including Don Alfonso 1890 of Grand Lisboa Palace Resort Macau, Senior Sous Chef Francesco Russo, Don Alfonso 1890 of Grand Lisboa Palace Resort Macau, Demi Chef Biagio Celentano, and Ms. Yuki Leong, Senior Manager of Learning & Development of SJM.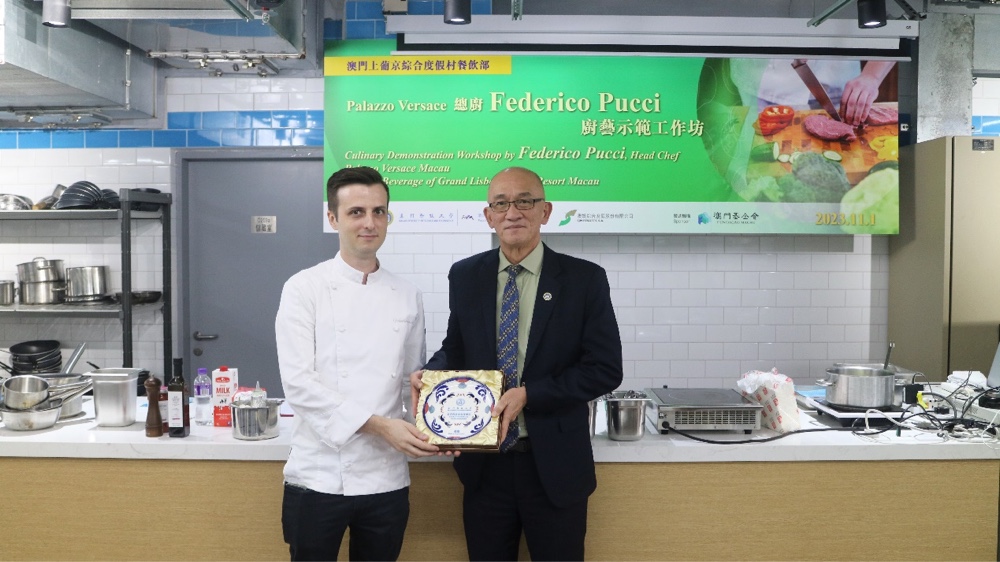 Professor Ben K. Goh Presented a Souvenir to Chef Federico Pucci
Professor Ben K. Goh gave a warm welcome speech to the guests and said M.U.S.T. has kept enriching the students' learning and experiences and enhancing their professional skills through offering or holding all kinds of courses, master lectures, and culinary workshops. The University expects that through these year one students may have the opportunities to learn from top chefs, cultivate an interest in the catering industry, and continue to delve into this field.
Chef Federico Pucci Shared his Experience with Students
As the Head Chef, Federico Pucci oversees Don Alfonso 1890 and all the dining experiences across the Palazzo Versace Macau hotel tower. Originally from Prato in Tuscany, Chef Federico takes great pride in Italian cuisine and cooking is at the center of his universe. Throughout his 16-year career in gastronomy, Chef Federico traveled across Italy's vast landscape to learn how to create diverse dishes from virtually every corner of the country. From the north to south of Italy, he worked for Michelin-starred restaurants where he learned how to create innovative dishes as culinary works of art and treat the ingredients of this sun-kissed land with true respect.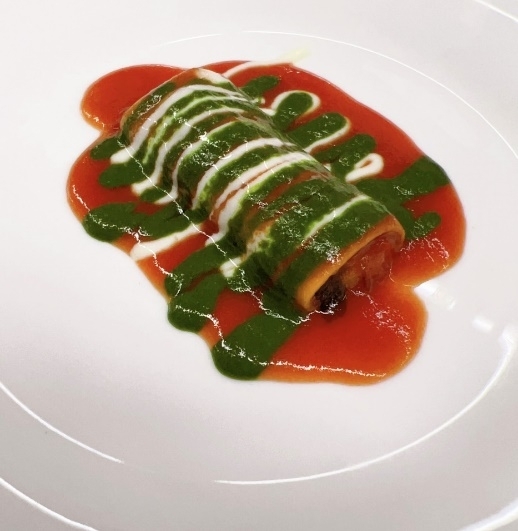 Signature Dish: Strascinati di nonno Ernesto
During the sharing session, Chef Federico Pucci demonstrated his signature dish, Strascinati di nonno Ernesto. The Culinary Demonstration Workshop enriched the students' knowledge and experiences and enhanced their professional skills in Western cuisine, which will certainly be a great treasure in their future careers.