Academician Liu Liang, Director of the State Key Laboratory of Quality Research in Chinese Medicine, and his delegation visited Macao Kiang Wu Hospital
Enhancing cooperation and Achieving complementarity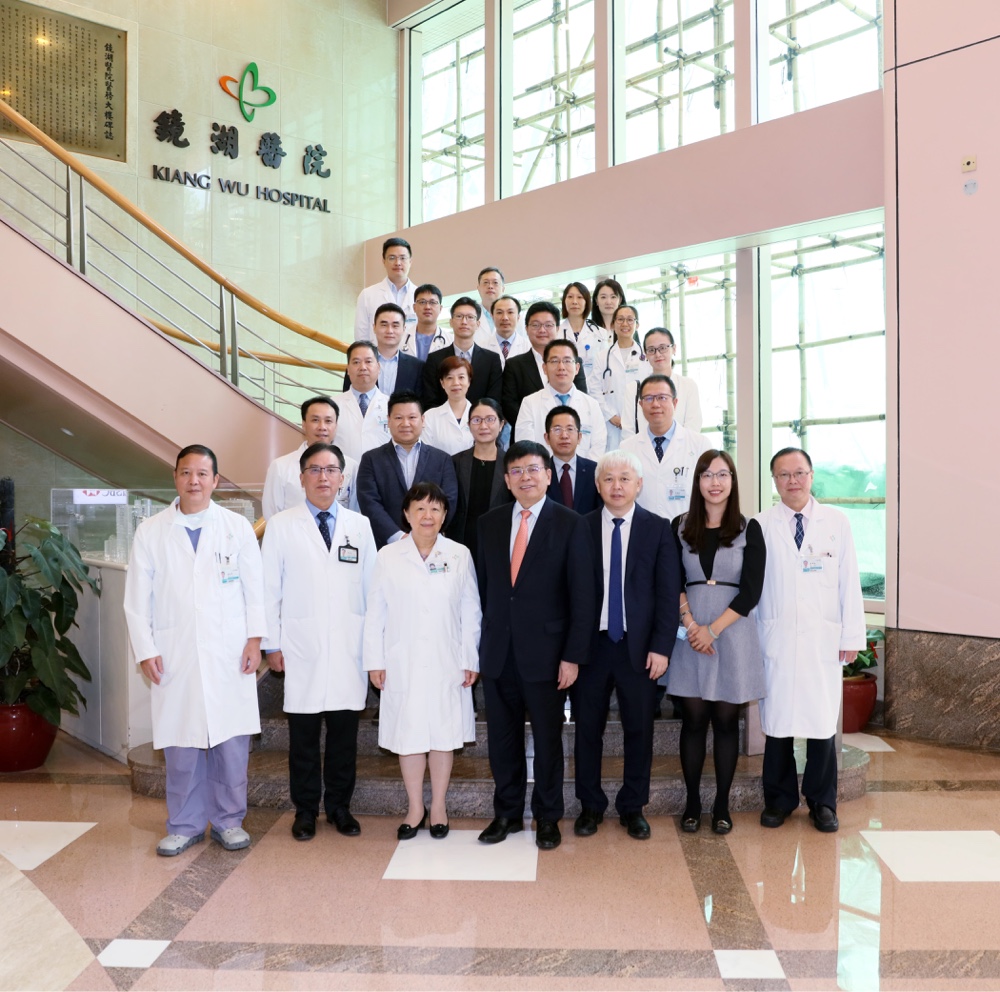 Academician Liu Liang (first row, fourth from right) led a visiting delegation took a group photo with Hospital Director Ung Pui Kun (first row, third from left) and her staff at Kiang Wu Hospital
Chair Professor Liu Liang, Director of the State Key Laboratory of Quality Research in Chinese Medicine (MUST) and Academician of the Chinese Academy of Engineering, led a group of 11 people from the State Key Laboratory to visit Kiang Wu Hospital on July 27, 2021 and were warmly welcomed by Hospital Director Wu Peijuan and her 15 staff members. Discussion between both parties aimed at enhancing understanding and broadening cooperation
During the discussion, Director Ung Pui Kun mentioned that Macao is a small yet comprehensive region with developmental potentials, offering supports to Kiang Wu Hospital's doctors to engage in academic research and to provide Macao citizens with better medical services. Executive Deputy Director Cheung Chun Wing, Deputy Director Chan Tai Ip, Deputy Director Xie Xuebin, Deputy Director Li Pengbin, and Deputy Director Lai Kai Seng of Kiang Wu Hospital gave speeches on student internships, scientific research and clinical integration respectively and are looking forward to deepening cooperation between both parties.
Academician Liu Liang thanked Hospital Director Ung for supporting MUST and the State Key Laboratory over the years and extended his invitations to both her and her hospital colleagues to visit the University. He briefly introduced the development of the State Key Laboratory, and pointed out that the collaboration between Dr. Elaine Leung and Dr. Cao Yabing would continue on and looked forward to deeper and broader cooperation between the two parties. Dean Zhou Hua expressed his wish that the Hospital will be able to provide internship opportunities for Chinese medicine graduates in the future during his speech. Dr. Elaine Leung thanked the Hospital for their strong support and unobstructed cooperation during the anti-tumor project. The research results of the new strategy research project (0096/2018/A3) of adjusting the intestinal microbiota to enhance the effect of PD1 antibody in the treatment of non-small cell lung cancer were recently published in the world-renowned journal Gut, which is the world's top journal in the field of gastrointestinal research. The impact factor in 2020 is 23.059, which is the highest-scoring article in the field of anti-tumor in Chinese medicine in Macao. She looked forward to extensive collaboration and complementarity between the two parties and also introduced the development of Dr. Neher's Biophysics Laboratory for Innovative Drug Discovery.
After the discussion, the delegation visited the Department of Pathology, the Chinese Medicine Building of the hospital, and the Historical Memorial Hall of the Kiang Wu Charity Association.