The 2nd Frontiers in Medicine Summit: Advances in Translational Medicine and Drug Development is a significant event organized by the newly established Medical Sciences Division of the Macau University of Science and Technology. As part of M.U.S.T. 23rd Anniversary celebration, the Summit will be held on April 3, 14:00-17:30 and April 4 9:00-18:00. The Summit will cover a diverse range of topics related to medicine, including cancer research, COVID-19, inflammation, and biotechnology. Distinguished experts such as Nobel Laureates Professor Erwin Neher and Professor Peter Doherty, will be speaking at the event. They are joined by prominent experts such as Professor Dong-Yan Jin, Professor Ling-Dong Kong, Professor Terence Lau, Professor Rui-Ping Xiao, Professor Chuxia Deng, Professor Kwok-Yung Yuen, Professor Yung-Chi Cheng, Professor Ruowen Ge, Professor Youming Zhang. In addition, promising young academics from the Medical Sciences Division will also feature at the summit.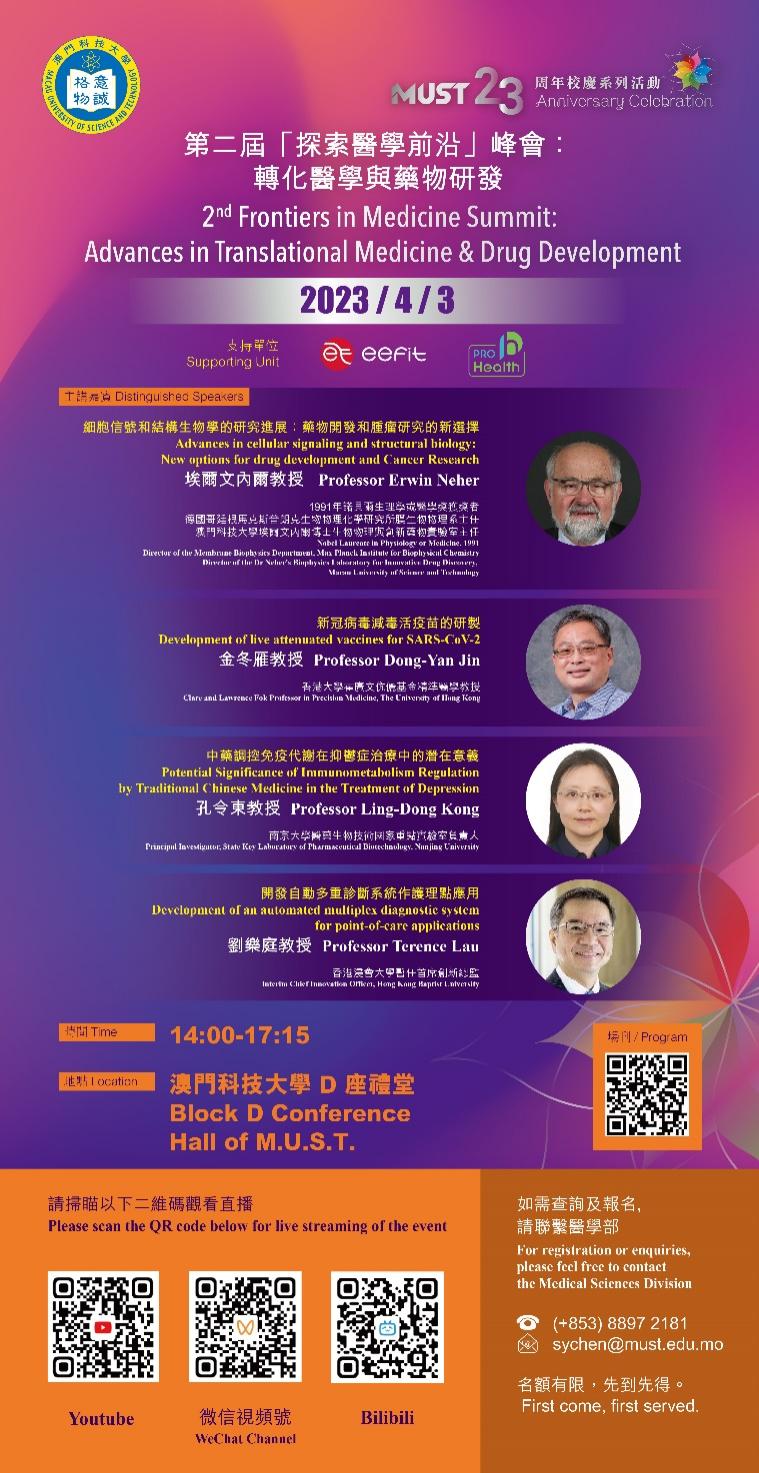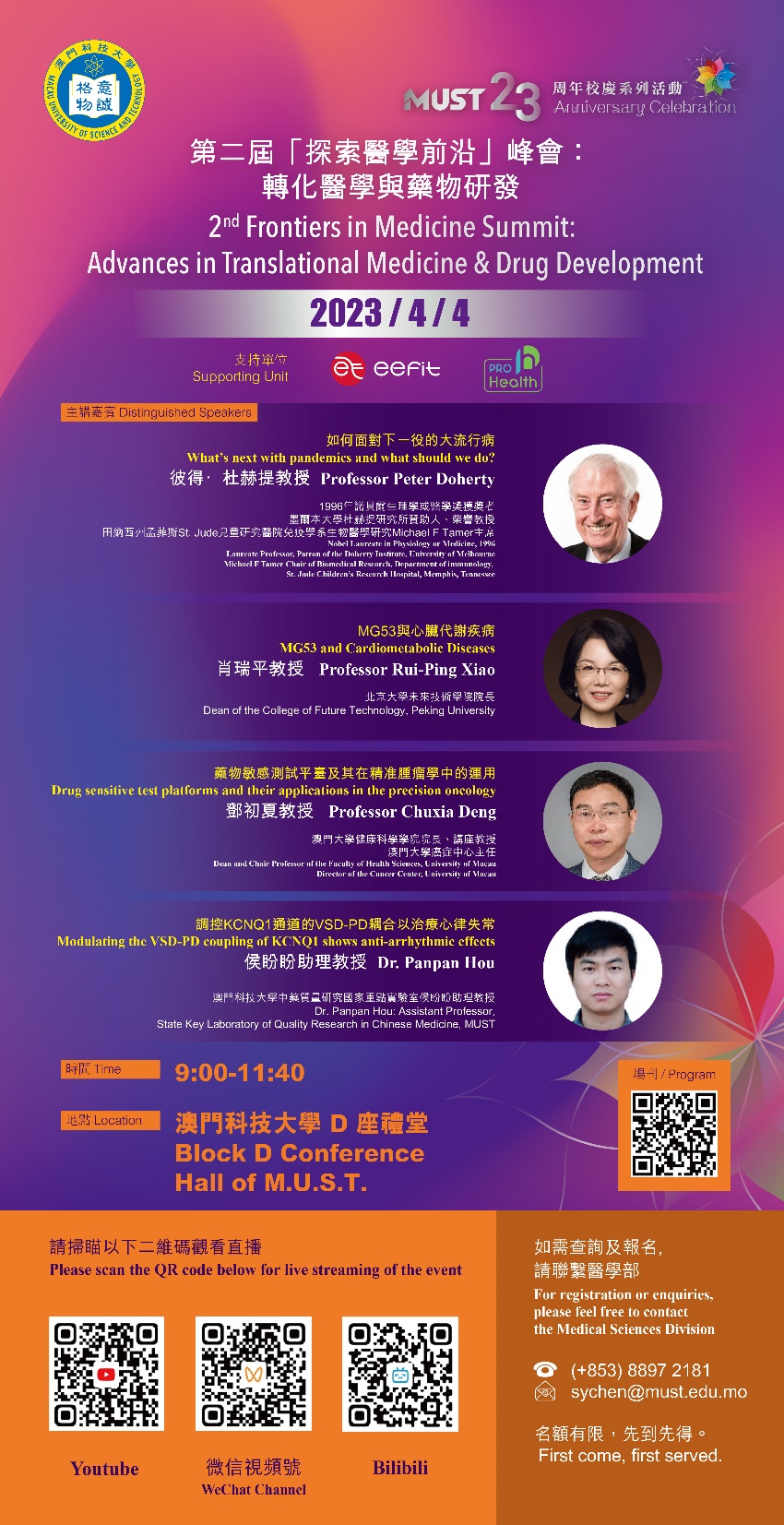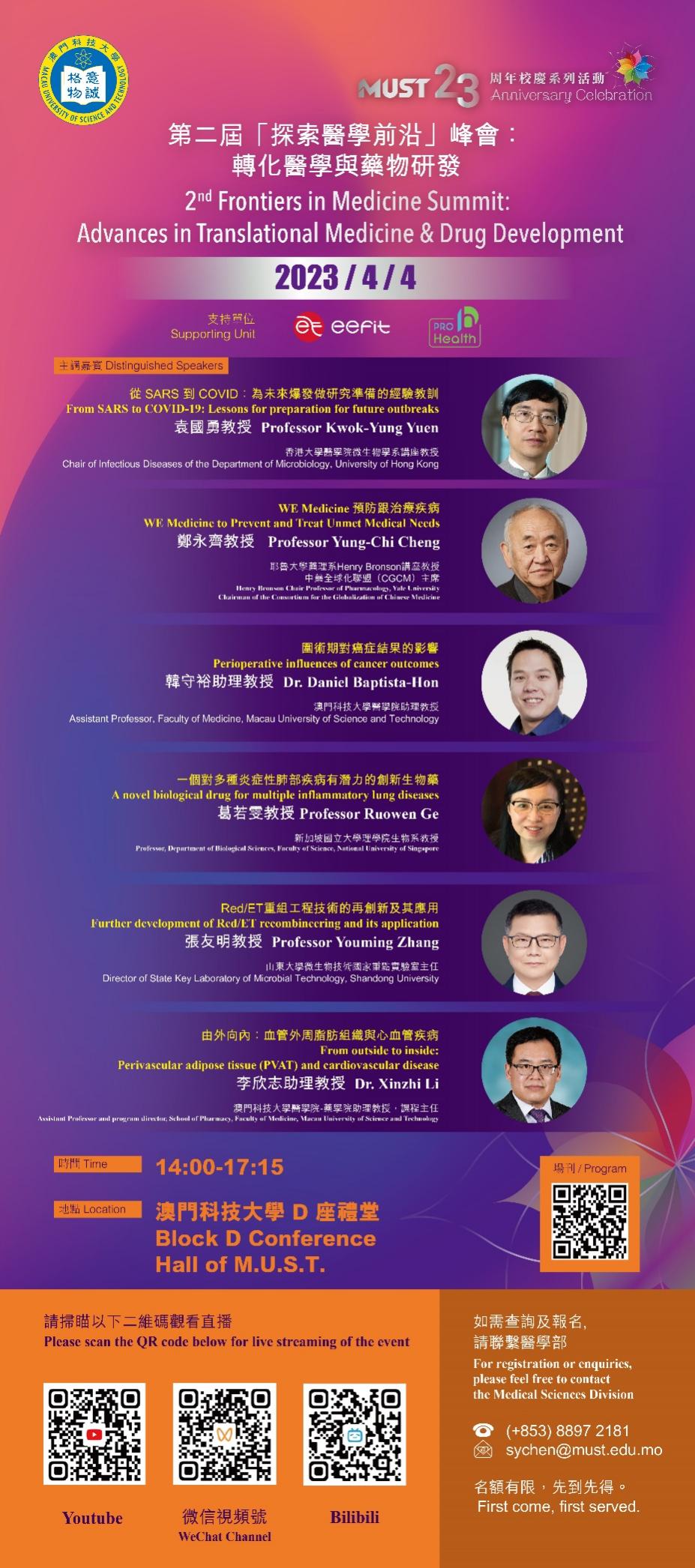 Nobel Laureates:
Professor Erwin Neher 2023-4-3 14:30-15:10
Prof. Neher started studying physics at the Institute of Technology in Munich in 1963. He later received a Fulbright scholarship in 1966 to continue his master study at University of Wisconsin-Madison. He returned to the Institute of Technology and obtained his PhD degree in 1970. Prof Neher started his research career as a Research Associate at the Max Planck Institute for Biophysical Chemistry. In 1983, he became the director of the Membrane Biophysics Department and has been the Emeritus Director at the Institute of Technology since 2011.
With the support of the Macau Science and Technology Development Fund and Macau University of Science and Technology, Dr. Neher was appointed the founding director of the Dr. Neher's Biophysics Laboratory for Innovative Drug Discovery at 2016. In addition, Prof. Neher received an Honorary Doctorate Degree from M.U.S.T. in 2016 for his outstanding achievements and academic contribution to the well-being of society.
As a biophysicist, Prof Neher focuses his research on ion channel electrophysiology with interests in snail neuronal membranes, ionic selectivity of Gramicidin channels, and ionic channels in chromaffin cell membrane. Prof. Neher has received over 40 distinguished awards and honors, such as the Leibniz Award in 1986, the Gerard Prize in 1991; the Nobel Prize for Medicine and Physiology in 1991; and honorary degrees from the Technical University of Munich and University College London. In addition, he is a member of over 20 academies including the European Academy of Science and the National Academy of Sciences. He continues to serve on Scientific Advisory Boards and Prize Committees in numerous organizations including the the Board of the European Neuroscience Institute and the committee of Glaxo-Smith-Kline Prize.
Professor Peter Doherty 2023-4-4 11:10-11:40
Trained initially as a veterinarian, Peter Doherty is Australian immunologist and pathologist who, with Rolf Zinkernagel of Switzerland, received the Nobel Prize for Physiology or Medicine in 1996 for their discovery of how the body's immune system distinguishes virus-infected cells from normal cells. After leading a research laboratory at the Wistar Institute, Philadelphia, and teaching at the University of Pennsylvania (1975–82), Peter headed the department of experimental pathology at the John Curtin School of Medical Research in Canberra (1982–88) and served as chairman (1988–2001) of the department of immunology at St. Jude Children's Research Hospital in Memphis, Tennessee, where he still holds the Michael F Tamer Chair of Biomedical Research. In 2002, he joined the faculty of medicine at the University of Melbourne, and from 2014, has been at the Peter Doherty Institute for Infection and Immunity, a joint venture between the university and the Royal Melbourne Hospital. The Nobel award led to an increasing involvement in public science communication, both in his own area of viral pathogenesis and immunity and in topics related to environmental sustainability and climate change. He is active on social media and was a prominent commentator through the first two years of COVID-19。
Distinguished speakers:
Professor Dong-Yan Jin 2023-4-3 15:45-16:15
Dong-Yan Jin is Clare and Lawrence Fok Professor in Precision Medicine, The University of Hong Kong. He was elected to the American Academy of Microbiology in 2020. His research is primarily focused on molecular cell biology of viruses and cancer. His previous discoveries of the MAD1 component of the mitotic checkpoint in humans and the cellular targets of viral miRNAs in his study of human T-cell leukemia virus type 1 and Epstein-Barr virus were seminal. Identification and characterization of novel interferon antagonists and inflammasome activators encoded by SARS-CoV, MERS-CoV and SARS-CoV-2 by his group in 2008-2022 broke new grounds for understanding coronavirus-host interaction. Their findings are not only conceptual breakthroughs, but also reveal new targets and strategies for the design and development of antivirals and vaccines. He is one of the cross-field highly cited researchers 2022 by Clarivate.
Professor Ling-Dong Kong 2023-4-3 16:15-16:45
Professor Ling-Dong Kong is a principal investigator in State Key Laboratory of Pharmaceutical Biotechnology, Nanjing University. Kong's research focuses on understanding the pharmacology and the molecular mechanisms of traditional Chinese medicine involved in improving depression and metabolic syndrome, which were supported by National Distinguished Young Scientist from Natural Science Foundation of China (NSFC) and Program for Changjiang Scholars and Innovative Research Team in University. Kong awarded the 2nd Chinese Young Women in Science Fellowship (Award nomination), National Natural Science Award (2009 Fourth in the name list), and First Prize of Natural Science Award for Outstanding Achievement Award of Scientific Research in Institutions of Higher Learning (Sciences and Technology) (2019 First in the name list).
Professor Terence Lau 2023-4-3 16:45-17:15
Professor Terence Lau is the Interim Chief Innovation Officer of the Hong Kong Baptist University. He has amassed a wealth of experience in the research & development and commercialisation of innovative products. Professor Lau was involved in the development of a large number of biotechnology products, and was also involved in the setup of a number of biotechnology companies. Apart from his academic appoinment, he is also a Co-founder and President of Emerging Viral Diagnostic Limited with research and operations in Hong Kong and Shenzhen. Professor Lau is member of the Advisory Council on Food and Environment Hygiene, as well as the Expert Committee on Antimicrobial Resistance.
Professor Rui-Ping Xiao 2023-4-4 9:15-9:45
Professor Rui-Ping Xiao is the Dean of the College of Future Technology at Peking University and leads a research group focused on cardiovascular and metabolic diseases. Her research has contributed to a better understanding of the role of beta-adrenergic receptors in cardiomyopathies and has led to the development of new therapeutic strategies targeting these signalling pathways. Professor Xiao's work has been published in numerous high-impact scientific journals, such as Nature, Nature Medicine, Nature Cell Biology and Circulation, and with over 13,000 citations. Professor Xiao is also an Associate Editor of the New England Journal of Medicine.
Professor Chuxia Deng 2023-4-4 9:45-10:15
Professsor Chuxia Deng is Dean and Chair Professor of the Faculty of Health Sciences at the University of Macau, and Director of the Cancer Center. He received his Master of Science degree from the Chinese Academy of Sciences, and his Doctorate in Philosophy from the University of Utah. His research focuses on the molecular mechanisms underlying cancer initiation and progression, and his work has led to more than 300 publications in leading scientific journals. His excellence in research has been recognized with numerous awards and honors, including the Outstanding Overseas Scholar from National Science Foundation, and the National Institute of Diabetes, Digestive and Kidkey Diseases (NIDDK) Director's Award. Professor Deng is a highly respected member of the international scientific community and is the Founding Editor-In-Chief of the International Journal of Biological Sciences.
Dr Panpan Hou 2023-4-4 10:15-10:45
Dr. Hou Panpan received his bachelor's degree in Biomedical Engineering (2009) and Ph.D. in Biophysics (2014) from Huazhong University of Science and Technology. Then he got solid postdoctoral training at Washington University in St. Louis, USA (2014-2020). In 2021, Dr. Hou joined the State Key Laboratory of Quality Research in Chinese Medicine and Dr. Neher's Biophysics Laboratory for Innovative Drug Discovery at Macau University of Science and Technology. Dr. Hou's research interests are ion channel gating mechanism, physiological function and drug screening. As first/corresponding author, he has published in prestigious journals such as Nature Communications (X2), PNAS, eLife (X2), Pharmacological Research, etc. Dr. Hou is a member of the Neurobiophysics Branch of the Chinese Biophysical Society.
Professor Yuen Kwok-Yung 2023-4-4 14:30-15:00
Professor Yuen Kwok-Yung is the Chair of Infectious Diseases of the Department of Microbiology of the University of Hong Kong, as well as the Henry Fok Professor in Infectious diseases. He was also awarded an honorary doctorate by the Macau University of Science and Technology in 2019. He is an Academician of the Chinese Academy of Engineering (Basic Medicine and Health) & Fellow of the American Academy of Microbiology. Prof. Yuen was elected as ASHK Founding Member in 2015. He is the co-director of the state key laboratory of emerging infectious disease of China in Hong Kong Special Administrative Region, and the founding co-director of the Hong Kong University-Pasteur Research Centre. Professor Yuen played a key role in the identification of the SARS coronavirus responsible for the 2003 outbreak. His discovery was key to containing the outbreak. He was awarded the Silver and Gold Bauhinia Star for his contributions. He is also Fellow of the Royal College of Physicians (London and Edinburgh), Surgeons (Glasgow) and Pathologists (UK).
Professor Yung-Chi Cheng 2023-4-4 15:00-15:30
Professor Yung-Chi Cheng is Henry Bronson Professor of Pharmacology and the Chairman of the Consortium for the Globalization of Chinese Medicine (CGCM). Professor Cheng is a leading scientist in drug development focusing on cancer and viral chemotherapy. He discovered four approved drugs currently used in clinic including Gancyclovir, Lamivudine, Clevudine, and Emtricitabine. In addition, three chemicals and one Chinese medicine formula (PHY906) are currently at different stages of Clinical Trial for the treatment of cancer as well as HIV and HBV infection. Throughout his career he has received many honors. These include a Leukemia Society of America Scholar Award, the Rhodes Memorial Award from the American Association for Cancer Research, an Outstanding Investigator Award from the National Cancer Institute, an Outstanding Alumni Awards from Tunghai University and Brown University. He is also a National Foundation for Cancer Research Fellow.
Dr Daniel Baptista-Hon 2023-4-4 15:30-16:00
Dr Daniel Baptista-Hon is an Assistant Professor at the Faculty of Medicine, Macau University of Science and Technology, and Honorary Lecturer at the University of Dundee, UK. He obtained his BSc in Biomedical Sciences and MSc in Molecular Pharmacology at the University of Manchester, UK, and his PhD from Edinburgh University, UK. Dr. Baptista-Hon's laboratory investigates the role of membrane receptors (ion channels and G protein-coupled receptors) in health and disease. His research employs patch clamp electrophysiological methods with molecular, biochemical and genetic techniques. His main research areas include cancer, epidemic and infectious diseases, pharmacology of anesthesia and analgesics, as well as ion channel structure-function. He has published in international journals such as Signal Transduction and Targeted Therapy, Proceedings of the National Academy of Sciences, British Journal of Anaesthesia, British Journal of Pharmacology, Journal of Physiology, Pain, Journal of Biological Chemistry, Scientific Reports etc. He is also an Associate Editor of the newly established journal Medcomm – Future Medicine, from Wiley.
Professor Ruowen Ge 2023-4-4 16:30-17:00
Professor Ruowen Ge is at the Department of Biological Sciences, Faculty of Science, National University of Singapore. Her research focuses on identifying novel anti-angiogenesis and anti-inflamamtion proteins, investigating their biological mechanisms as well as therapeutic applications in drug discovery. She has published around 100 peer-reviewed papers, applied 9 patents (3 of which have been awarded). Her research has facilitated the establsihment of two biopharma startup companies.
Professor Youming Zhang 2023-4-4 17:00-17:30
Professor Youming Zhang is the Director of State Key Laboratory of Microbial Technology in Shandong University, China since 2013. As one of the co-founders and chief scientific officer, he was responsible for the R&D in Gene Bridges GmbH in Germany for 13 years. Based on the invention and application of Red/ET DNA recombineering technology, Youming Zhang published more than 170 scientific articles and obtained 11 international patents and more than 20 Chinese patents together with his colleagues. The technology is a useful technology for large size DNA/genome engineering and widely used over the world by Biotech/Pharma companies and research laboratories. Youming Zhang became the member of Academia Europaea and the member of National Academy of Science and Engineering, Germany (Deutschen Akademie der Technikwissenschaften, acatech).
Dr. Xinzhi Li 2023-4-4 17:30-18:00
Dr. Xinzhi Li is an assistant professor and the program director in the School of Pharmacy, Faculty of Medicine, Macau University of Science and Technology. He received his Ph.D. degree from China Academy of Chinese Medical Sciences in 2008, and had served as a Postdoctoral Fellow/Research Associate at Queen's University, Canada, from 2010 to 2020, then joined Macau University of Science and Technology in 2020. His researches have been reported in journals of FASEB J,J L ipid Res,Br J Pharmacol, etc. His research was funded by the National Natural Science Foundation of China, the Ministry of Science and Technology of China and the Macau Science Foundation (FDCT). In 2014, he was awarded the second prize of National Science and Technology Progress by the Ministry of Science and Technology.
Organising Committee
Advisor:
Chair Professor Paul Tam, Vice President, M.U.S.T.
Chair:
Chair Professor Yizhun Zhu, Assistant Vice President, M.U.S.T.
Co-Chairs:
Professor Manson Fok, Dean of Faculty of Medicine, M.U.S.T.
Professor Vincent Wong, Assistant Director, State Key Laboratory of Quality Research in Chinese Medicine, M.U.S.T.
Dr Daniel Baptista-Hon, Assistant Professor, Faculty of Medicine, M.U.S.T.
Professor Li Zeng, Dean of Faculty of Chinese Medicine
Committee Members:
Professor Qibiao Wu, Assistant Dean, Faculty of Chinese Medicine, M.U.S.T.
Dr Olivia Monteiro, Assistant Professor, Faculty of Medicine, M.U.S.T.
Dr Panpan Hou, Assistant Professor, State Key Laboratory of Quality Research in Chinese Medicine, M.U.S.T.
Please scan the QR code below for live streaming of the event: