The Awards Ceremony organized by the Macau Productivity and Technology Transfer Center, was held on April 16, 2021. The team of five sophomore students from FHTM of M.U.S.T, comprising Lin Yinran, Liu Yi, Zhang Jun, Zhou Xinyi, and Wu Ziyue, won the Gold Award in the Student Category of the 2nd Macau Vocation English Contest.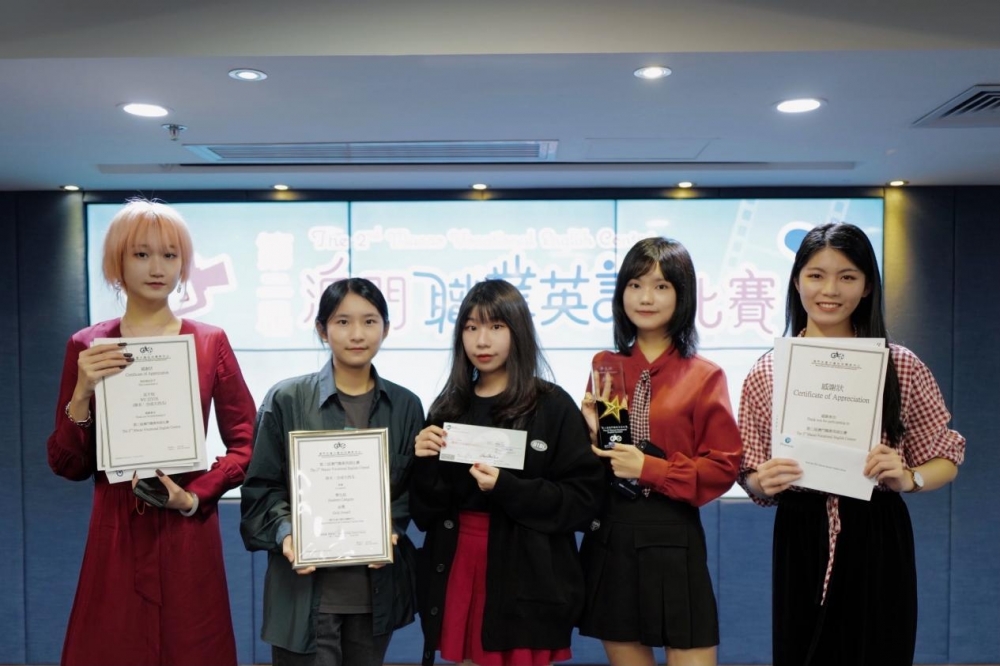 FHTM students Olivia Lin, Emily Liu, June Zhang, Mia Zhou, and Yoyo Wu
This competition aims to encourage the future professionals of the Macao travel and tourism-related service sector to enhance their English skills, to support the sustainable development of Macao as the world center of tourism and leisure. The Macao Vocational English Contest has been held since 2019, where contestants are required to make a creative video revolving around the workplace, the English jargon, and terminology used in the tourism and hospitality industry. It is also helpful to horn participants' film-making skills to enrich their multimedia ability that is important in the modern world.
The Faculty of Hospitality and Tourism Management of M.U.S.T. keeps encouraging students to actively participate in various competitions and activities, contributing to cultivating outstanding talents with a combination of theory and practice, and winning glory for the University and Macao. Behind the video "What Can We Learn From an Interview" made by FHTM students was their great effort of brainstorming, story designing, film shooting, and editing during winter vacation. Their quality video has been commented to be able to convey a unique understanding of the concept of "Focus on Customers' Focus", which made it successfully stand out from the 49 submitted works and won the best award.
The award-winning video: https://youtu.be/AXjC4J_5SY8
Students awarded the Gold Award of Students Category