In celebration of the University's 18th anniversary, Macau University of Science and Technology held a grand Flag Raising Ceremony in front of the Administrative Building Block A in the morning of March 27, 2018. At the Ceremony, the national flag and the regional flag of the Macao S.A.R. were raised, which made the University's anniversary more meaningful.
Deputy Director Sun Da of the Liaison Office of the Central People's Government in the Macao S.A.R., Major General Zhou Wu Gang of the People's Liberation Army Macau Garrison, Representative of Commissioner Ye Da Bo, Deputy Director Weng Jin Shan of the Consular Services Department of the Office of the Commissioner of the Ministry of Foreign Affairs of the People's Republic of China in the Macao S.A.R., Director Xu Ting of the Department of Education and Youth Affairs of the Liaison Office of the Central People's Government in the Macao S.A.R., Deputy Director Chang Kun Hong of the Tertiary Education Services Office of Macao S.A.R., Chancellor Liu Chak Wan of MUST, Chairman Zhou Li Gao of the University Council, President Liu Liang, members of the MUST Foundation, and members of the University Council attended the Ceremony. President Howard Stribbell of The International School (TIS), also led TIS students to join with MUST teachers and students, over 300 people attended the Ceremony.
The flag raising team is comprised of students of the MUST Art Troupe. At the Ceremony, procedurally, the team marched to the flag stands, raised the flags, and sang the national anthem, the atmosphere of which was solemn. Lam Pak In, member of the flag raising team, expressed that he felt greatly honored to be given the duty; he and his dozen of teammates have been practiced more than a month before the Ceremony. He felt the solemnness of flag-raising ceremonies in person; the fact that he was able to participate in a ceremony, which he normally would only be able to see on TV, made him feel tremendously honored.
Macau University of Science and Technology has been committed to training high-quality talents of various kinds for the society, adopting the policy of attaching equal importance to teaching and research, emphasizing uniqueness and strengths, and striving for excellence, and has reached new height in academic development. The Flag Raising Ceremony aims to deepen students' love for Macau and the mother country and cultivate national identity and patriotism in students.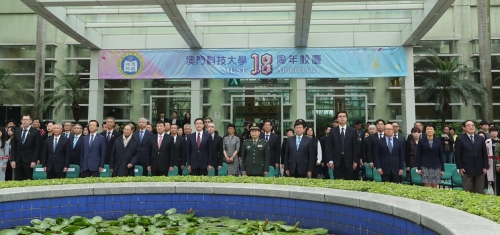 Guests attending the Flag Raising Ceremony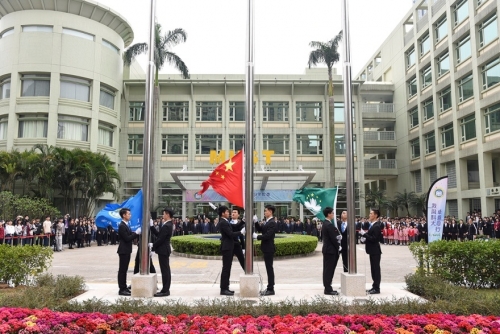 The flag raising team is comprised of students of the MUST Art Troupe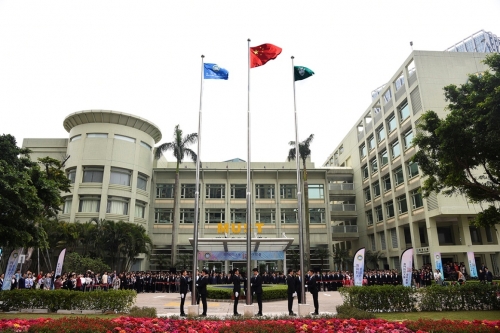 MUST held Flag Raising Ceremony in celebration of 18th anniversary