Vice Minister of Education of China visits MUST
impressed by the University's educational achievements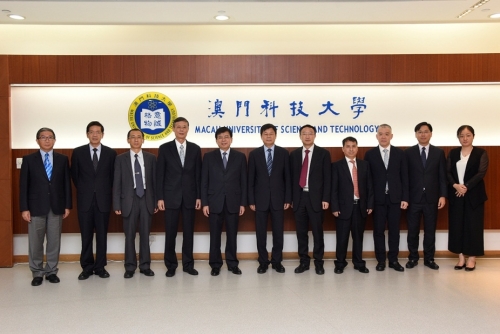 Vice Minister Du Zhanyuan (middle), President Liu Liang (5th left) and other delegation members took photo
Mr. Du Zhanyuan, Vice Minister of Education of China led a delegation on a visit to the Macau University of Science and Technology in the afternoon of June 1, 2018. The delegation was warmly received by President Liu Liang, Vice President Tong Ka Lok, Vice President Jiang Zhi Hong, Vice President Lin Zhijun and Associate Vice President Kwong Ying Wa.
At the reception, President Liu Liang gave the delegation an introduction of MUST, noting that ever since it was established in 2000, the University has become the largest-scale comprehensive university in Macau, as well as the youngest university among the Top 50 Universities across the two straits, Hong Kong and Macau. In terms of scientific research, over the past years, the University has been granted over 250 international patents; the number of papers published in world top academic journals reached new height repeatedly. Alongside implementing the policy of placing equal values on teaching and research, the University also committed to bring in excellent scholars, faculty and research teams, and made great efforts to stabilize educational scale, optimized program structure, and improve educational quality. Following the President's introduction, Vice Minister Du gave high credits to the educational scale and achievements of MUST in its 18 years' development, which he was delighted to see and was greatly impressed by; he praised MUST to be a role-model for universities and asserted that the Ministry of Education would give full support to the University, helping the University to reinforce cooperation, improve scientific research standard, expand international impact, and continue cultivate China-loving Macau-loving spirit among the students.
Following the meeting, President Liu Liang escorted the delegation on a tour of the State Key Laboratory of Quality Research in Chinese Medicines (Macau University of Science and Technology) and the Macau University of Science and Technology Lunar and Planetary Science Laboratory – Co-laboratory of Chinese Academy of Sciences Key Laboratory of Lunar and Deep Space Exploration.
Other guests from the Ministry of Education included Director Lei Chaozi of the Department of Science and Technology, Director Li Jun of the Department of Postgraduate Education, Director Luo Fang Shu of the Science and Technology Development Center, Deputy Director Tian Lu Lu of the Office of Hong Kong, Macao and Taiwan Affairs, Surveyor (II) Xiong Shuanglin of the General Office, and Director Hong Bo of the Department of Education and Youth Affairs of the Liaison Office of the Central People's Government in the Macao S.A.R.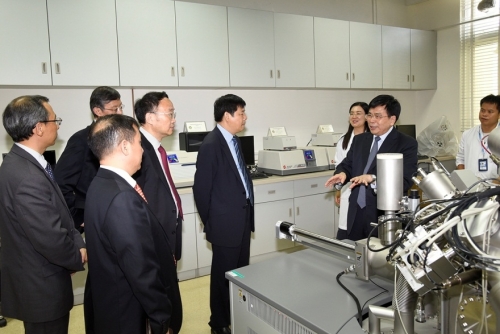 President Liu Liang led the guests on a tour of the State Key Laboratory of Quality Research in Chinese Medicines (Macau University of Science and Technology)