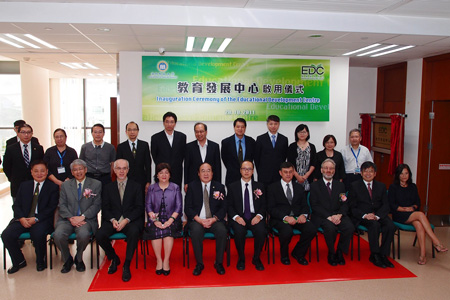 The Inauguration Ceremony of the Educational Development Centre of Macau University of Science and Technology (MUST) was held on 20 October at the 4th Floor of MUST Library. Mr. Sou Chio Fai, Director of the Tertiary Education Services Office (GAES) of Macau SAR and Prof. Xu Aoao, Rector of MUST, jointly officiated at the plaque unveiling ceremony. Other guests included: Chair Prof. Liu Liang, Vice-Rector of MUST and Prof. Jorge Cardoso, Vice-Rector of University of Saint Joseph.
MUST's Vice Rector, Prof. Zhang Shuguang, in his opening remarks, noted that 'the Educational Development Centre is vital to the development of the University. It will provide professional development for academic staff, administrative staff, students and researchers. The objective of the centre is to strengthen, enhance and promote the continuous improvement of, and excellence in, learning, teaching, assessment, research and supervision, professional staff development and administration throughout the University. The Centre seeks to accomplish this through the provision of the highest quality support and development for all members of the University.'
Prof. Keith Morrison, Registrar and Director of the Educational Development Centre introduced the work of the Centre: 'the Centre will provide on-the-ground academic and administrative development and support; it will promote research-informed training and development in pedagogy and professional development, and unlike many such centres, it will extend its work to include the provision of management and administration development for non-academic staff of the university.'
Dr. Eva Wong, Director of the Centre for Holistic Teaching and Learning of Hong Kong Baptist University, at the invitation of MUST, delivered the Keynote Speech: 'Professional Development of Staff – A Noble Responsibility for Teaching and Learning Centres in the 21st Century'. She pointed out that, nowadays, undergraduate students grow up using information technology and its application without a second thought. As teaching staff of the university, we should learn to apply information technology in order to help students in learning more effectively. E-learning is now part and parcel of learning in the 21st Century, and Teaching and Learning Centres should actively develop and promote e-learning.
She indicated that professional development activities of Teaching and Learning Centres must be based on best international practice, tailored to the immediate requirements of staff and students in their respective institutions. Pedagogies that are relevant and applicable to the situation at hand will be welcomed by academic colleagues. A Teaching and Learning Centre cannot exist in isolation and must reach out to all academic departments as well as other support units that may impact on student learning. The centre must associate itself with the best, and collaborate with excellent teachers to build up a culture of excellence and continuous improvement.