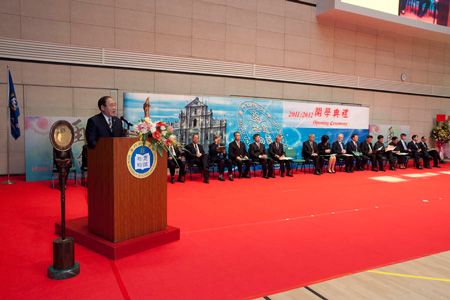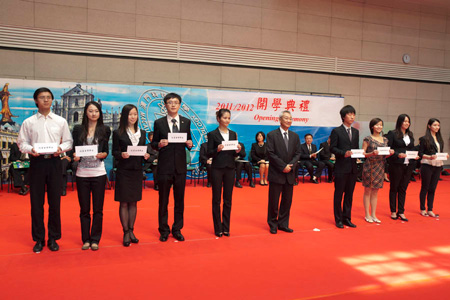 The MUST Opening Ceremony for Academic Year 2011/2012 took place on 10 September (Sat) 11:00am at MUST Indoor Gymnasium and was attended by over 2000 new students. At the opening ceremony, Rector Xu Aoao pointed out during his speech, "MUST is at the starting point of "new horizons", new teachers are at their starting point of new assignments, new students are at their starting point of new university life, all of these are converging towards one goal: All teachers, staff and students work collaboratively to push MUST forward into new horizons."
In this new academic year, MUST has recruited over 30 new teachers and various overseas scholars and experts to join the faculty management team for the promotion of academic research. Among them includes Vice Rector (Research and Development) and Director of State Key Laboratory of Quality Research in Chinese Medicine (MUST), Chair Prof. Liu Liang reported in July. Before joining MUST, Chair Prof. Liu was the Dean of School of Chinese Medicine in Hong Kong Baptist University. The former Vice Director of Teaching Division of School of Chinese Medicine in Hong Kong Baptist University and award (overseas) recipient of National Science Foundation of China, Prof. Jiang Zhi Hong has been appointed as the Director of Macau Institute for Applied Research in Medicine and Health. Prof. Mei Bao, Vice Chairman of Jiangsu Astrological Association and formerly Head of Suzhou Observatory Station of Nanjing Purple Mountain Observatory has been appointed as the Assistant Director of Space Science Institute.
During the past year, MUST has been achieving remarkably in student competitions and university ranking. After MUST won the World Championship in the International Final of Global Management Challenge in 2007, MUST students won the 2nd place again in the International Final of 2010 Global Management Challenge in this April. MUST has also won other world class professional championships that have added glory to Macau and MUST. Rector Xu encouraged new students to learn from their seniors and surpass them.
In June, MUST ranked 82nd in the academic standing of Top 100 Universities in Mainland, Taiwan, Hong Kong and Macau by the Center for World-Class Universities, Graduate School of Education of Shanghai Jiao Tong University, making MUST the youngest among the list. Rector Xu expressed that in this new academic year, the motto of MUST will be – A successful university should be the cradle of creativity, a successful university should lead the future of the society. At this new starting point, the University should be heading towards the ambitious goal of building a university with uniqueness and influence, reaching new horizons and creating new glories.