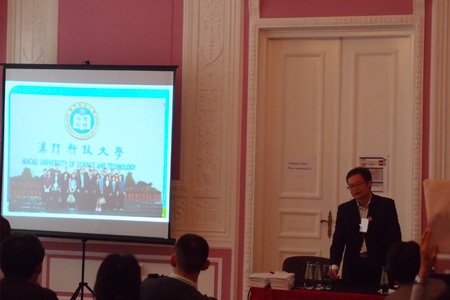 Assistant professor Zaicheng Yi from Faculty of Law, MUST spoke at the regional session of CC Global Summit 2011
Assistant professor Zaicheng Yi, Miss Xi Tang and Miss Chengfang Wang of Macau University of Science and Technology (MUST), representing Creative Commons Macau (CC Macau), participated in the Creative Commons (CC) Global Summit in Warsaw, Poland from September 16th to 18th, 2011. CC volunteers, industry leaders and practitioners from more than 50 jurisdictions gathered together at Primates' Palace, sharing successful porting experience and empowering an open future for the next decade.
Assistant Professor Yi made a presentation at the summit, introducing CC Macau and their achievements to other affiliates. During the summit, CC Macau also participated in discussion on the upcoming global CC 4.0 license, gained experience of license porting from other CC affiliates, especially those in the Asia-Pacific region, and found out opportunities to cooperate with them. Progress has also been made on translation of Portuguese version of Macau CC 3.0 since Teresa Nobre, legal lead of CC Portugal, promised future cooperation.
CC Macau believes that CC license would be helpful in protecting and sharing works when government promoting cultural and creative industry in Macau.
CC Macau project was initiated by Faculty of Law, MUST in April, 2010.