On March 28, 2022, the "Building a Sustainable Future: Post-pandemic Life in The Greater Bay Area and Beyond" forum was held in the Macao MGM Cotai Ballroom in hybrid form. The forum was hosted by the Macau University of Science and Technology, and jointly organized by MGM, the National Association for Business Economics (NABE), USA, and the National Observation and Research Station of Coastal Ecological Environments of Macao, and supported by the Macau European Chamber of Commerce.
Guests attending the forum include members of the Executive Council Chan Ka Leong and Chao Weng Hou, members of the Legislative Assembly Ip Sio Kai, Cheung Kin Chung, Song Pek Kei, Lo Choi In, Zheng Anting and Lam Shu Yuen (the representatives of Leong On Kei) , Kenneth Feng, President, Strategic, and Chief Financial Officer, MGM; Henry Brockman, Chairman of the Council of Macau European Chamber of Commerce; Jiao Fang Tai, Vice President of the Guangdong University of Foreign Studies; Dr. Liu Chak Wan, Chancellor of Macau University of Science and Technology, Chair Prof. Joseph Hun-wei LEE, President of M.U.S.T., Vice Presidents of M.U.S.T. Chair Prof. Jiang Zhihong, Prof. Pang Chuan, and Chair Prof. So, Jacky Yuk Chow; Ms. Chen Ji Min, Secretary of the University Council; and members of the University Council Mr. Lau Veng Seng, Mr. Tang Kuan Meng, Ms. Su Hsiang Mei, Ms. Chen Chih Ling, and Mr. Lam Ka Vai; members of the University Advisory Committee Mr. José Luis de Sales Marques, Mr. Cheong Meng Seng, and Ms. Hoi Lok Man, and representatives from local governments, scholarship sponsors, internship agencies, banks, hotels, business associations, mainland and local universities, secondary schools, teachers, and students.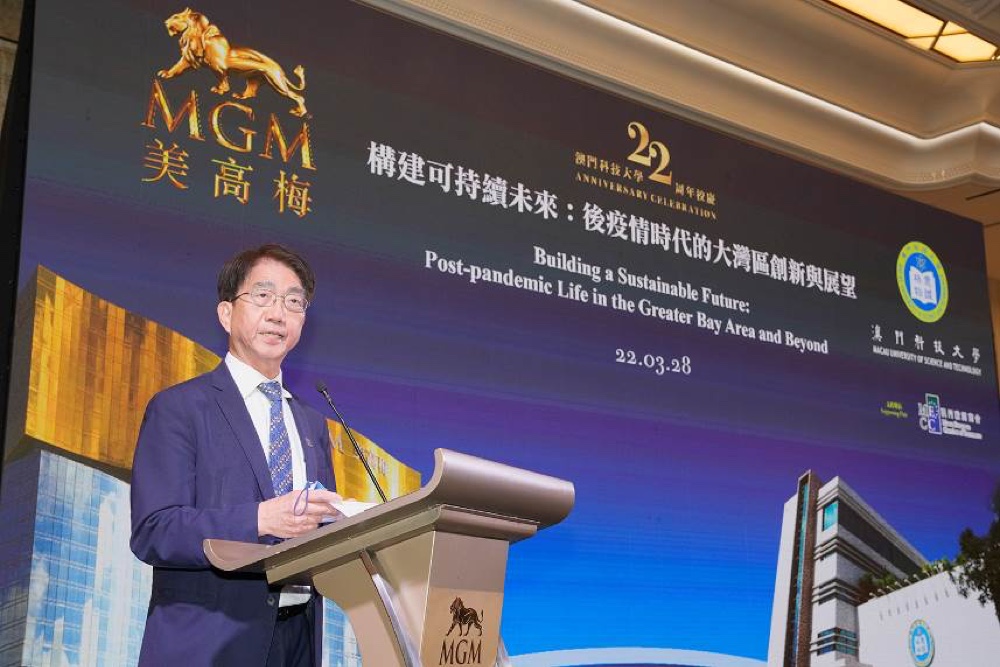 Speech by Chair Professor Joseph Hun wei-Lee, President of M.U.S.T
Chair Professor Hun-wei Lee, President of Macau University of Science and Technology, pointed out in the opening speech that at present, the Covid-19 pandemic causes a negative influence on the implementation of the 2030 sustainable development goal of the United Nations within a short term, while the prevention and control of the pandemic also force a reexamination of the relationship between economic growth, environmental protection, and social responsibility, urging the Government, the business circles, and social groups to lay more emphasis on sustainable development. The development of a green and sustainable economy helps promote the post-pandemic recovery as staff, travelers, investors, and other stakeholders' risk awareness of sustainable development will be stronger, and environmental, social as well as governing factors will be more integrated with the business activities of enterprises. Higher education institutions play a vital role in the promotion of sustainable development through teaching practices and research innovation, and comprehensive and sustainable development has been brought in the strategic planning of M.U.S.T. Sustainable development needs interdisciplinary, cross-sectoral and cross-regional collaborative innovation. Universities should constantly strengthen their research in interdisciplinary and frontier domains including science, technology, engineering, environment and finance, and others, which should also be closely related to the businesses, industries, the Government, entrepreneurs, and residents, to accelerate the transformation and implementation of research results; meanwhile actively participating in the construction of the Guangdong-Hong Kong-Macao Greater Bay Area as well as the Hengqin-Guangdong-Macao cooperation zone, promoting moderate diversification of Macao economy through various and simultaneous measures, while driving a more tolerant, low-carbon, and flexible sustainable development in the post-pandemic era.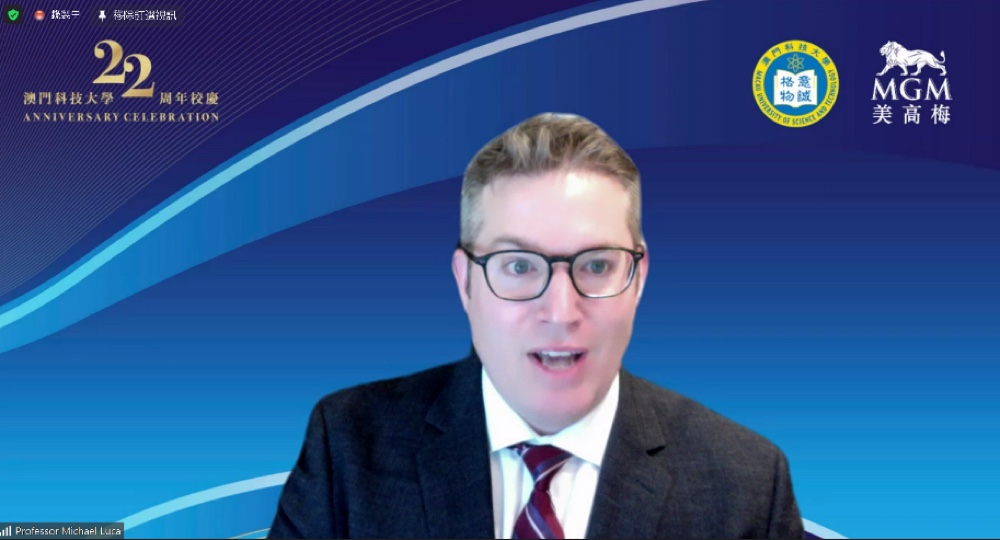 Host Professor Michael Luca
As for the keynote speeches, Professor Michael Luca of Harvard Business School as a facilitator invited the 4 keynote online speakers who shared their brilliant opinions on aspects including global sustainable development, the innovative impetus of the Guangdong-Hong Kong-Macao Greater Bay Area, new ecosystems and sustainable cities, and others.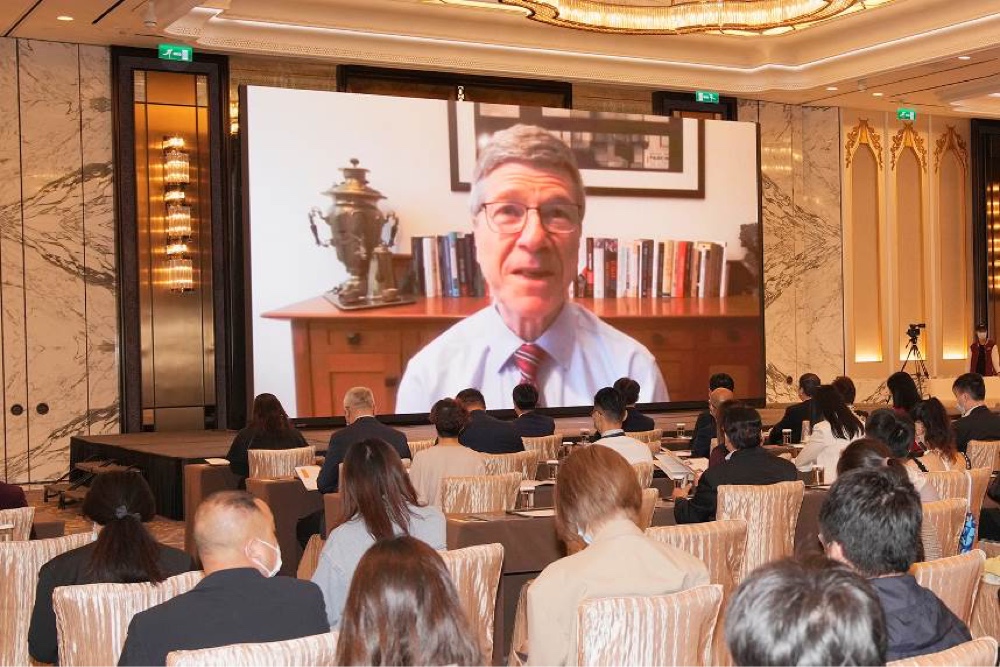 Online Speech by Professor Jeffrey Sachs
University Professor Jeffrey Sachs, Director of the Center for Sustainable Development solution network of Columbia University, President of the UN Sustainable Development Solutions Network, made a speech titled "Global Cooperation, Sustainable Development and Covid-19 pandemic". He shared his thoughts about how the pandemic had brought problems in health, society, economy, and politics within the global range, bringing sustainable development into a dilemma. Therefore, world collaboration should be needed against the Covid-19 Pandemic, and each country should be responsible for the accomplishment of sustainable development and promote global sustainable development together through new technologies based on the global cooperation model.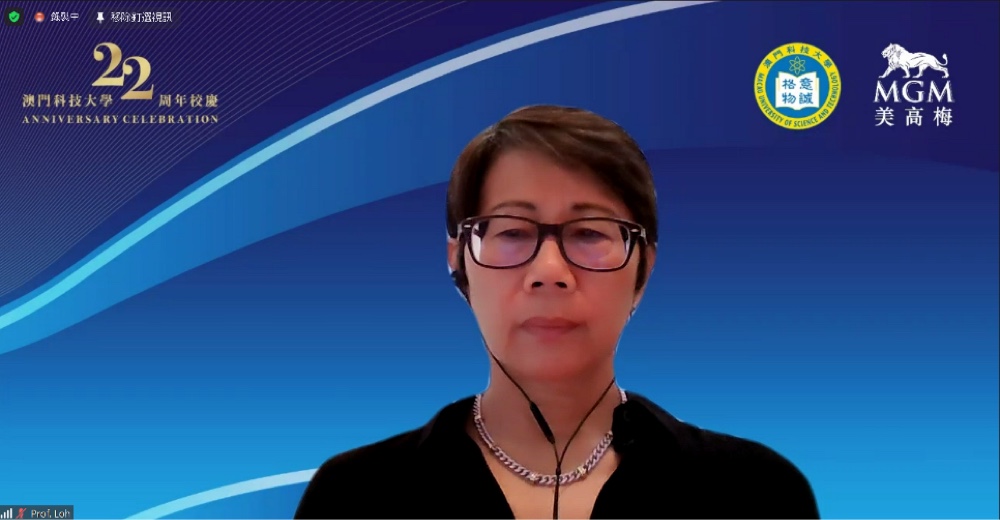 Online Speech by Professor Christine Loh
Professor Christine Loh, Chief Development Consultant of the Environment and Sustainable Development Department of Hong Kong University of Science and Technology made a speech titled "Promoting the Innovation of Guangdong, Hong Kong, Macao and The Greater Bay Area with Carbon Neutralization and Biodiversity". Professor Loh pointed out that the eco-environment and urban biodiversity need to be positively protected from the rapid development of the Greater Bay Area, and the governance of industrial pollution should be strengthened by promoting the application of green energy and enhancing the protection, as well as management, of biodiversity through implementing the policy system of peak carbon dioxide emissions and carbon neutralization in the Greater Bay Area. The capacity of the city to respond to and adapt to climate changes can be prominently enhanced, thus promoting the innovative development of the Greater Bay Area.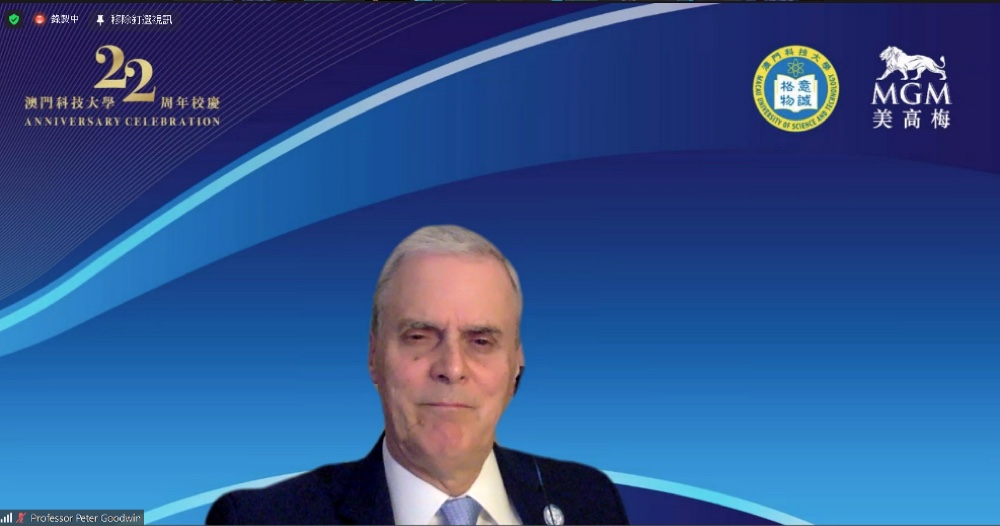 Online Speech by Professor Peter Goodwin
Professor Peter Goodwin, President of the University of Maryland Environmental Sciences Center, made a speech titled "Eco-engineering: From Recovery to New Ecosystems", proposing that the ecosystems had experienced unprecedented change in the last century, meanwhile illustrating that it would be impossible for some ecosystems to recover to their original state. With new technologies, flexible and applicable systems should be maintained and created focused on the basic ecological process.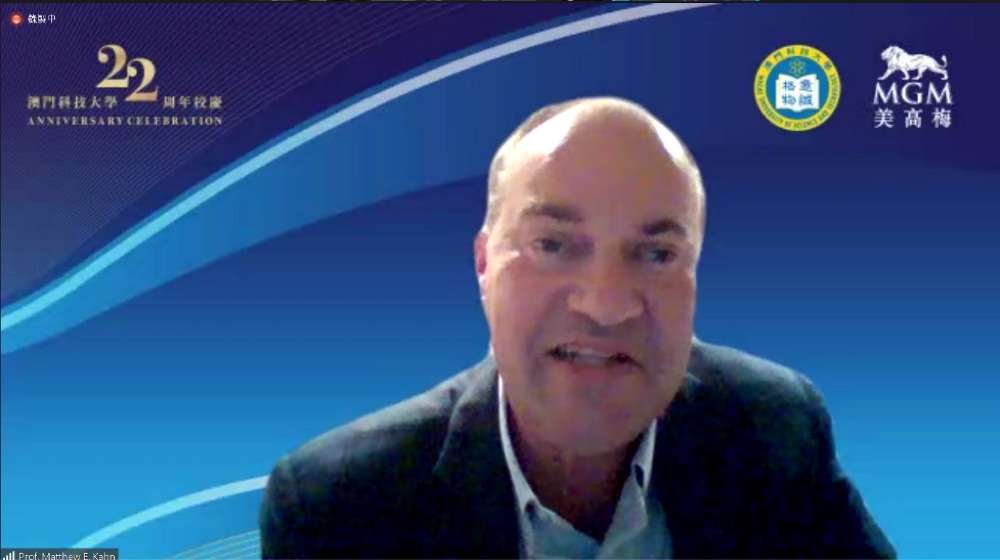 Online Speech by Professor Matthew Kahn
Professor Matthew Kahn from the University of Southern California pointed out in the speech titled "Sustainable Cities" that cities were the key to achieving the sustainable development goal, and it would be vital for its realization to construct tolerant, sustainable, flexible, and safe cities. The construction of sustainable cities is a guarantee of sustainable development, where cities should be healthy and conformable to environmental requirements. To achieve a win-win situation in the economic growth and environment of a city, a high-quality environment is an essential condition for a habitable city. Promoting green development and constructing green cities are rational choices of local governments.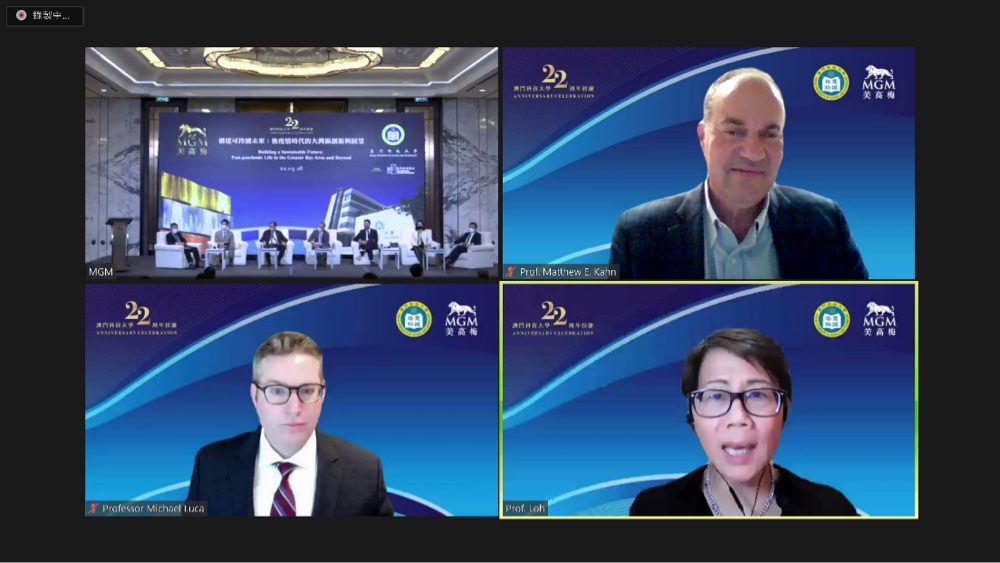 Online and On-site Guest Interaction During the Panel Discussion
The panel discussion was hosted by Professor Michael Luca from Harvard Business School, during which Professors Christine Loh and Matthew Kahn had a hot discussion with Professor Chengkun Liu, Director of The Institute for Sustainable Development of Macau University of Science and Technology, and 6 representatives from Macao Integrated Tourism and Leisure Enterprises. They are Kenneth Feng, President, Strategic and Chief Financial Officer, MGM; Philip Cheng, Director of Galaxy Entertainment Group; Raymond Lo, SVP of Property GM of Altira Macau & Mocha Clubs, Melco Resorts & Entertainment; Jason Ni, AVP of Research, Planning and Strategy, Wynn Macau and Wynn Palace; Meridith Beaujean, Executive Director of ESG Program & Sustainability, Sands China Ltd.; and Dr. Bernard Cheng, Director of Sustainability Department, SJM Resorts, S.A. They agreed that the construction of a sustainable economy was vital throughout the world, meanwhile, they emphatically introduced successful sustainable development measures as well as the chances for enterprises, policymakers as well as broader communities to achieve a more sustainable future.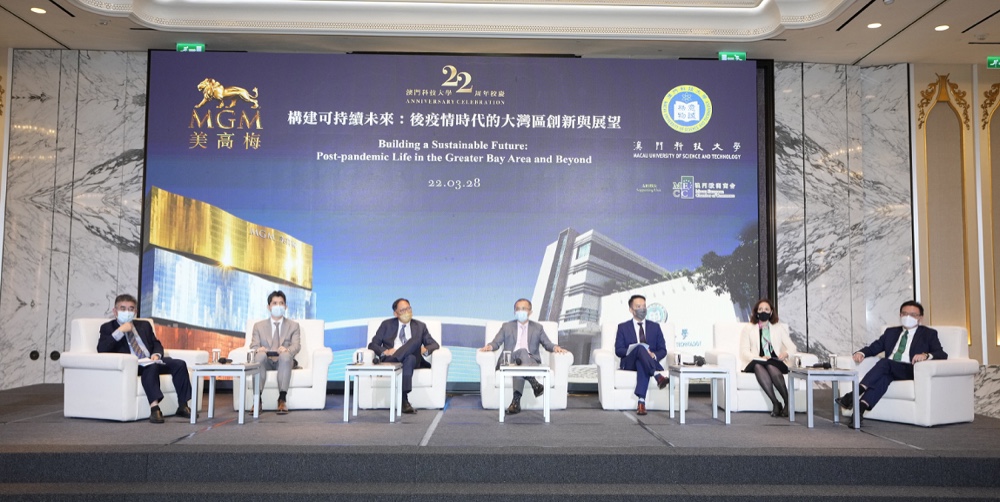 The guests for keynote speeches of the forum also responded to questions raised by the audience. At the end of the forum, Professor Chengkun Liu made a summary in the closing remark.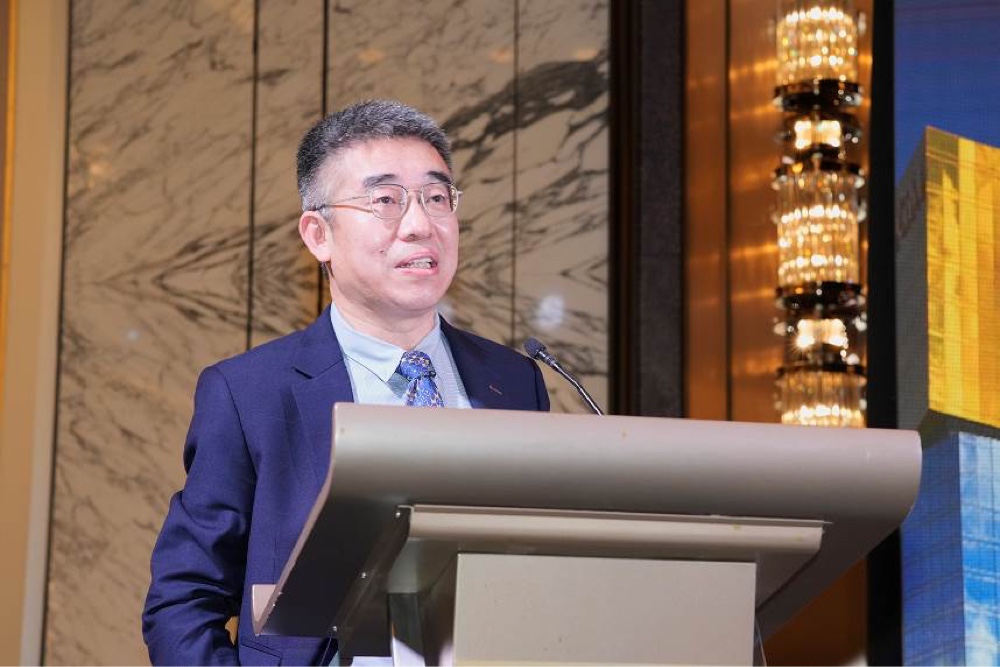 Professor Chengkun Liu Made a Summary in the Closing Remark