The 2nd "Frontiers in Medicine Summit" — Advances in Translational Medicine & Drug Development held from 3rd April to 4th April, 2023 at D Hall of the M.U.S.T. has concluded successful yesterday. The summit was broadcasted simultaneously online and supported by the eefit Technology Limited, Professional Health Trading Company Limited, Chin Pang Trading, and Mu Biotechnology (Guangzhou) Company Limited.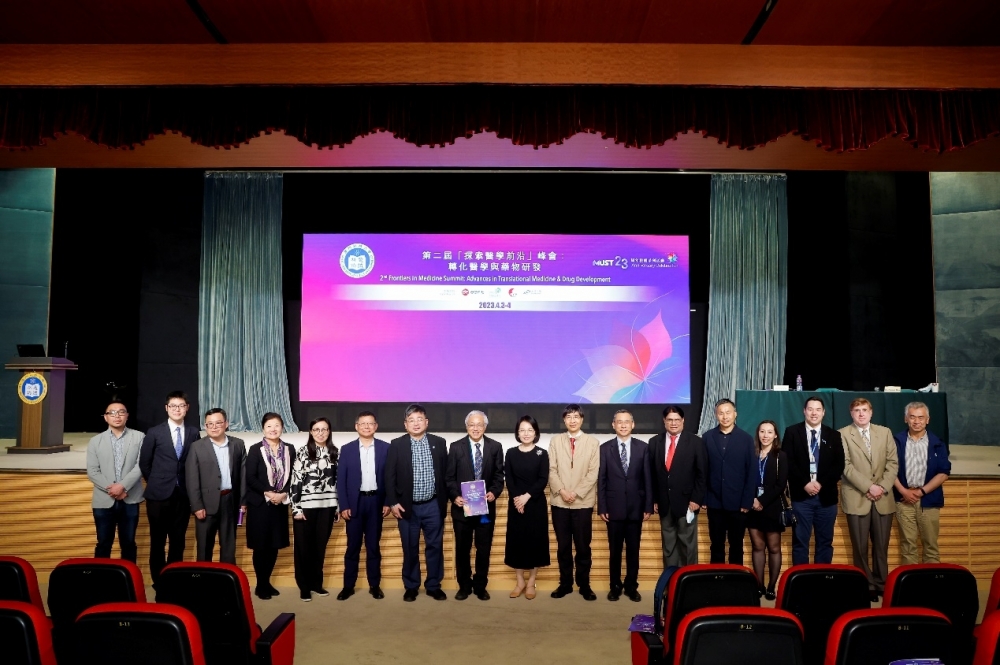 Speakers taking group photo with the attending teachers
This Summit is missioned to act as a modern medical research and educational platform dedicated aimed to establish a platform for the discussion of latest advancements in translational medicine and drug development with a wide range of topics, including infectious diseases epidemiology, vaccine development, oncology, Chinese medicine drug discovery, and diagnosis/drug screening platforms using advanced technology.
At the summit on April 4th, Professor Peter Doherty, Nobel Laureate in Physiology or Medicine in 1996, Laureate Professor and Patron of the Doherty Institute - University of Melbourne, Michael F Tamer Chair of Biomedical Research (Department of immunology, St. Jude Children's Research Hospital, Memphis, Tennessee), and Honorary Doctorate of M.U.S.T., had given a speech entitled "What's next with pandemics and what should we do?".

Nobel laureate Prof. Peter Doherty taking group photo with the attending teachers and students
Other keynote speeches on the 4th April included "MG53 and Cardiometabolic Diseases" by the Dean of the College of Future Technology, Peking University, Prof. Rui-Ping Xiao; "Drug sensitive test platforms and their applications in the precision oncology" by the Dean and Chair Professor of the Faculty of Health Sciences and Director of the Cancer Center, University of Macau, Prof. Chuxia Deng; "From SARS to COVID-19: Lessons for preparation for future outbreaks" by the Chair of Infectious Diseases of the Department of Microbiology, University of Hong Kong and the Honorary Doctorate of M.U.S.T, Prof. Kwok-Yung Yuen; "WE Medicine to Prevent and Treat Unmet Medical Needs" by the Henry Bronson Chair Professor of Pharmacology of Yale University and the Chairman of the Consortium for the Globalization of Chinese Medicine, Prof. Yung-Chi Cheng; "A novel biological drug for multiple inflammatory lung diseases" by Prof. Ruowen Ge from the Department of Biological Sciences, Faculty of Science, National University of Singapore and "Further development of Red/ET recombineering and its application" by the Director of State Key Laboratory of Microbial Technology of Shandong University, Prof Youming Zhang.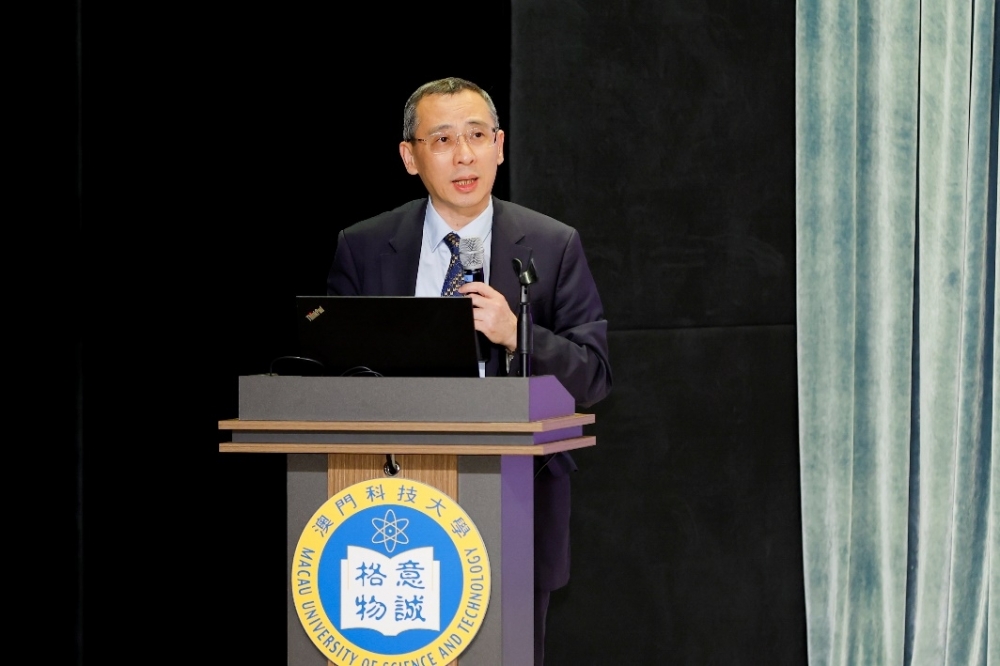 Vice President Zhi-hong Jiang giving the closing remarks
Vice president Zhi-hong Jiang gave the closing remarks to the summit by expressing his gratitude to all participants, particularly the speakers for their insightful and rewarding talks that benefit us both personally and professionally. Prof. Jiang hopes that the collaboration between university and industry continues to grow stronger in order to accelerate translational research and drug development.
A number of expert speakers at the summit shared their experience and achievements in medical research with young scholars from M.U.S.T. After the two-day summit forum, the participants were encouraged and inspired by these outstanding scholars to continue their unremitting efforts in their scientific research.