Music has the magic to record dusty memories and tenderness; music has the power to whisper the splendor and warmth of the world.
It will be an incredible journey when pop music incarnates into exhibits. Their fantastic stories weave into astonishing singing, and will make us immersed. Hosted by the Cultural and Sports Development Office, Campus music appreciation – Pop Music Concert "The Museum of Sound" (19:00-21:00, October 27, 2022) will be held in the R109, Grand Auditorium, Block R. In this concert, the Art Troupe's choir singer group, in the form of a duet, will present the "exhibits" that may exist in parallel universes.
Pop Music Concert "The Museum of Sound" sincerely invite you to come.
For reservation, please scan the code.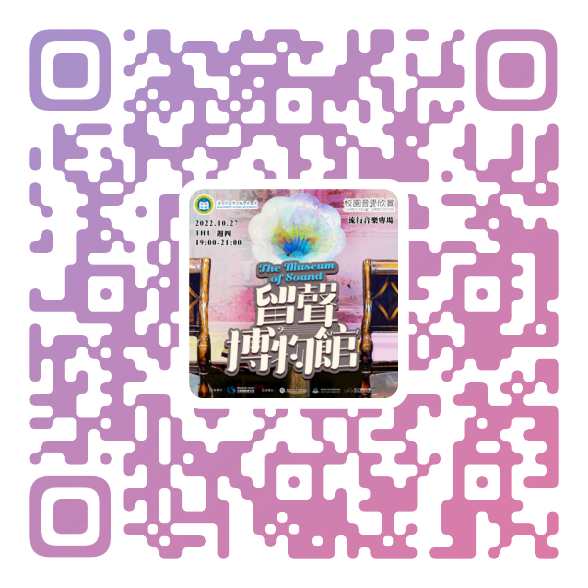 Before Entering the Venue: People are required to present the proof of having received at least the first dose of COVID-19 vaccine or the proof of negative nucleic acid test result which has been sampled within 7 days before entering the University. All personnel must wear face masks, receive temperature check and present "Health Code". Only those with forehead temperature below 37°C and with "Health Code" indicated as green (entry permitted) may enter the venue.
After Entering the Venue: Avoid gathering. Please maintain a social distance of at least 1 meter with others if possible;