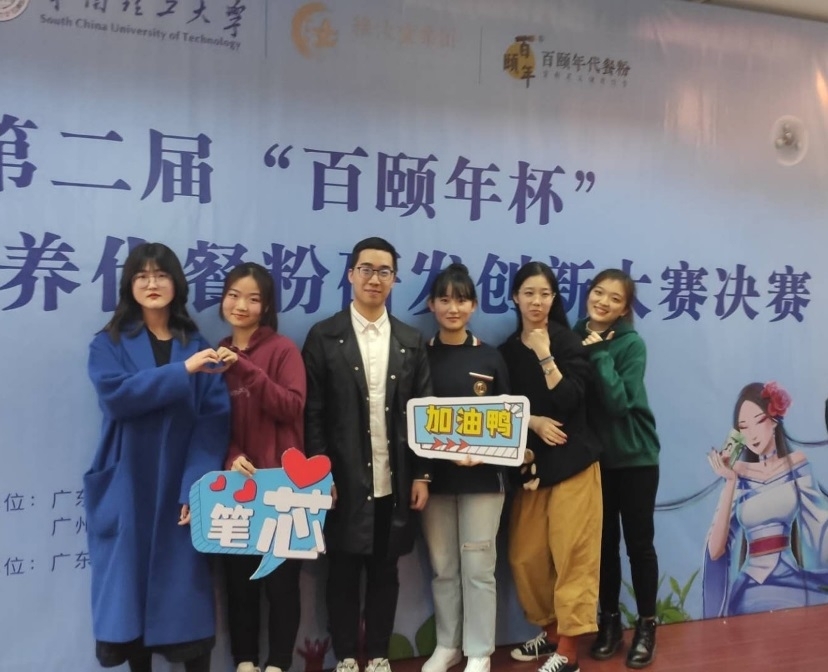 From left to right: BFNS students Wang Wenrui, Zheng Wenyin, Zhang Yujia, Zhai Lingzi, Fan Yawen and Zhang Lanxin.
On 20 December 2020, ten students from the Bachelor of Food and Nutrition Sciences (BFNS) program of the Faculty of Medicine of Macau University of Science and Technology arrived in Guangzhou to participate in The second "BaiyiNian Cup" College Student Meal Replacement Powder Research and Innovation Competition. This competition was co-hosted by Guangdong Food Specialty Teaching Steering Committee and School of Food Science and Engineering, South China University of Technology to encourage students to independently and innovatively develop a meal replacement powder from product formula to appearance design.
After the intense competition of more than 300 teams in the preliminary round, 32 entries were selected for final assessment. Under the guidance of Assistant Professor Zhong Tian, BFNS Year 2 students Zhang Yujia, Zhang Lanxin, Zhai Lingzi, Lu Yongtong and Fan Yawen designed an edible stirring rod encapsulated with glutinous rice paper, and won the first prize. Another two Year 2 students Wang Wenrui and Zheng Wenyin teamed up with three Year 1 students Wang Letao, Lu Yuting, and Wang Jiarui. They invented a shake-to-eat meal replacement powder condensed beads in a cereal container and won the second prize.
The innovative and talented work of the two teams were highly appraised by the judges for novelty and potential commercial value. They are also preparing to apply for patents subsequently.