M.U.S.T. teams win top three at Macau Global Management Challenge
Champion will enter International Final in Dubai
Vice President Pang Chuan of M.U.S.T. (2nd from right) and the champion team
The "Bank of China Trophy – 2017 Global Management Challenge Regional Final Prize Presentation Ceremony", organized by the Macau Management Association, was held on January 11, 2018. Macau University of Science and Technology claimed the top three at the Macau regional final of the Challenge. The winning teams are "HONOR", the champion, "TripleE" and "Wolf Warriors", 1st runner-up and 2nd runner-up respectively. Wu Zilin, doctorate student, Huang Yueyu and Jiang Zheyu, undergraduate students, from the School of Business were members of "HONOR". All participating teams were from the School of Business and coached by Associate Professor Tang Huajun, Head of Department of Decision Sciences .
For this year, the Global Management Challenge Macau region had total 101 teams, including 95 student teams. The champion team will represent Macau to compete with all regional champions across the world in the international final which will be held in Dubai in April. The outstanding performances by M.U.S.T. students in the Global Management Challenge have won five Macau regional champions and three years in a row. The teams had taken part in the international final in 2007, 2010 and 2016, and had won two world champions and a 1st runner-up.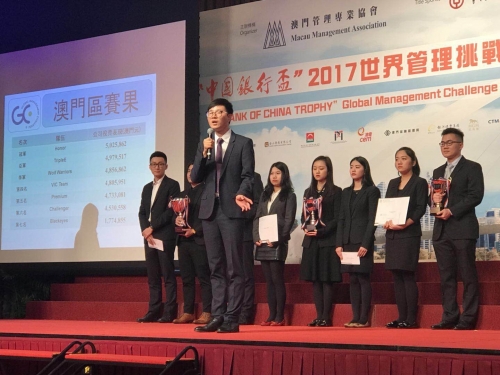 Award-presentation ceremony
The Global Management Challenge is a large-scale global strategic management competition, which comprises a First Round, a Second Round and a Regional Macau Final. The champion team of the Regional Final will represent Macau to compete with the winning teams of over 30 countries and regions in the international final. The Global Management Challenge consists of four management areas, human resources, production, finance and marketing. The Challenge aims to improve modern corporate management standards, promote normalization and standardization of corporate management techniques across countries, and provide an international platform for the participants to apply what they have learned in real practices and build up knowledge and applied abilities.