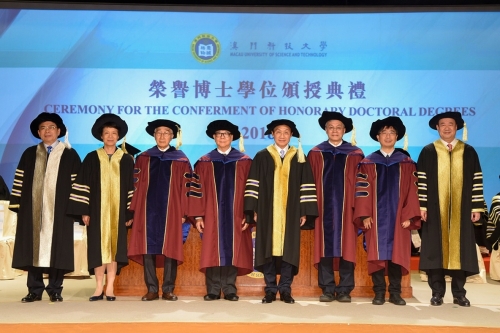 Group photo of Secretary Alexis Tam Chon Weng, honorary doctors, and other officiating guests (from left: President Liu Liang, Director Xu Ting, Professor Jin Shang Yi, Mr. Wong, Eddie Yue Kai, Secretary Alexis Tam Chon Weng, Professor Ip Wing Huen, Academician Pan Jian Wei and Dr. Liu Chak Wan)
As the highlight of its 18th anniversary celebration, Macau University of Science and Technology held a Ceremony for Conferment of Honorary Doctoral Degrees in D Hall in the afternoon of March 27, 2018. Dr. Alexis Tam Chon Weng, Secretary for Social Affairs and Culture of the Macao S.A.R. government, officiated at the Ceremony, adding tremendous glories to the Ceremony.
At the Ceremony, MUST conferred honorary doctoral degrees upon five remarkable individuals; they are Professor Martin Chalfie, Mr. Wong Eddie Yue Kai, Professor Ip Wing Huen, Professor Jin Shang Yi, and Professor Pan Jian Wei. Mr. Wong, Eddie Yue Kai has been long committed to moving forward Macau's architectural design, justice and cultural development, and has made significant contributions to Macau's social stability and economic prosperity since it returned to the motherland. Professor Ip Wing Huen has been a world-famous Chinese astronomer; he is extraordinarily well-achieved in the research field of comet studies, planetary atmospheres and solar plasma physics; he's been a distinguished professor of MUST for several years, and has made extraordinary contributions to the Space Science Institute of the University, and trained many talents. Professor Jin Shang Yi, founder of the Neoclassicism school of Chinese oil painting; he is committed to the belief of fully expressing the harmonious unity of physical features of people and their spiritual worlds; he has been an outstanding artist, who's addressed the subject of "people", which is an important theme of the time, in a very unique way. Professor Pan Jian Wei is a world-famous physicist and pioneer in the field of quantum information experiment research; his publication on quantum teleportation has been selected by Nature to be among the "21 Classic Articles in Physics over the Past 100 Years", on a par with Wilhelm Röntgen's discovery of X-rays, Albert Einstein's theories on relativity, and many other discoveries that have influenced the world; he's been credited as "Father of Quantum". Due to his busy work schedule, Professor Martin Chalfie was unfortunately not able to attend the Ceremony; the University would confer the honorary doctoral degree upon him later.
Other officiating guests at the Ceremony included Ms. Xu Ting, Director of the Department of Education and Youth Affairs of the Liaison Office of the Central People's Government in the Macao S.A.R., Dr. Liu Chak Wan, Chancellor of MUST, Chairman Chui Sai Cheong of the Trust Committee of MUST Foundation, Chairman Zhou Li Gao of the University Council and Vice Chairman Tong Chi Kin, and Chair Professor Liu Liang, President of MUST. Also attended the Ceremony were Mr. Ma Chi Ngai, Chairman of the Macao Science and Technology Development Fund (FDCT), Mr. Chan Ka Ho, Acting Vice Director of the Macao Higher Education Services Office, Ms. Leong Vai Kei, Deputy Director of the Education and Youth Affairs Bureau, members of MUST Foundation, University Council and University Advisory Committee, representatives of other higher institutions, scholarship-providing organizations, and representatives of secondary schools, societies and associations. The guests, together with teachers and students, jointly witnessed the historical moment. The honorary doctors have all made outstanding contributions, which have greatly advanced societal progresses, and have become role-models who are greatly admired by the university teachers and students.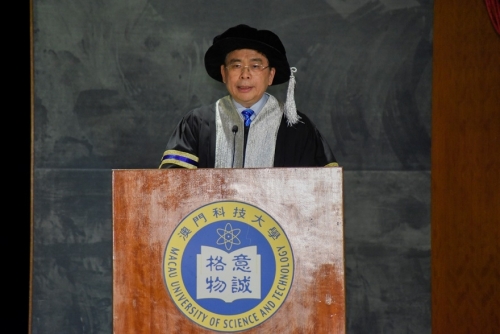 President Liu Liang addressed the Ceremony; he noted that honorary doctoral degrees are the highest honors awarded by the University and, upon conferring such degrees, the University aims to show recognition and admiration of remarkable individuals, who have made tremendous contributions for the society, the country, or even the world. The President spoke on behalf of the University and extended the highest regards and warmest congratulations to the five outstanding individuals. President Liu further pointed that MUST has 18 years of extraordinary development; in the course of these 18 years, in the spirit of self-improvement and pursuit-of-excellence, the University took a great leap forward in its overall academic standard, science and technology innovation and cultural impact; thus MUST today has confidence and capabilities to assume a greater role in Macau's moderate diversification approach to economy and the national Belt and Road initiative, as well as the "Guangdong-Hong Kong-Macao Bay Area" development strategy, aiming to make greater contributions locally, regionally and nationally.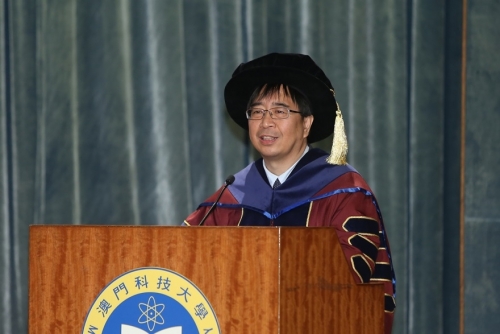 Representing the recipients of the honorary doctoral degrees, Professor Pan Jian Wei gave a thank-you speech. He expressed gratitude to MUST for conferring the highly regarded honorary doctoral degrees on the five doctors, affirming that the honorary doctors felt heart-warmed to become a member of MUST, and would do everything they could to help the University to grow and reach the next level.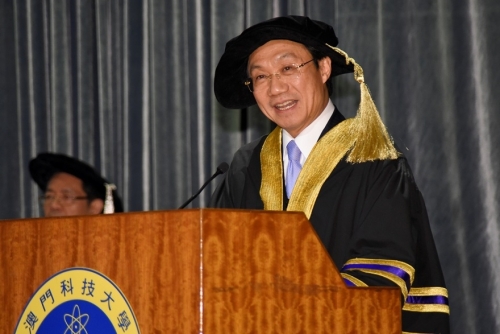 While addressing the Ceremony, Dr. Alexis Tam Chon Weng, Secretary for Social Affairs and Culture of the Macao S.A.R., noted that he was glad to attend the Ceremony for Conferment of Honorary Doctoral Degrees held by MUST, and would like to congratulate the five honorary doctors on their achievements. The Secretary further noted that in the course of the eighteen years since it was founded, MUST has been observing its motto, "Dedication to practical studies, Enhancement of knowledge, Ability and Quality", and made proactive efforts to train high-quality talents, who love Macau and the nation and are equipped with both innovative spirit and practical abilities. He hoped that MUST continues to hold to two key development cores: "quality" and "innovation", carry on the implementation of its policy of attaching equal importance to teaching and research, fully exert its unique strengths and educational characteristics, stand in line with the strategic development needs of Macau and the nation, train more highly capable talents, and produce more academic outcomes.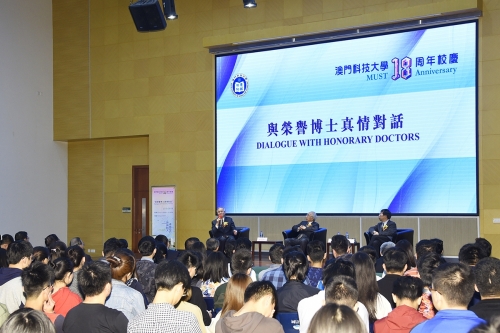 At the site of the "Dialogue"
After the Ceremony, Professor Ip Wing Huen, Professor Jin Shang Yi, and Academician Pan Jian Wei, participated in a dialogue with more than 300 MUST students. The three honorary doctors shared views on school, career, and life with MUST students; the atmosphere at the dialogue was engaging and stimulating, and students reported they have learned a lot from the doctors.