Macau University of Science and Technology held the 2018 Joint Meeting of MUST Foundation Board of Trustees and University Council on June 9th; about 50 board members and council members attended the event.
The Joint Meeting was chaired by Mr. Chui Sai Cheong, Chairman of the MUST Foundation Board of Trustees. President Liu Liang presented the University's work summary of the past academic year and a work plan for 2018/2019. The President brought to the committee's attention on several highlights, included taking the lead to complete an institutional quality audit exercise conducted by Quality Assurance Agency for Higher Education (QAA), an internationally renowned educational accreditation institution in the UK; the official inauguration of the four partner bases and joint laboratory of the Key Research Institutes of Humanities and Social Sciences of the Ministry of Education of China; and the successful completion of preparing application of the "State Key Laboratory of Lunar and Planetary Sciences Laboratory". These progresses marked the new height reached by MUST in educational and research standards. Furthermore, at the "2017 Ranking of Top Universities in Greater China" released by the Center for World-Class Universities at Shanghai Jiao Tong University (Shanghai Ranking), MUST remained in the top 50 and rose to 28th, which demonstrated the increased overall strengths of the University and its growing academic impact home and abroad.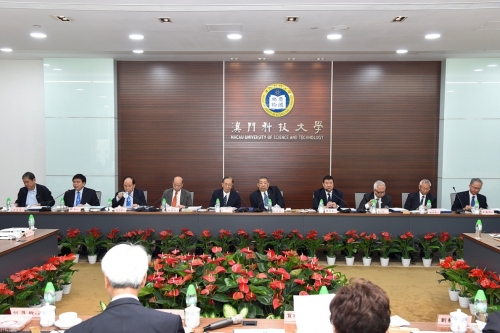 Chairman Chui Sai Cheong(5th from right)of the MUST Foundation Board of Trustees hosting the meeting
Professor Zhou Li Gao, Chairman of the University Council, gave a report on the work of the Executive Committee of the University Council in 2017/2018. He stressed that the role of the Executive Committee is a gate keeper for the University on important issues, and all the committee members have shown tremendous enthusiasm and commitment.
Afterwards, Vice President Tong Ka Lok presented the University financial report 2017/2018 to the Board and Council, and explained the operational status of various funds and grants.
Mr. Tsui Wai Kwan, Chairman of the Supervisory Board of MUST Foundation briefed the committee on the financial status of the Foundation, concluding that the Foundation is financially sound and its reserve is sufficient to support future developments.
Chancellor Liu Chak Wan reported that as the University continues to grow, the MUST Foundation would continue to undertake further planning over the university campus development. In addition to the academic building completed last year, another new teaching complex is under construction and is expected to be put in use in 2019.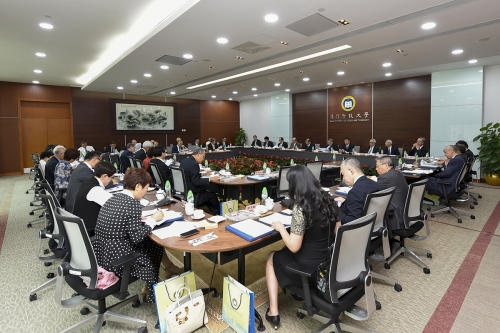 Fifty board members and council members attend the meeting