Offers opportunity to broaden local culinary talents' horizon
To celebrate the "2018 Macao Year of Gastronomy" and the launch of the new Culinary Labs at Macau University of Science and Technology (MUST), MUST and MGM specially co-organized the Culinary Demonstration Workshop with Chef Mauro Colagreco on September 26, 2018. As one of the most sought-after chefs from The World's 50 Best Restaurants and the consultant chef of Grill 58 at MGM COTAI, Chef Mauro traveled all the way from France to inspire students of MUST's Faculty of Hospitality and Tourism Management (FHTM) by sharing his expertise and experience in the culinary field. Through this workshop, both MGM and MUST hope to broaden local talents' horizons and to reinforce Macau's position as a UNESCO Creative City of Gastronomy and as the tourism education hub of the Greater Bay Area.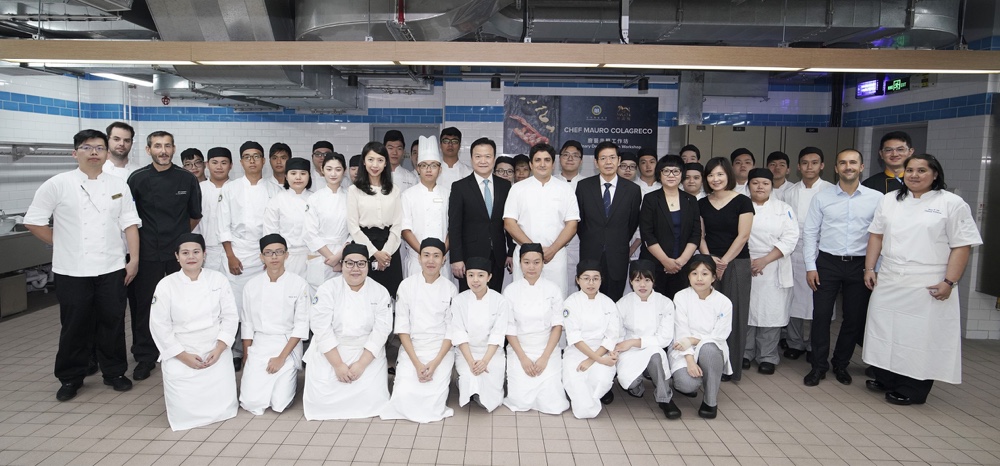 Chef Mauro Colagreco, Consultant Chef of Grill 58; Professor Lin Zhijun, Vice President of MUST; Ms. Amy Chu, Vice Dean of FHTM; Mr. Moky Lam, Vice President of Food and Beverage of MGM; Ms. Irene Wong, Vice President of Public and Community Relations of MGM, posed for a group photo with the participants
Chef Mauro Colagreco is a Michelin two-star award-winning chef, who grew up in Argentina and started his career in 2001 with several Michelin chefs. His restaurant in France, Mirazur, ranks the third in the list of The World's 50 Best Restaurants of 2018.
During the Workshop, Chef Mauro showcased his cooking techniques to 30 culinary students by demonstrating two of his signature dishes from Grill 58. Chef Mauro said that his passion for Asia has grown stronger and there are many opportunities. That is the reason why he chooses to run restaurants in Macau and other places in the region. Inspired by his mentors in Argentina, he chose to pursue his career in France when he was young and this decision accelerated his achievements today. He hoped that Macau's culinary students could be inspired and cherish the exchange opportunities like he did in his early career life. He also encouraged students to keep on learning and pursuing their dreams no matter where they are in the future.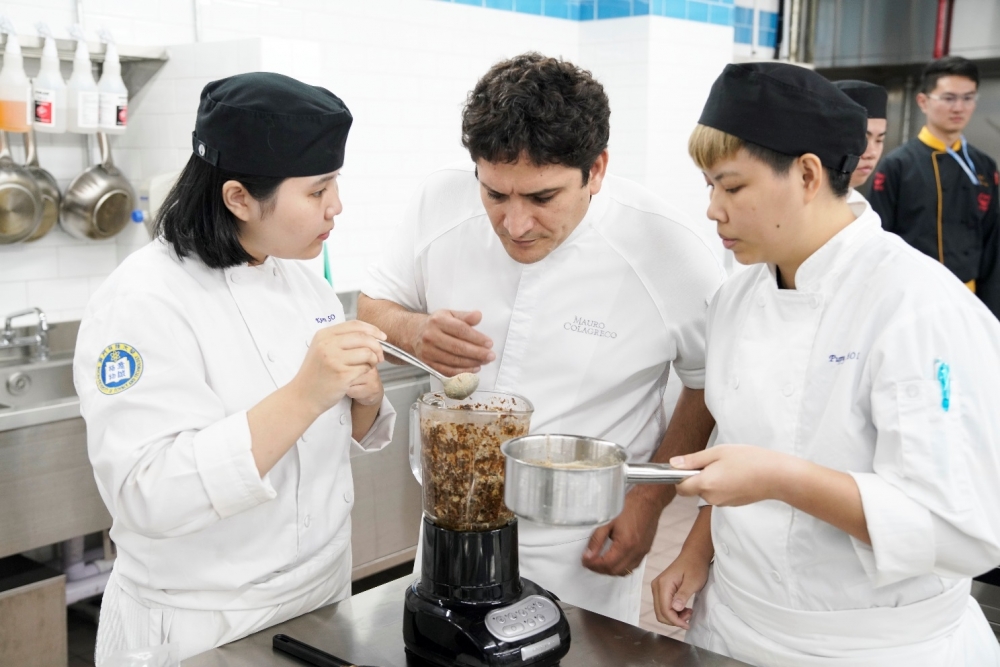 Chef Mauro guided the students to cook one of Grill 58's signature dishes
Prof. Lin Zhi Jun, Vice President of MUST, said at the event, "MUST has been committed to cultivating talents for the Macau community for 18 years. In 2013, we established new Bachelor's degree in Food and Beverage Management in FHTM, with the objective of developing F&B professionals with modern management modes in Macau and other cities. The course is divided into two modules, culinary arts and restaurant management. Over the years, our graduates have joined the F&B, hospitality, and tourism industries, and have become one of the industry elites, contributing to Macau's transformation into a World Center of Tourism and Leisure. Today's event is specially taken place at our new well-equipped culinary labs simulated as real-life workplace. With the state-of-the-art teaching facilities and training environment, and an up-close encounter with a Michelin chef, our students' culinary skills will further be sharpened."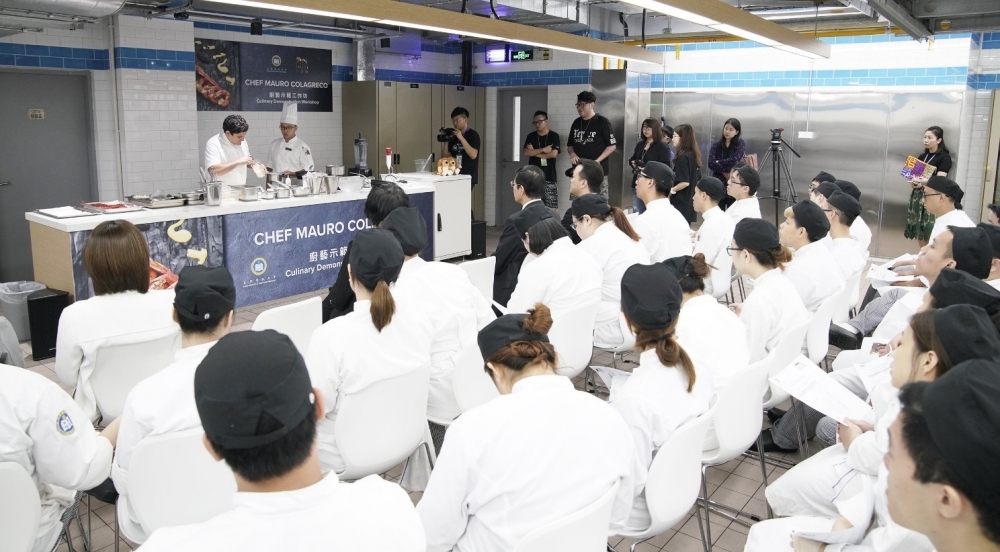 Chef Mauro showcased his cooking techniques to 30 MUST's culinary students
In addition, Simon Yu, MUST's alumnus, assisted Chef Mauro in the event. He is the first cohort of the Bachelor of Food and Beverage Management graduates and joined MGM COTAI's Grill 58 restaurant in 2017 shortly after he graduated. He said, "I am glad that Chef Mauro always provides culinary training for the team. In addition, the high-quality ingredients used in the restaurants offer eye-opening experience for me as a fresher in this industry. I feel lucky to be here in Macau where the culinary industry and the related training institutions are well developed, as well as where I can learn from top chefs from different parts of the world. I am very optimistic about my future career path".