M.U.S.T. Holds Opening Ceremony and Ceremony for the Conferment of Honorary Doctoral Degrees
Welcoming Four Thousand New Students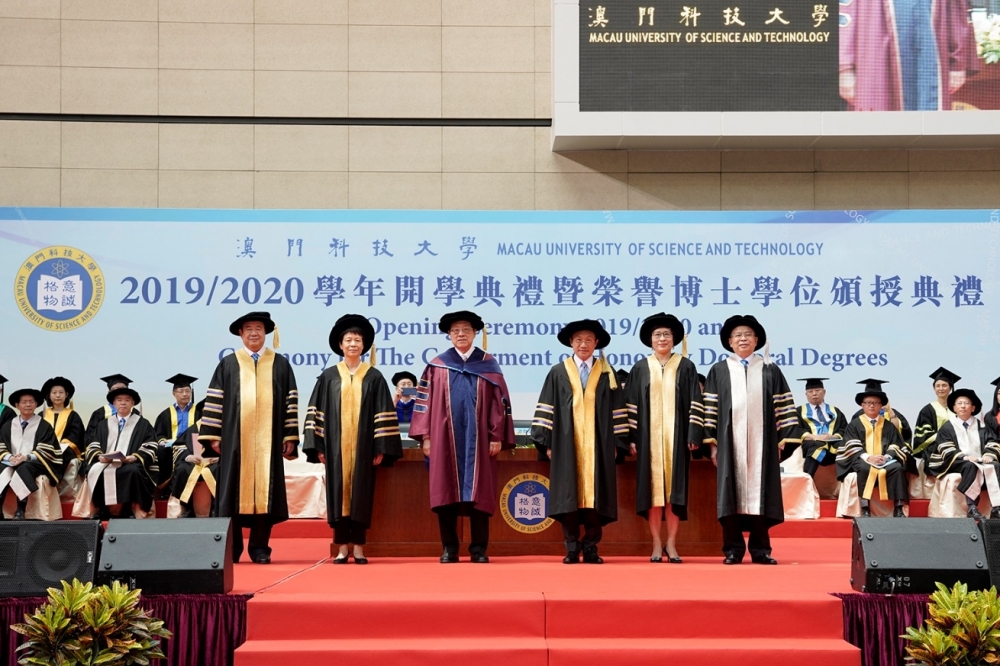 Group photo of Dr. Alexis Tam Chon Weng, officiating guests and the honorary doctor
(from left: Dr. Liu Chak Wan, Director-General Xu Ting, Prof. Chi-Chih Yao, Dr. Alexis Tam Chon Weng, Deputy-Commissioner Wang Dong, and President Liu Liang)
Macau University of Science and Technology held the Opening Ceremony 2019/2020 and the Ceremony for the Conferment of Honorary Doctoral Degrees in Block J, Gymnasium of the University, at 11 am on September 7, 2019. Secretary for Social Affairs and Culture of the Macao S.A.R., Dr. Alexis Tam Chon Weng officiated the Ceremony, and conferred Doctor of Science honoris causa upon Prof. Andrew Chi-Chih Yao, who is Academician of the Chinese Academy of Sciences, Foreign Member of the National Academy of Sciences, U.S. and the American Academy of Arts and Sciences, and a world-famous computer scientist. For the new academic year, M.U.S.T. admitted approximately 2500 new undergraduates and 1600 new postgraduates, including 48 new students (selected from 494 applicants based on academic merit) for the University's first Bachelor of Medicine and Bachelor of Surgery (MBBS) program; 79% of the MBBS students are local, and the rest are from Hong Kong, Taiwan, Mainland China and overseas. As Macao's first Bachelor of Medicine and Bachelor of Surgery program approved by the Macao S.A.R. Government, the MBBS program aims to cultivate tomorrow's doctors with high standards in medical ethics and medical techniques for Macao and the Guangdong-Hong Kong-Macao Greater Bay Area.
Prior to the Opening Ceremony, the University held a flag-raising ceremony earlier at 9 am on the same day.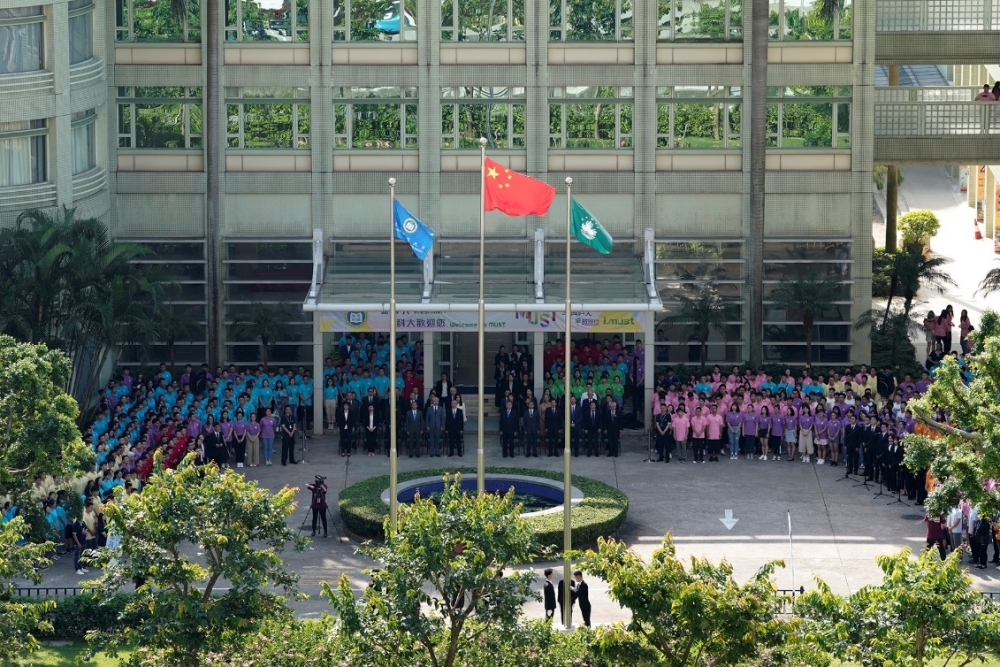 M.U.S.T. held Flag-raising Ceremony 2019/2020
Other principal guests attending the Ceremony include Ms. Xu Ting, Director-General of the Department of Education and Youth Affairs, Liaison Office of the Central People's Government in the Macao S.A.R., Ms. Wang Dong, Deputy Director-General of the Office of the Commissioner of the Ministry of Foreign Affairs of the People's Republic of China in the Macao S.A.R., Mr. Chang Kun Hong, Deputy Director of the Macao Higher Education Bureau, Dr. Liu Chak Wan, Chancellor of M.U.S.T., Mr. Tong Chi Kin, Chairman of the Advisory Committee of M.U.S.T., members of the M.U.S.T. Foundation, University Council, and Advisory Committee, and representatives of other organizations, local higher institutions and secondary schools.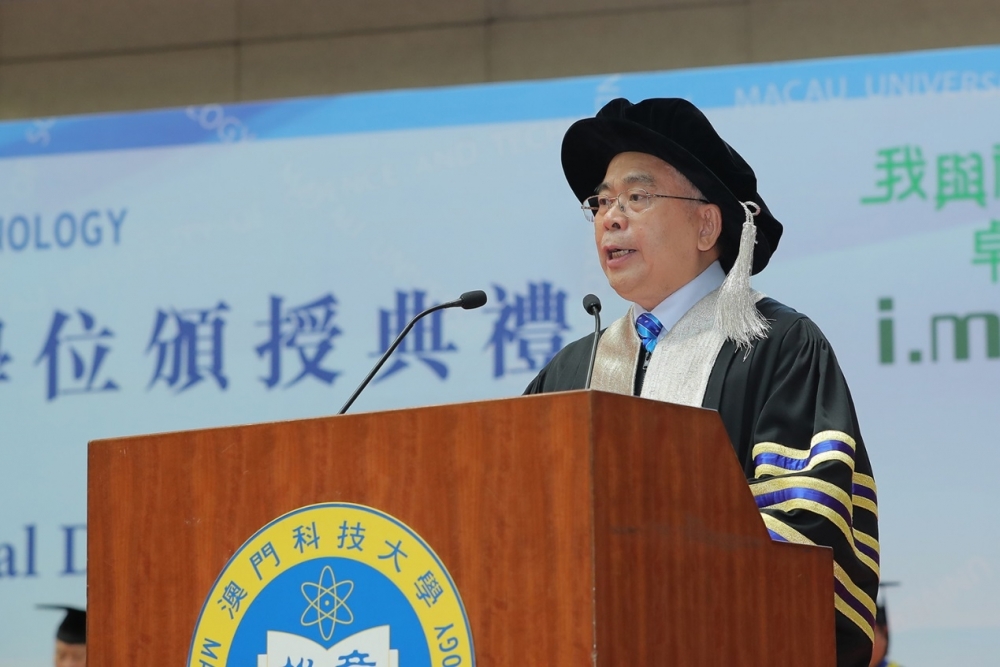 President Liu Liang addressed the ceremony
President of M.U.S.T., Chair Prof. Liu Liang addressed the ceremony. Speaking on behalf of the university teachers and students, he extended the highest regards to Prof. Andrew Chi-Chih Yao, who received Doctor of Science honoris causa from the University, and expressed the warmest welcome to all the new students of M.U.S.T. The President said that over the past 19 years, M.U.S.T. has been taking cultivation of outstanding patriotic talents as its own mission, viewing "Quality" and "Innovation" as the core drives of its development, staying rooted in the Greater Bay Area but opening up to the world. Aiming at prospering Macao via science and education and propelling the University to become part of the national science and technology innovation body, and staying committed to a qualitative development path, facilitates the diversified and continuous progress of the Macao economy and contributes forces to the national Belt & Road initiative and the Guangdong-Hong Kong-Macao Grater Bay Area construction. President Liu noted that as a world-famous computer scientist, Prof. Yao is greatly accomplished and well recognized in the research fields of computer science theories, modern cryptography and quantum computation. The President encouraged the students to expand their horizons, keep regenerating their knowledge so as to keep abreast with the time, stay innovative in mind, stay eager and passionate for new knowledge, become the pioneers and leaders of their generations, and transform their patriotic love for China and Macao and for their families and fellow nationals into hard work, which will eventually contribute to the realization of the Chinese Dream.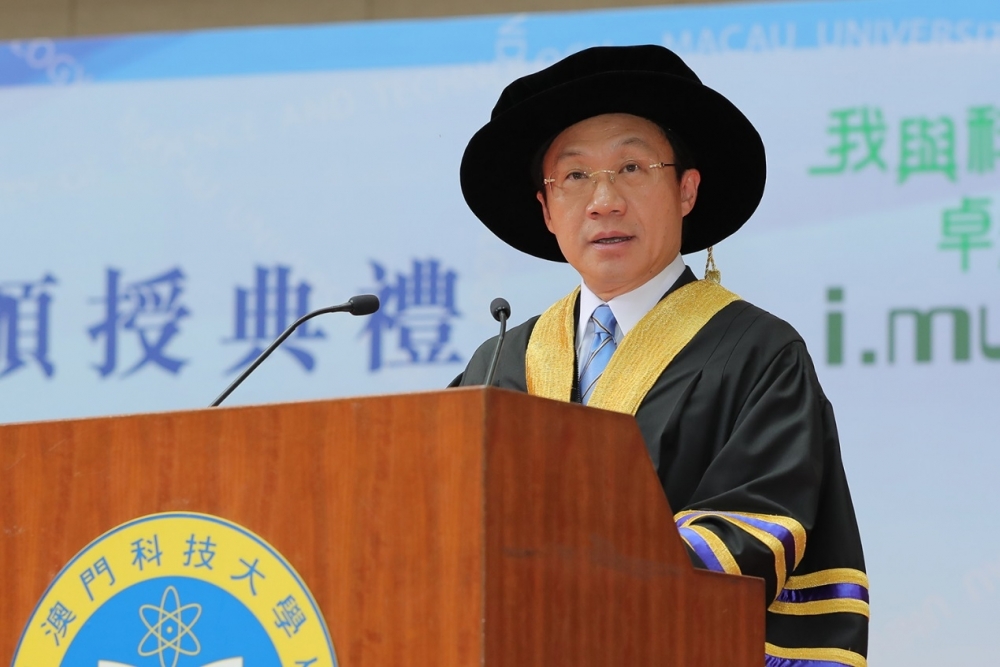 Dr. Alexis Tam Chon Weng delivered a speech
Secretary for Social Affairs and Culture, Dr. Alexis Tam Chon Weng gave a speech at the ceremony. The Secretary expressed congratulations to Prof. Andrew Chi-Chih Yao for being awarded an honorary doctoral degree by M.U.S.T. He further noted that M.U.S.T. has been rising in regional and international university rankings, improving continuously in educational quality, and growing steadily in student admission, which has won recognition from the wider social communities. The Chinese medicine and western medicine programs of M.U.S.T. have already trained a substantial number of Macao youths, who aspire to practice medicine as a profession; the University has become a strong force in generating talents to help advance the medical and health cause of Macao. The M.U.S.T. State Key Laboratory of Lunar and Planetary Sciences has been involved in all aspects of the national deep space exploration program, accomplishing impressive research outcomes, and has since become an important vehicle for Macao universities to integrate into the bigger picture of national development. The Macao S.A.R. Government would continue to give support to the improvement of Macao universities to help create a facilitating environment of teaching and research for teachers and students. The Secretary wished M.U.S.T. to keep up its good work, foster more outstanding talents, create more impressive research achievements, and make greater contributions for the social and economic progress of Macao and the national prosperity.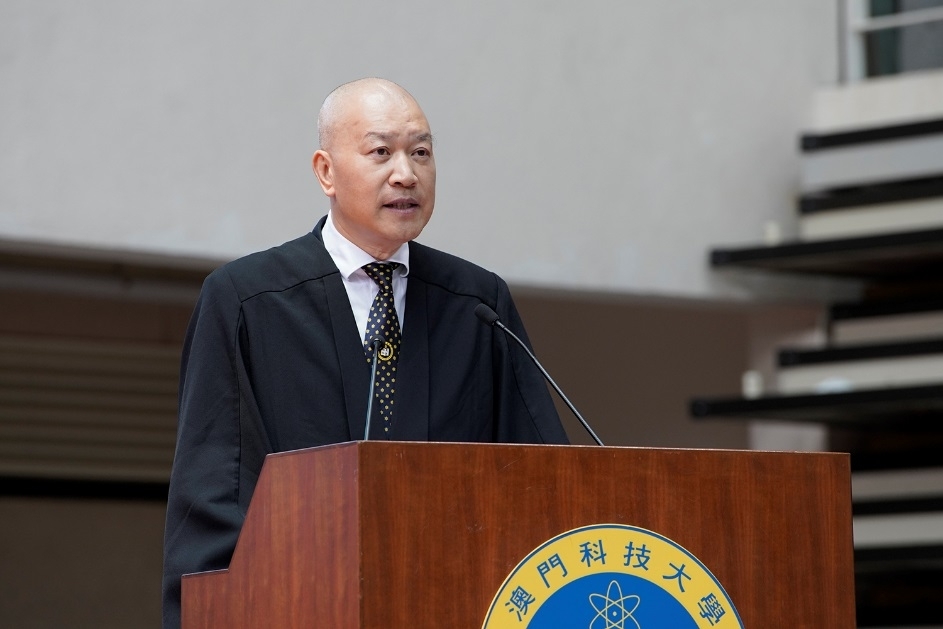 Associate Prof. Wang Lan spoke as a teacher representative
Winner of Teaching Excellence Award, Associate Prof. Wang Lan from Faculty of Humanities and Arts gave a speech as a teacher representative. He said that as a teacher of M.U.S.T., he was fortunate to have witnessed its' growth and development, of which he felt immensely proud. He mentioned that learning is a lifetime cause, and expressed hopes that the students learn self-management, get into the habit of active explorative learning, bear in mind the missions bestowed on them by the new era, foster patriotic spirit towards the motherland and Macao, expand international horizons, and spread the Chinese culture and contribute to exchanges between the Chinese and western civilizations.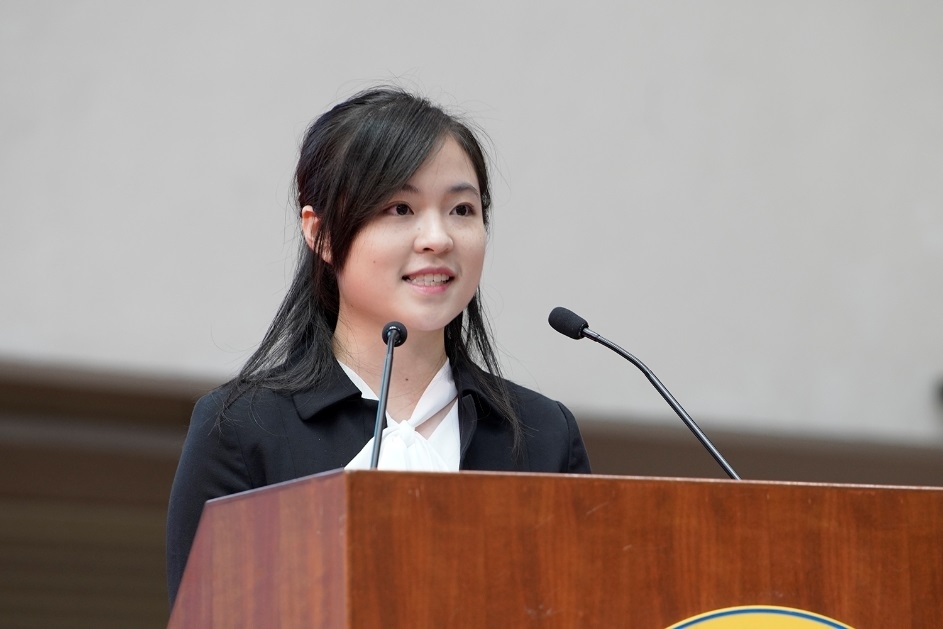 Ian Pui Si from Faculty of Medicine spoke as an undergraduate representative
Representative of undergraduate students, Ian Pui Si from Faculty of Medicine is a student of the first Bachelor of Medicine and Bachelor of Surgery program offered by M.U.S.T. She gave a speech and said that university is an important turning point in a one's life; it will lay the general foundation for a person's future life and career. College students should make good use of the resources and opportunities provided by the University, work hard and pursue studies, seize opportunities, equip themselves with knowledge and skills, take real actions to make contributions to Macao's medical health system and serve and give back to the community.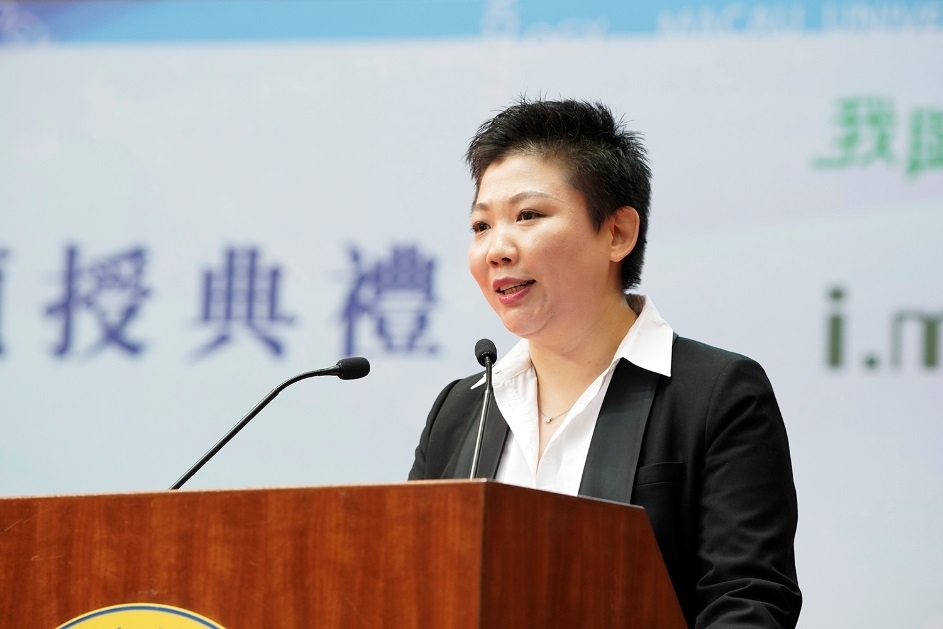 Wang Miao from Faculty of Law spoke as a postgraduate representative
Representative of postgraduate students, Wang Miao from Faculty of Law also gave a speech, mentioning that with only twenty years' time, M.U.S.T. had already made glorious progresses in cultivation of talents, scientific research, quality of teaching faculty, and university resources, and that the University has a future with unlimited possibilities. She encouraged the fellow students to stay true to their original passions, observe academic honesty, regard the honors and responsibilities of M.U.S.T. as their own, and join forces to help M.U.S.T. achieve continuously high-quality development and contribute forces for societal progress.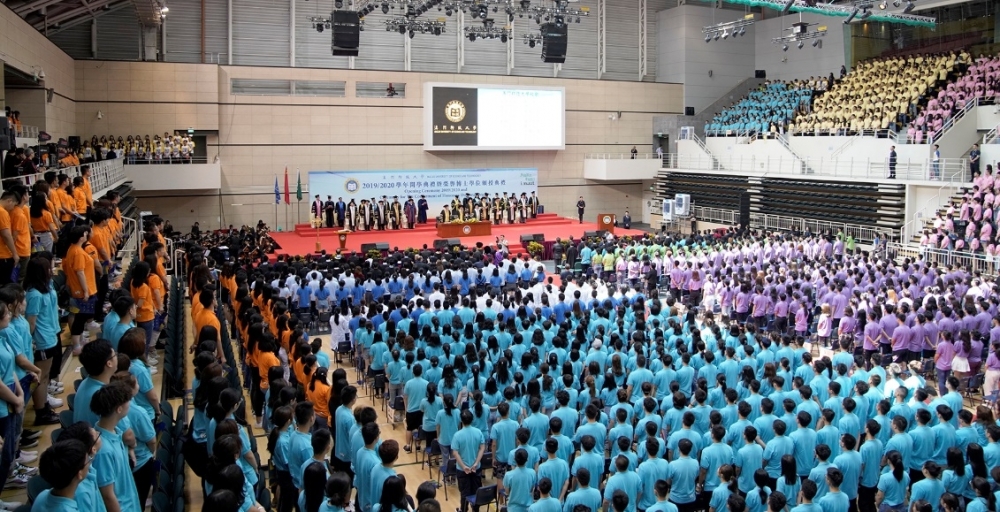 More than 4,000 new students joined M.U.S.T. for the 2019/2020 academic year
Winner of Doctor of Science honoris causa, Prof. Andrew Chi-Chih Yao is a world-famous computer scientist. He is widely recognized as an international pioneer in algorithm analysis, cryptography, and quantum computation. He founded the "Computer Science Experimental Class" (generally referred as "Yao's Class"), which is acclaimed as the "Best Undergraduate Education in Computers in the World" by the community. In 2011, he established the Center for Quantum Information and the Institute for Interdisciplinary Information Sciences at Tsinghua University, aiming to design and materialize quantum computers and advance innovative integration between information science and technologies and other areas. Prof. Yao has made significant achievements and outstanding contributions to research areas like computer sciences, cryptography, and quantum computation, and has received many international awards and honors. He received the Turing Award in 2000, which is the most prestigious award in computer science; he remains the first ever and only Chinese scientist who's won the honor. In addition, he's won the George Polya Prize, the Donald E. Knuth Prize, and honorary doctoral degrees from several prominent universities.