The Faculty of Hospitality and Tourism Management (FHTM) of Macau University of Science and Technology held the fifth lecture of the "2021 Summer Academic Week" on July 27, 2021. Professor Zhao Jinlin, the Chaplin School of Hospitality and Tourism Management at Florida International University, USA, was invited to give a lecture entitled "The Forces Driving the Hospitality & Tourism Industry". This lecture hosted by Associate Professor of FHTM Dr. Zhang Yang, was conducted in the form of Zoom meeting and attracted over a hundred FHTM teachers and students. Dean of FHTM Professor Ben K. Goh gave a virtual welcome to Professor Zhao Jinlin. The dean also said his goal for this seminar is to help expand the horizon of research and to enhance the theoretical literacy of teachers and graduate students. This lecture was sponsored by the Macau Foundation.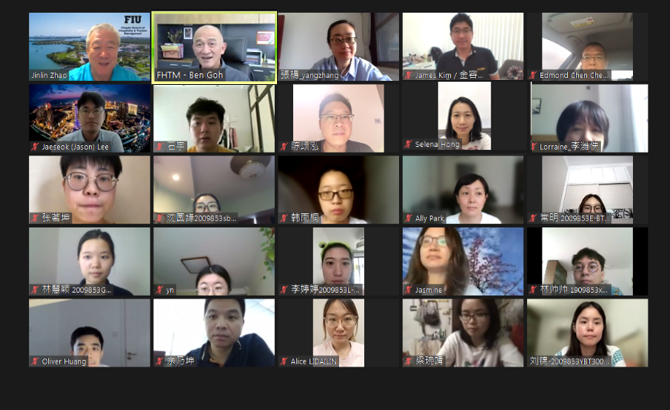 Guest Speaker, FHTM Teachers and Students' Group Photo
Professor Zhao Jinlin has been engaged in the research of hotel industry, catering, and tourism over 30 years. Professor Zhao has in-depth analysis and research on the globalization of the hotel industry, the environment of market, and the competitive strategy of multinational hotels and F & B groups. In his lecture, Professor Zhao shared seven factors affecting the international hotel companies and tourism market. He also analyzed the characteristics of Chinese hotels as well as the required core competencies of future managers. Professor Zhao's generous sharing of his experience and knowledge brought new research directions and research perspectives to the teachers and students of FHTM.

Professor Zhao Jinlin Delivered a Speech