The Faculty of Hospitality and Tourism Management (FHTM) of Macao University of Science and Technology (M.U.S.T.) successfully held the Christmas Gala Dinner 2021 in the evening of December 10, 2021 at the terrace of the second floor of Block O.
The Gala Dinner was prepared by students of FHTM throughout the whole process. BITM students designed and planned the dinner in the early stage and completed the reception service. BHM students were responsible for Hors d'oeuvres and dinner etiquette services. Dinner dishes were designed and prepared by BFBM students.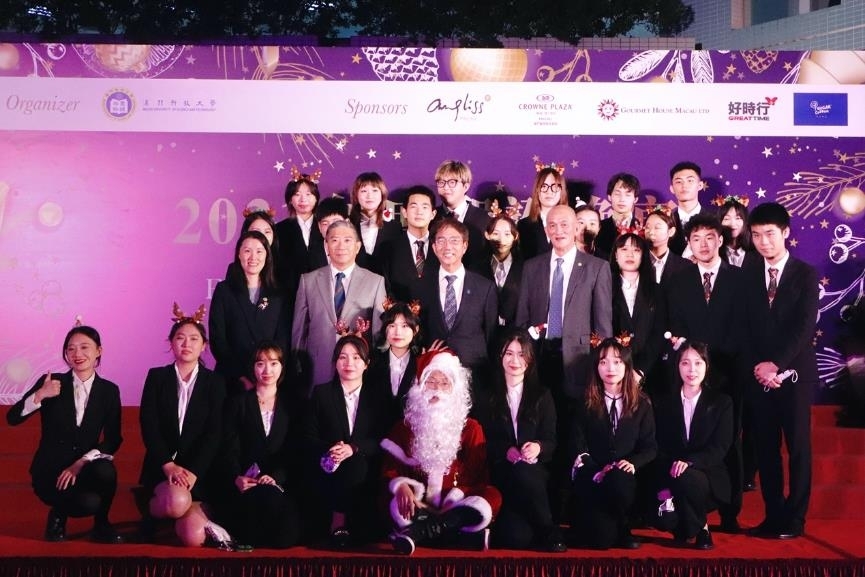 Group Photo of BITM Students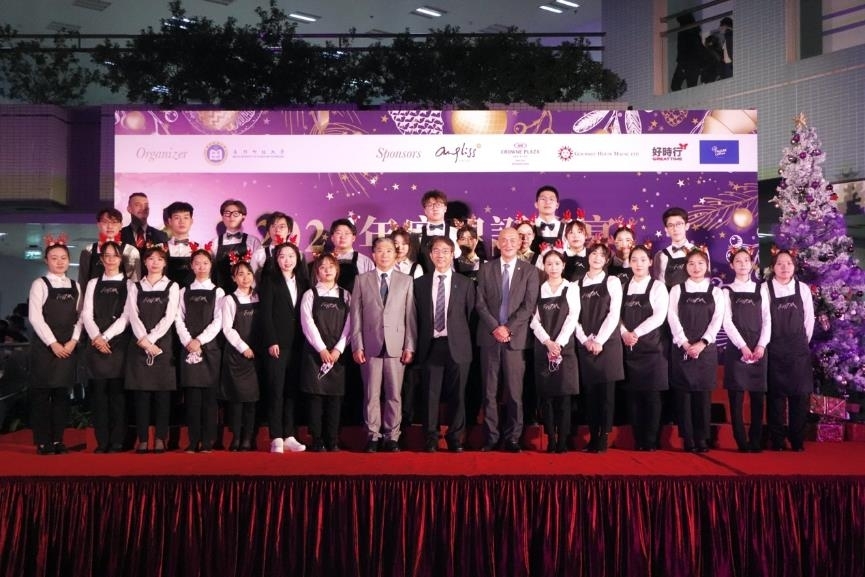 Group Photo of BHM Students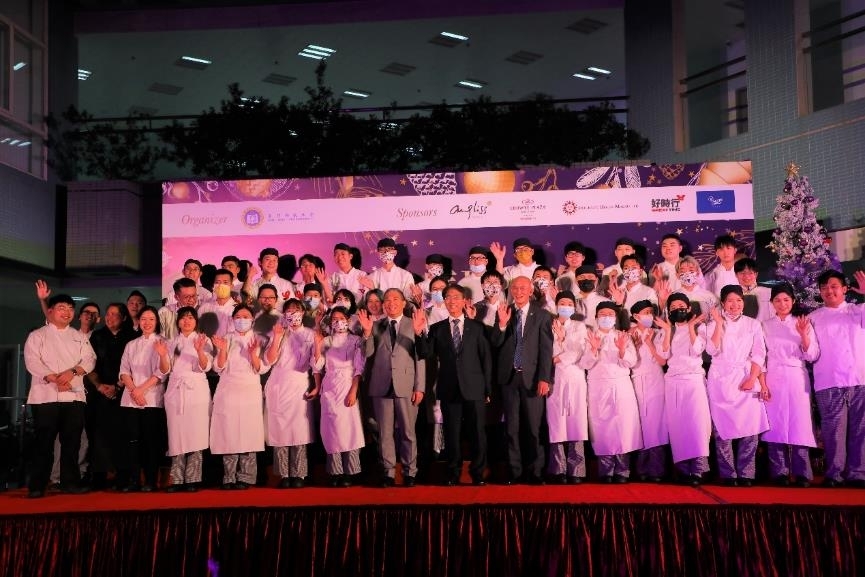 Group Photo of BFBM (Culinary Art) Students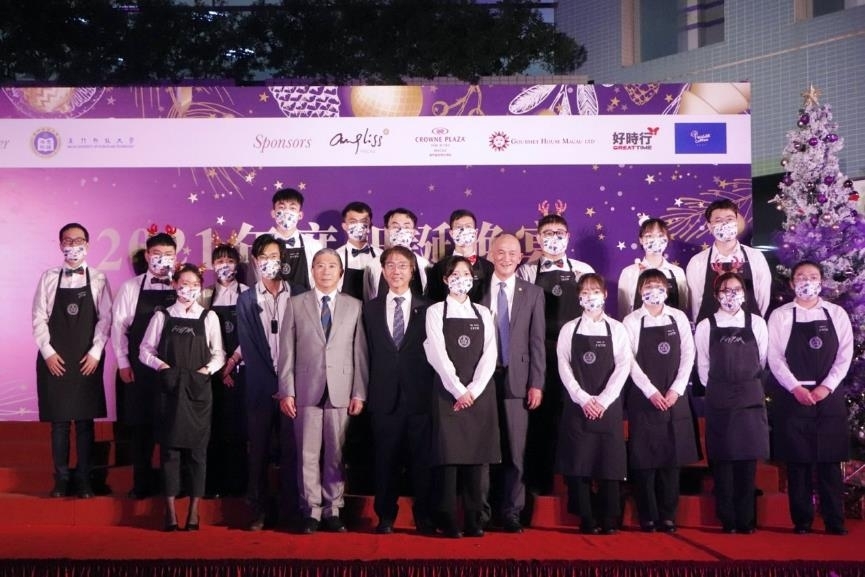 Group Photo of BFBM (Restaurant Management) Students
Guests attending this Gala Dinner included President of Macau University of Science and Technology Chair Prof. Joseph Hun-Wei Lee, Vice President Kwong Ying Wa, Dean of FHTM Ben K. Goh, and the chairman of faculty advisory committee Ms. Peck Yoke Chan, Human Resources – Recruitment at Melco Resorts & Entertainment, the members of faculty advisory committee including Ms. Betty Fung, Executive Chef of Café Bonbon, Ms. Celia Lao, CEO of AirAsia Hong Kong and Macao, Mr. Alfred Ng, Director of the Macao Services Division of Shun Tak China Travel Ship Management Limited, Mr. SP Kwan, Executive Director of Food and Beverage at Wynn Macau, Mr. Jens Busch, Vice President of HVS Executive Search, Ms. Sophia Mok, Director of Marketing Services and Public Relations at Lisboeta Macau, Mr. Vincent Ieong, Chairman of Macau Food & Beverage Industry Development Association, Mr. Lourence Ho, director of training and development of Human Resources at Sands China. In addition, Department Heads of internship institutions with long-term cooperation, Deans, Directors, Heads of administrative departments, Faculty teachers and administrative staff also joined as guests.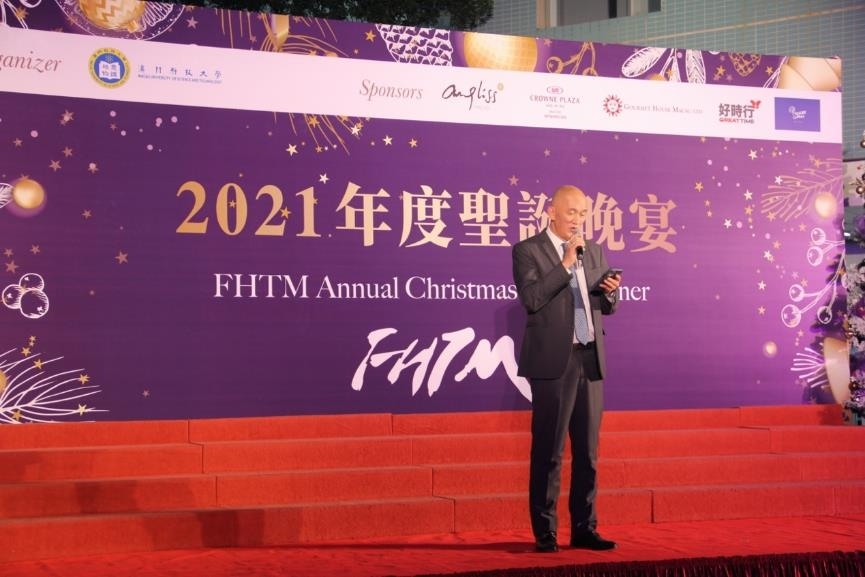 Welcome Speech by Prof. Ben K Goh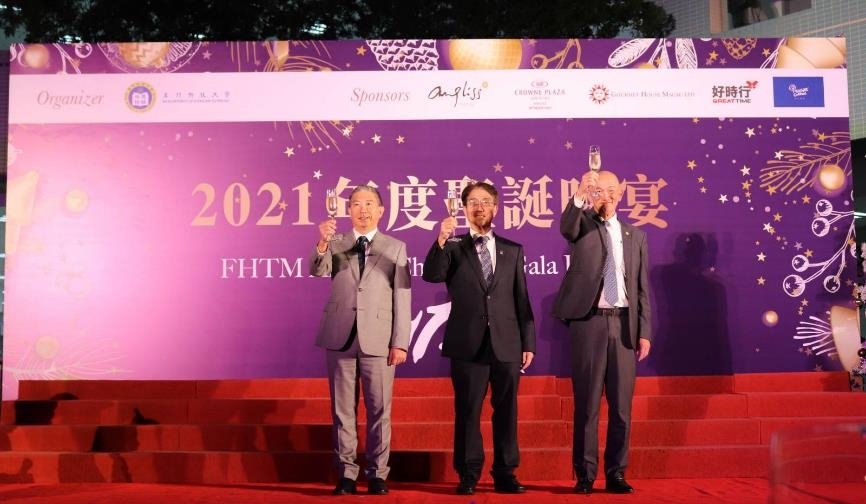 Toasting with Guests
At the opening ceremony of the Christmas Dinner, Dean Ben K. Goh delivered a speech to welcome and thank all the present guests, and the teachers and students who contributed to the preparation of the dinner. He pointed out that FHTM has made great strides and has been recognized for its focus on cutting-edge innovative education and research. At the same time, he also said that this event provided the opportunity for students from the International Tourism Management Program, Hotel Management Program, and Food and Beverage Management Program to work as a team, utilizing skills they learned from their respective programs. The faculty was proud of the students and their achievements, and hoped that the Gala provided them with the opportunity to get known by industry professionals.
On behalf of the Faculty of Hospitality and Tourism Management of Macau University of Science and Technology, Dean Ben K. Goh presented gifts to sponsor Mr. Marco Lee, Sales Manager of Angliss Macau Food Service Limited, Mr. Fred Wu, Human Resources Director of Crown Plaza Macau, Ms. Carman Ying, General Manager of Gourmet House Macau Ltd and Mr. Wong Weng Cheong, Representative of Sugar Coffee, and expressed his gratitude to the companies and individuals for their support for this event.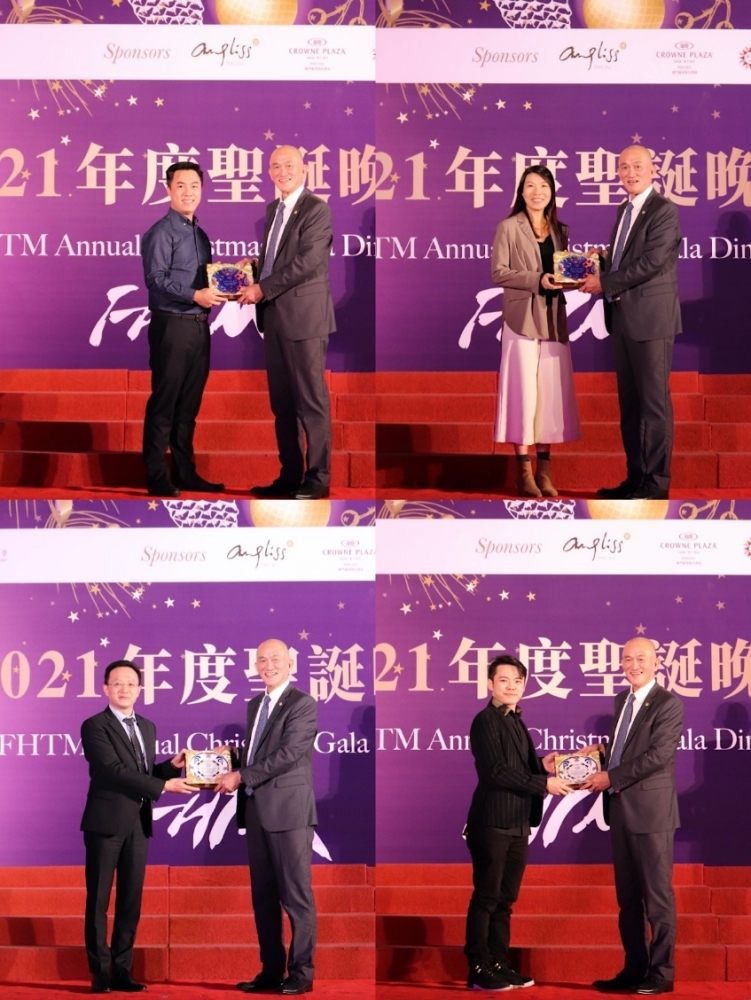 Group Photo with Sponsors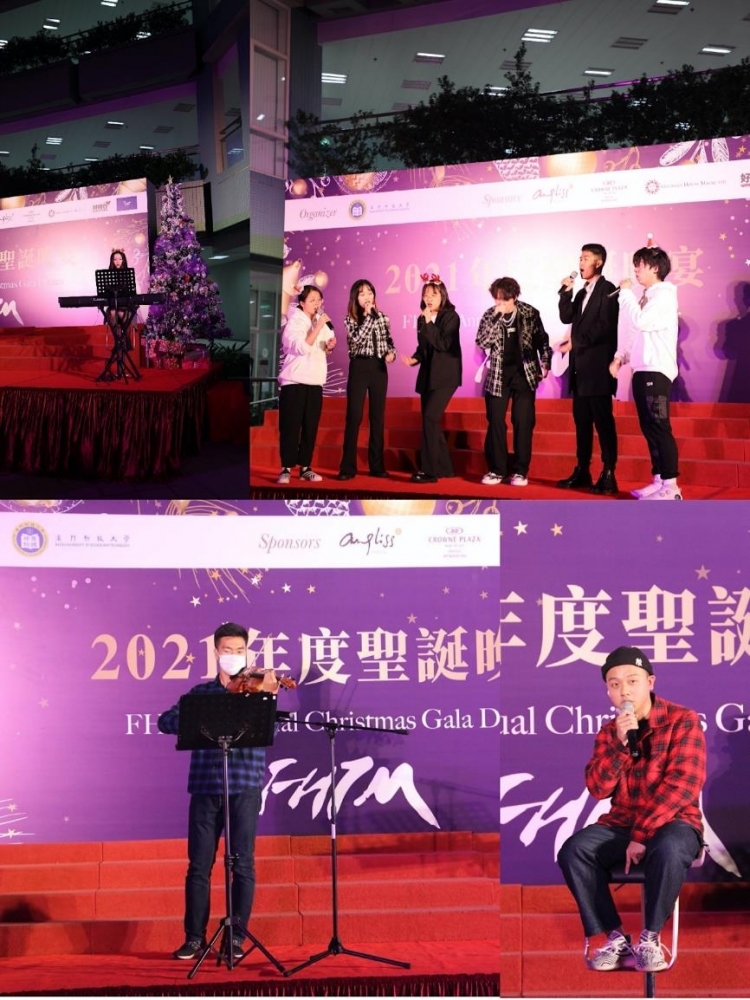 Art Troupe Performance
During the Gala Dinner, the MUST Art Troupe performed an Acapella Chorus and a Saxophone & Piano Ensemble, contributing to the festive atmosphere. Four dishes were served, including "Crab cakes, Shaved Fennel and Mesclun Salad ", "Truffled Wild Mushroom Soup", "Rib Eye Steak", and "Coconut and Passionfruit Mille Feuille".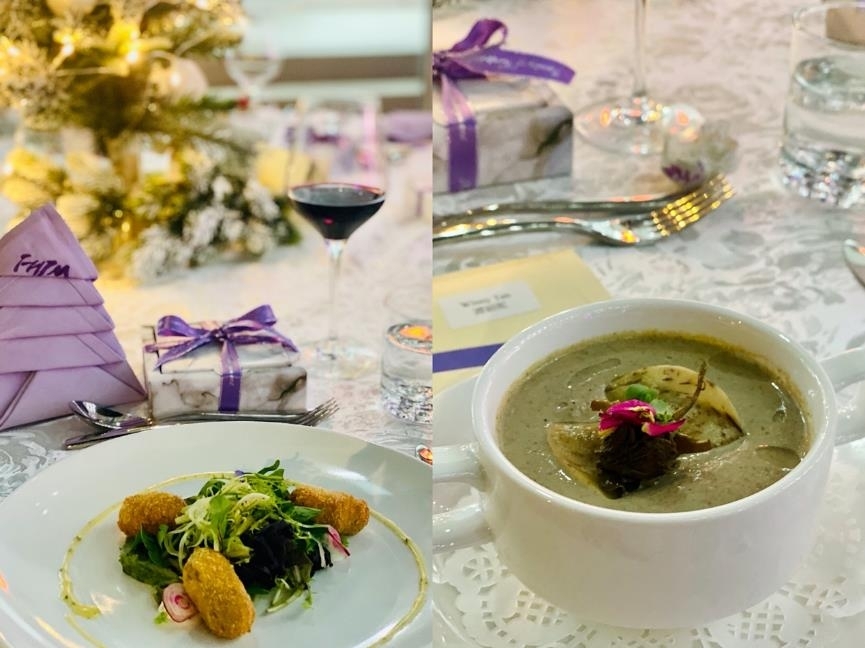 Appetizer: Crab Cake with Mesclun Salad Soup: Truffled Wild Mushroom Soup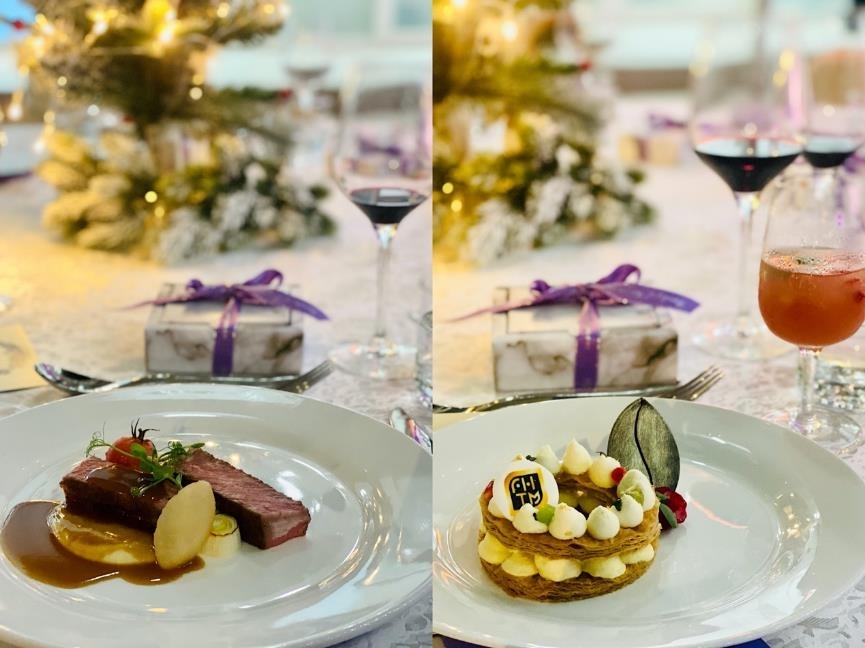 Main Course: Ribeye Steak, Galbi Sauce Dessert: Coconut & Passion Fruit & Leek Puree Mille-Feuille
The success of the dinner fully showed the spirit of teamwork and professionalism of FHTM students to the guests, and at the same time made Macao industry professionals aware of the diversity of FHTM programs. In the future, FHTM will continue to uphold the teaching mode of combining theory with practice to improve students' professional knowledge, skills, and unlock their potential, and further cultivate more excellent talents for Macao and other districts.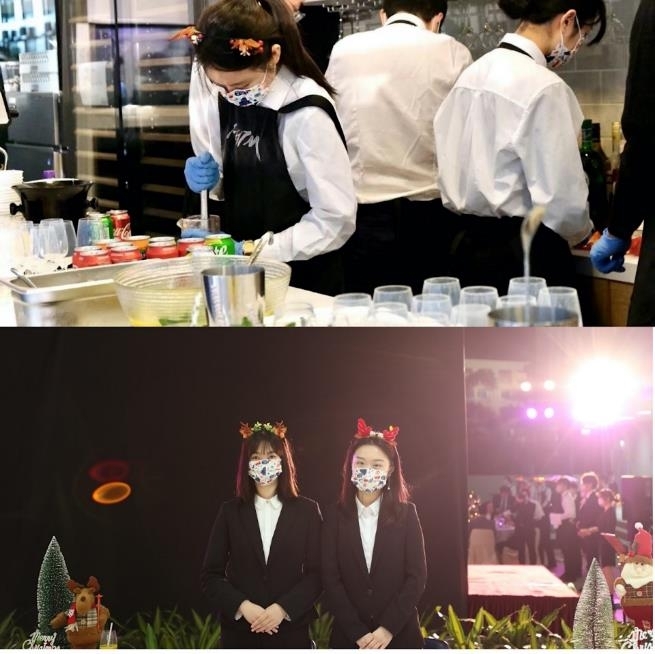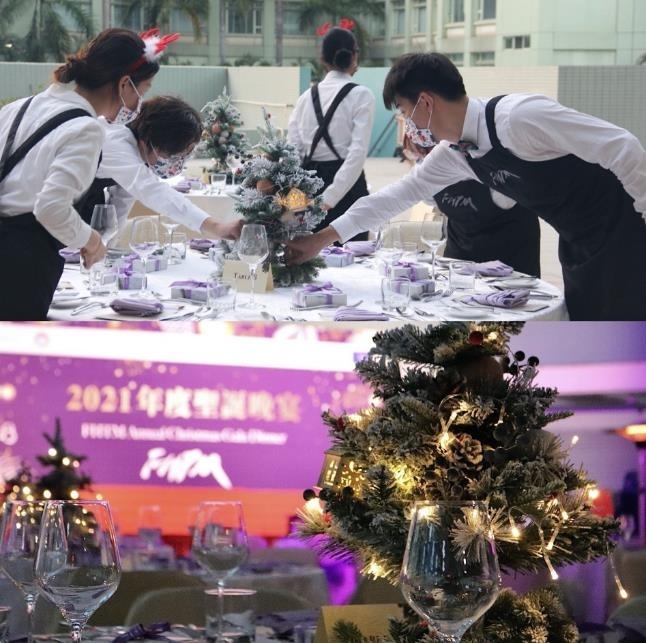 Dinner Highlights