Chair Prof. Joseph Hun-wei LEE, Vice-Chancellor and President of the Macau University of Science and Technology, visited the Universitat Autònoma de Barcelona (UAB) on June 21, 2022. The Vice-Rector for International Relations, Dr. Màrius Martínez and the Head of the International Partnership Unit of the International Relations Office, Ms. Montserrat Alegre Mena welcomed the President.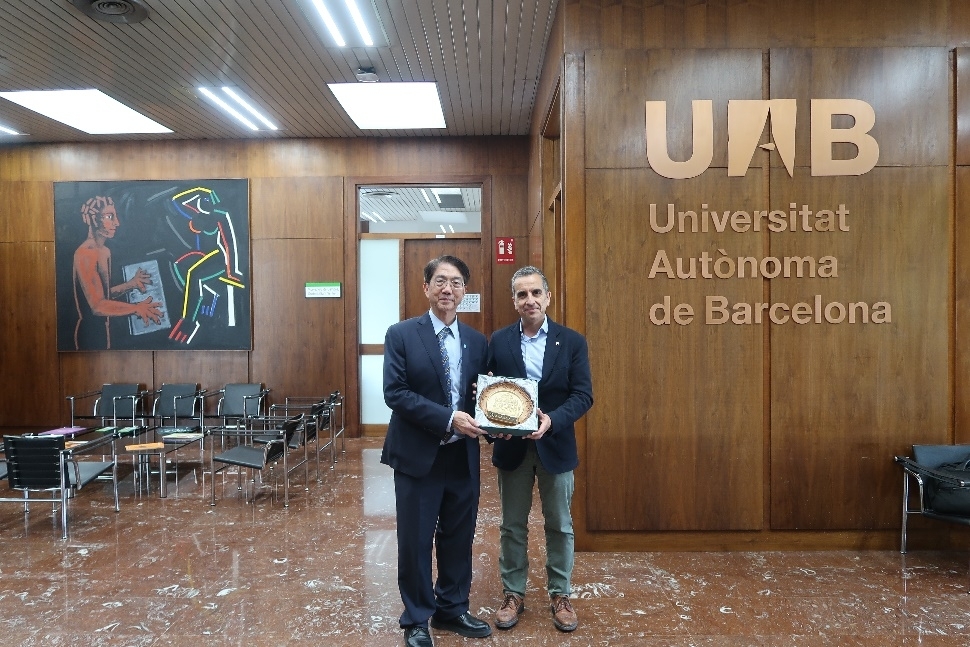 From left: President Joseph Hun-wei LEE gifting a M.U.S.T. souvenir to Dr. Màrius Martínez
Vice-Rector Dr. Màrius Martínez introduced the university and mentioned that UAB was ranked 1st in Spain according to the 2023 QS World University Rankings. 70 percent of the university campus is green and located at a distance of only 35 minutes from the Barcelona center, and with two train stations passing through the campus, it forms a university town.
President Joseph Hun-wei LEE stated that M.U.S.T. has a friendly relationship with UAB. Before the outbreak of the new epidemic, there were M.U.S.T. students going to UAB for exchange on yearly basis. He hoped that through this meeting the friendship between the universities will be continuously expanded, as well as cooperation in Environmental Sciences and Technology, Space Science Biology, and other related fields.
On the morning of June 22, 2022, President Joseph Hun-wei LEE headed to the University of Granada(UGR) where he received a warm welcome from the university Rector Pilar Aranda Ramírez, Vice-Rector of International Relations Dorothy Kelly, and Confucius Institute Director Juan José Ciruela Alférez.
After the initial introductions, both parties signed an Agreement of Mutual Cooperation that assumes the fundamental role in promoting the union of both universities in terms of cooperation, exchange, and sharing of cultural, scientific, and technical knowledge and interests; teaching and research staff; services and academic facilities; publication of studies and research findings, among other forms of cooperation. The scope of interest of this agreement concerns both universities to start an exchange program of students and staff on Chinese and Spanish language training and, further ahead, to explore new and diverse areas such as pharmacy, ecological environment, and computer science.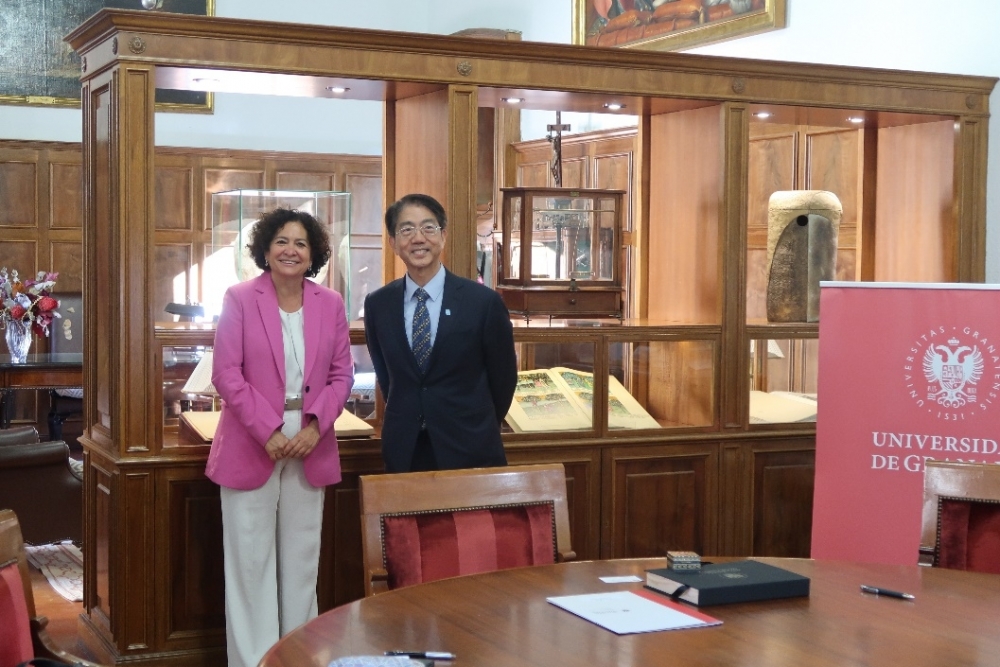 From left: University of Granada Rector Pilar Aranda Ramírez, and President of the Macau University of Science and Technology Joseph Hun-wei LEE
The University of Granada is a secular higher institution with 500 years of history and equally impressive architecture. The university ranks top 5 in Spain, has a student count of about 60 to 80 thousand, and the town economy revolves around the university. It places internationalization as one of its top priorities and views China as a strategic partner to pursue international higher education connections.
By signing this agreement both universities hope to make contributions to academic expertise, advance scientific and research findings, to ultimately tighten the cultural and scientific relations between Macao and Spain.