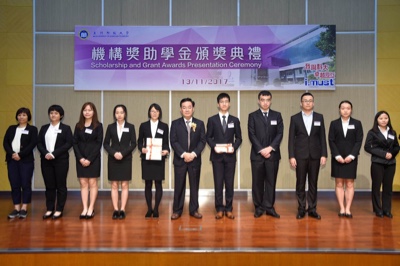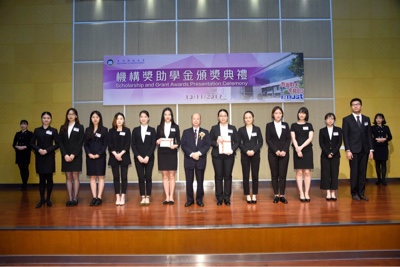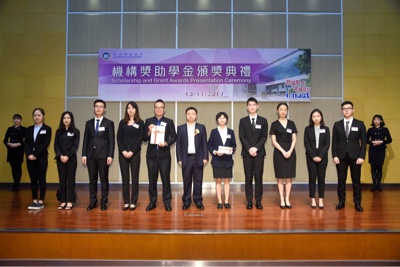 Types of Scholarships or Grants

Eligible Candidates

Requirements

Quotas

Amount per Student

Macao Foundation Scholarship for Mainland Students

1. Full-time undergraduate students in their first year of study

2. Mainland students

Recommended by MUST and approved by Macao Foundation, students having excellent academic standing in the Higher Education Entrance Examination in China.

4 students for each academic year

MOP30,000

Macao Foundation Excellent Undergraduate Scholarship

1. Full-time undergraduate students

2. Macao residents

1. Achieving the highest GPA

2. Final decision by Macao Foundation

18 students

MOP10,000

Henry Fok Foundation Scholarship

Full-time undergraduate students

1. Achieving the highest GPA

2. Final decision by Henry Fok Foundation

37 students

MOP 10,000

HSBC Scholarship

1. Full-time undergraduate students from School of Business and Faculty of Information Technology

2. Macao residents

1. Achieving the GPA 3.3 or above

2. Final decision by HSBC

6 students

MOP10,000

HSBC Grant

1. Full-time undergraduate students from School of Business and Faculty of Information Technology

2. Macao residents

1. Achieving the GPA 3.0 or above

2. Having financial needs

3. Final decision by HSBC

8 students at the most

MOP5,000-10,000

BNU Scholarship

1. Full-time undergraduate students from Faculty of Law

2. Macao residents

1. Achieving the GPA 3.0 or above

2. Final decision by BNU

5 students

MOP 20,000

CTM Scholarship

1. Full-time undergraduate students from Faculty of Information Technology

2. Macao residents

1. Achieving the GPA 3.0 or above

2. Final decision by CTM

5 students

MOP10,000

Nam Kwong (Group) Company Limited Scholarship

Full-time undergraduate students

1. Achieving the GPA 3.0 or above

2. Final decision by the Nam Kwong (Group) Company Limited

12 students

MOP5,000

Macau International Airport Company Limited Scholarship

1. Full-time undergraduate students of BBA from School of Business & BITM from Faculty of Hospitality and Tourism Management

2. Macao residents

1. Achieving the GPA 3.0 or above

2. Final decision by Macau International Airport Company Limited.

5 students

MOP 10,000

BCM Scholarship

1. Full-time undergraduate students from School of Business or Faculty of Information Technology in their third year of study

2. Macao residents

1. Achieving the GPA 3.0 or above

2. Final decision by BCM

3 students

MOP10,000

Sands China Limited Scholarship

1. Full-time undergraduate students

2. Macao residents

1. Achieving the GPA 3.0 or above

2. Final decision by Sands China Limited

10 students

MOP10,000

Sands China Limited Fellowship

1. Full-time undergraduate students

2. Macao residents

1. Achieving the GPA 2.3 or above

2. Having financial needs

3. Final decision by Sands China Limited

5 students

MOP10,000

CPA Australia Limited Scholarship

Full-time undergraduate students of BBA from School of Business majoring in Accounting in their fourth year of study and Post-graduates students

1. Achieving the highest GPA

2. Final decision by CPA Australia Limited (Hong Kong Division)

5 students

HKD1,000-3,000

obtain part of the CPA Program admission fee

Everbright Sun Hung Kai Scholarship

Full-time undergraduate students of BBA and master's degree in Accounting or Finance from School of Business

1. Achieving the GPA 3.0 or above

2. Final decision by Sun Hung Kai Financial

3 students

MOP6,000

China Telecom Scholarship

Full-time undergraduate students

1. Achieving the GPA 3.0 or above

2. Final decision by China Telecom (Macau) Company Limited.

10 students

MOP5,000

Bank of China Scholarship

Full-time undergraduate and master's degree students

1. Achieving the higher GPA

2. Final decision by Bank of China

10 students

MOP10,000

ICBC Macau Scholarship

Full-time undergraduate students (10 students)

1. Achieving the GPA 3.0 or above

2. Final decision by ICBC (Macau Branch)

15 students

MOP 10,000

1. Full-time undergraduate students of BBA from School of Business majoring in Finance or Accounting (5 students)

2. Macao residents

Inspirational Youth Scholarship

1. Full-time undergraduate students

2. Macao residents

1. Achieving the GPA 3.0 or above

2. Final decision by Inspirational Youth Association

1 student

MOP10,000

Inspirational Youth Fellowship

1. Full-time undergraduate students

2. Macao residents

1. Achieving the GPA 2.3 or above

2. Having financial needs

3. Final decision by Inspirational Youth Association

2 students

MOP 5,000

Inspirational Youth Excellence Award

Full-time undergraduate students

1. Achieving the GPA 2.5 or above

2. Achieving the best progress when comparing to the previous academic result

3. Final decision by Inspirational Youth Association

2 students

MOP5,000

China Daily Hong Kong Version Scholarship

Full-time undergraduate students (Students of BAJC from Faculty of Humanities and Arts are priority)

1. Achieving the highest GPA

2. Final decision by China Daily Hong Kong Limited

2 students

HKD10,000

AIA Foundation Scholarship

1. Full-time

undergraduate students

2. Macao residents

1. Achieving the higher GPA

2. Final decision by AIA International Limited

2 students

MOP13,000

Macau Fair and Trade Association Scholarship

Undergraduate student from Faculty of Hospitality and Tourism Management and School of Continuing Studies majoring in MICE

1. Achieving the highest GPA

2. Final decision by Macau Fair and Trade Association

1 student

MOP 10,000

Galaxy Entertainment Group Scholarship

1. Full-time undergraduate students from Faculty of Hospitality and Tourism Management

2. Macao residents

1. Achieving the GPA 3.0 or above

2. Final decision by Galaxy Entertainment Group

5 students

MOP 10,000

Galaxy Entertainment Group Fellowship

1. Full-time undergraduate students

2. Macao residents

1. Achieving the GPA 2.5 or above

2. Having financial needs

3. Final decision by Galaxy Entertainment Group

5 students

MOP 10,000

YGSoft. Scholarship

Full-time master degree and doctoral degree from Faculty of Information Technology and School of Business

1. Achieving the higher GPA

2.Final decision by YGSoft. Co.,Ltd

6 students
RMB5,000-20,000

KWCA Fellowship

1. Full-time undergraduate students

2. Macao residents

1. Achieving the GPA 2.3 or above

2. Having financial needs

3. Final decision by KWCA

10 students at the most
MOP5,000-10,000

ZhongZhu Healthcare Holding Co.,Ltd Scholarship

Full-time undergraduate students and master's degree students from School of Pharmacy and Faculty of Chinese Medicine

1. Excellent in Professional learning (GPA), research and service comprehensive performance

5 students

RMB20,000

2.Final decision by ZhongZhu Healthcare Holding Co.,Ltd

15 students

RMB10,000

Luso International Banking Limited Scholarship

Full-time undergraduate and master's degree students

1. Achieving the GPA 3.3 or above

10 students

MOP 10,000

Full-time undergraduate students of BBA from School of Business

2.Final decision by Luso International Banking Limited

10 students

MOP 10,000

Tai Fung Bank Scholarship

1. Full-time undergraduate students from School of Business and Faculty of Information Technology

2. Macao residents

1. Achieving the GPA 3.3 or above

2. Final decision by Tai Fung Bank

2 students

MOP30,000

1. Achieving the GPA 3.0 or above

2. Final decision by Tai Fung Bank

4 students

MOP 10,000

Golden Burger (Macau) Charity Association Scholarship

1. Full-time undergraduate students

2. Macao residents

1. Achieving the GPA 3.0 or above

2. Actively participate in social services

3. Final decision by Golden Burger (Macau) Charity Association

1 student

MOP 10,000

Golden Burger (Macau) Charity Association Fellowship

1. Full-time undergraduate students

2. Macao residents

1. Having financial needs

2. Actively participate in social services

3. Final decision by Golden Burger (Macau) Charity Association

1 student

MOP 10,000
*Qualification students can only apply for one of the scholarships
*According to the rules approved by the scholarship sponsors, and the academic achievement of students in each academic year, the university will select the qualified students to the sponsors for final decision, students need not apply except the BCM scholarship, AIA Foundation Scholarship, HSBC Grant, Sands China Limited Fellowship, Inspirational Youth Fellowship , Inspirational Youth Excellence Award , Galaxy Entertainment Group Fellowship and KWCA Fellowship.
*Students who have received the penalty of "severe written warning" or above will lose their entitlement to a scholarship or grant if they are enjoying such benefit.
Remarks: All the information of scholarships and grants mentioned above is subject to updates announced by the University.