The 2017 English Festival, organized by the English Language Center of Shantou University, was held from 1st to 3rd of December, 2017. The English Festival aims to promote English as a language medium of international communication and facilitate exchanges among teachers and students in the Asia-Pacific region. This has been the 15th year that the English Festival was held, where Shantou University would invite teachers and students from renowned universities to participate in a series of competitions made available by the festival.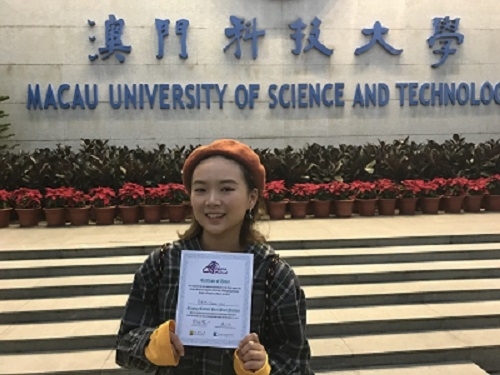 Award-winning student, Wu Yi Ye
This year, Assistant Professor Lei Kai Cheong, Coordinator of the English program of the Department of General Education, M.U.S.T., was invited to take students from M.U.S.T. to participate in the event; also invited to participate in the event were Hong Kong University of Science and Technology (Hong Kong), Chinese Culture University (Taiwan), Beijing Foreign Studies University (Beijing), and Kanda University of International Studies (Japan).
The English Singing Contest is one of the series activities launched by the English Festival, and altogether nine finalists, mainly top award-winning contestants of the internal English singing contests of the participating universities, entered the semi-final. Representing M.U.S.T. was Wu Yi Ye, a junior student studying at the Faculty of Hospitality and Tourism Management, who was also the champion of the M.U.S.T. English Singing Contest in 2016. After a round of fierce competition approximating professional standards, Wu Yi Ye entered the final round successfully, making her one of the top 5 finalists; eventually, with her perfect singing techniques, standard English pronunciation, and passionate and devoting stage presence, she stood out among the finalists and won the champion at the contest final.
As a non-English major, Wu Yi Ye was able to express her thoughts and perform in English, which showed the great potentials of students of Macau University of Science and Technology. What's more, the wonderful news also demonstrated the great quality and achievements of M.U.S.T. education.