The latest global scientists ranking has been released by the Global Scholars Database on 31st August, with Chair Professor Zhang Kang from the Macau University of Science and Technology (MUST) Faculty of Medicine ranked 51st in biology and 62nd in clinical medicine in China. Chair Professor Zhang is also ranked top in the ophthalmology field.
The ranking is based on publication quality evaluation using advanced artificial intelligence based scoring of scholars across all disciplines to generate the top 100,000 scientists. Scoring is based on journal metrics, citation frequency, publication type, authorship ranking and other indicators. Accumulated scores are used to analyze and highlight the representative publication and innovative achievements of each scholar using mathematical algorithms.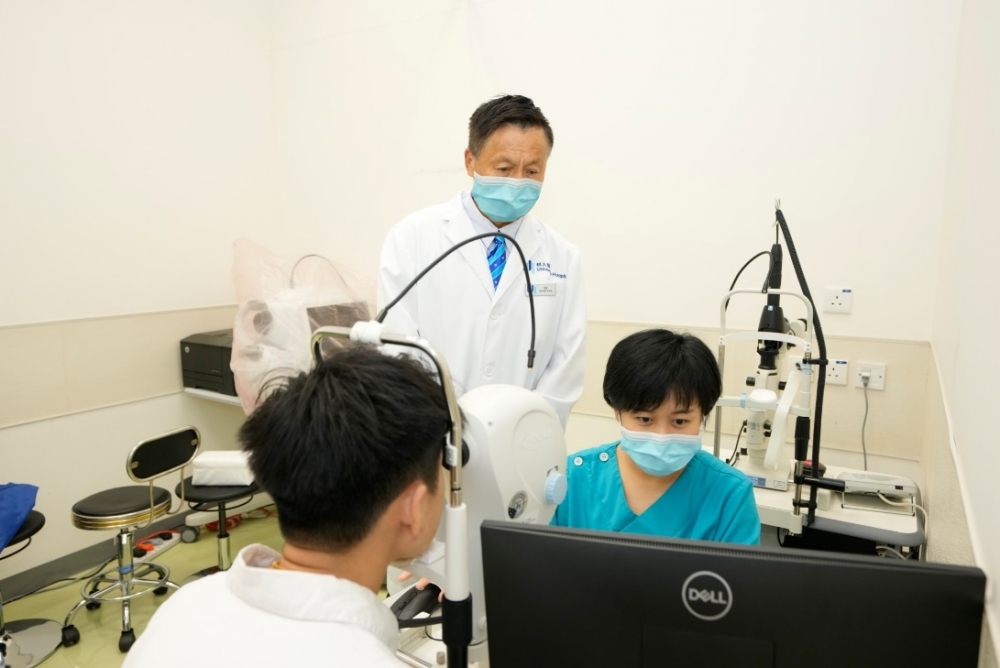 Chair Professor Zhang Kang (middle) performing eye examination on a patient
Chair Professor Zhang Kang is the vice dean of the Faculty of Medicine of MUST and a consultant ophthalmologist at the University Hospital. He has over 31 years of clinical ophthalmology experience, specializing in clinical diagnosis and treatment of common and complex eye diseases, such as macular degeneration, diabetic retinopathy and other hereditary eye diseases. In particular, Chair Professor Zhang has accumulated substantial expertise in the diagnosis and treatment of fundus diseases, and does cutting-edge research in the treatment of eye diseases, using stem cells and gene therapy.
Chair Professor Zhang Kang has an MD from Harvard University and Massachusetts Institute of Technology, and a PhD in Genetics from Harvard University. He is the first Chinese ophthalmology resident at Johns Hopkins University Wilma Eye Center. His research expertise spans areas of medical artificial intelligence, ophthalmology, stem cells, biomaterials and 3D printing, genetics and precision medicine. He has won numerous international accolades such as the Burroughs Wellcome Foundation Clinical Scientist Translational Research Award, Peking University Changjiang Scholar, Best Ophthalmologist in the United States (2010), the world's top 100 most influential ophthalmologists (2016 and 2018), and Interdisciplinary highly cited scholar (2019, 2020 and 2021).
Chair Professor Zhang Kang has published nearly 300 articles in top internationally journals such as New England Journal of Medicine, Nature, Science, Cell, Nature Genetics, Nature Medicine, Cell Stem Cell, Molecular Cell, Proceedings of the National Academy of Sciences, and Journal of Clinical Investigation, with over 55,000 citations and an H-index of 82. Among some of the major discoveries, Chair Professor Zhang has identified the HTRA1 gene to play a major role in age-related macular degeneration, which was listed as "one of the top ten breakthroughs in 2006" by Science magazine. His team also successfully differentiated skin stem cells into limbal stem cells for the first time and repaired corneal function, highlighting a novel method in the treatment of corneal diseases (Nature, 2004). He also discovered the role which sterols play in cataracts, opening a new avenue for drug treatment (Nature, 2015). In 2018, he published "Identifying Medical Diagnoses and Treatable Diseases by Image-Based Deep Learning" as a cover paper on Cell, and was rated as the best paper in Cell for that year. Chair Professor Kang Zhang also serves as the co-editor-in-chief of Signal Transduction and Targeted Therapy, Precision Clinical Medicine, and MedComm - Future Medicine.
Link to Global Scholars Database ranking: http://www.globalauthorid.com/WebPortal/EliteRank