The Faculty of Hospitality and Tourism Management (FHTM) of Macau University of Science and Technology and SJM Resorts, S.A. ("SJM") co-organized a Culinary Demonstration Workshop by Chef Andy Lam on November 25th, 2022. Andy Lam, the Executive Chef from Western Kitchen of Grand Lisboa Hotel of SJM, was invited to demonstrate Western cuisine cooking techniques in an event that attracted over 50 FHTM undergraduate students and postgraduate students.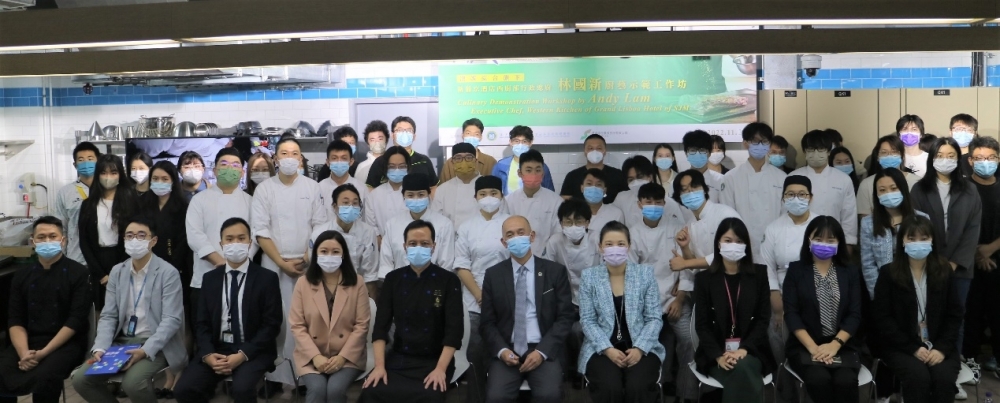 Group Photo
The guests, including Ms. Joey Cheong, Assistant Director of Compensation & Benefits of SJM; Ms. Athena Lo, Senior Manager of Corporate Affairs of SJM, and Mr. Mark Tam, Executive of Corporate Affairs of SJM, were warmly welcomed by Prof. Ben K. Goh, Dean of FHTM, Dr. Brenda Yang, Program Director of FHTM, Dr. Yang Kaihan, and Dr. Gou Rui.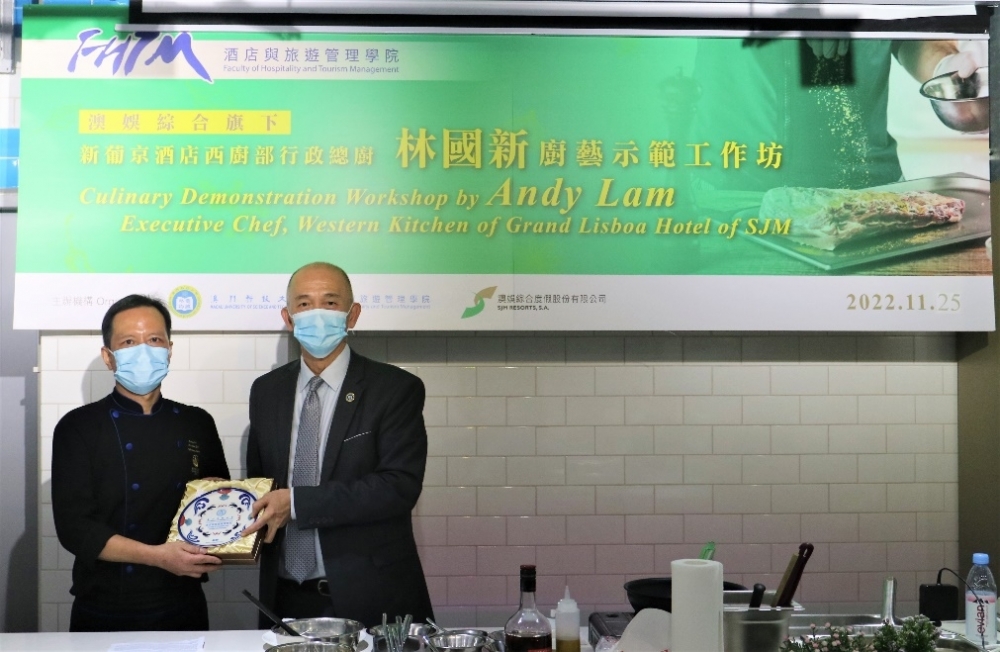 Prof. Ben K. Goh Presented a Souvenir to Chef Andy Lam
Prof. Ben K. Goh gave a warm welcome speech to the guests and said M.U.S.T. has kept enriching the students' learning and experiences and enhancing their professional skills through offering or holding all kinds of courses, master lectures, and culinary workshops. The University expects that through these events students may have the opportunities to learn from top chefs.
Chef Andy Lam Shared His Experiences With Students
Andy Lam is currently the Executive Chef of the Western Kitchen of the Grand Lisboa Hotel. He is responsible for overseeing the daily food preparations and kitchen operations of the 'Round-the-Clock Coffee Shop', the 'Crystal Lounge', in-room dining, the Western Banquet kitchen, and the centralized kitchen. Andy began his culinary career in 1984 in Hong Kong, working his way up from a pantry cook to a Sous-chef. In 1993, he was invited to join Hotel Lisboa. Andy continued to further develop and perfect his culinary skills while working at Hotel Lisboa and was assigned to oversee and monitor the Western kitchens of both Hotel Lisboa and Grand Lisboa in 2004. He also played an instrumental role in helping to open the kitchens at Grand Lisboa Hotel. During his three-decade culinary career, Andy has won numerous prizes and medals for his extraordinary culinary skills such as the bronze prize in Singapore FHA International Salon Culinary Competition. He was invited to Hilton Hotel in Taipei as a guest chef several times, representing Macao in promoting Macanese food.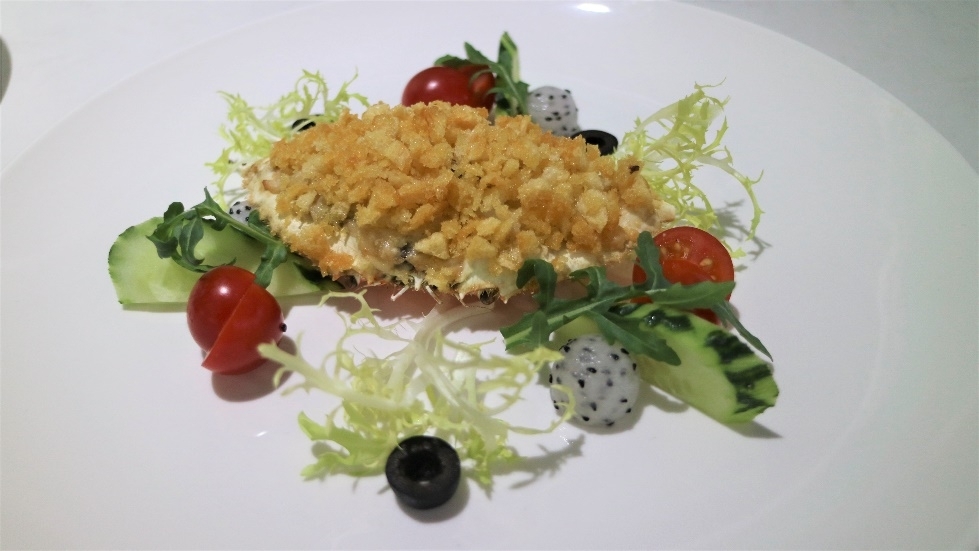 Signature Dish: Baked Crab Shell in Cream Sauce
During the sharing session, Chef Andy Lam demonstrated his signature dish Baked Crab Shell in Cream Sauce. The Culinary Demonstration Workshop enriched the students' knowledge and experiences and enhanced their professional skills in Western cuisine, which would certainly be a great treasure for their future careers.