To celebrate the 23rd anniversary of Macau University of Science and Technology (M.U.S.T.), the Faculty of Hospitality and Tourism Management (FHTM) and MGM MACAU co-organized a Culinary Demonstration Workshop by Chef Ricardo De Oliveira on March 17th, 2023. Ricardo De Oliveira, Chef de Cuisine of the Rossio restaurant at MGM MACAU, was invited to demonstrate Portuguese cuisine cooking techniques in an event that attracted over how many? FHTM undergraduate students and postgraduate students.

Group Photo
The guests including the Director of Culinary of MGM, Adam Mathis, Executive Sous Chef of MGM, Mario Fernandes Gil, and Senior Corporate Relations Manager of MGM, Karen Lam were warmly welcomed by Prof. Ben K. Goh, Dean of FHTM, Prof. Zhangyang and Dr. Brenda Yang, Program Directors of FHTM, and Prof. Zhao Jinlin, Visiting Professor at MUST.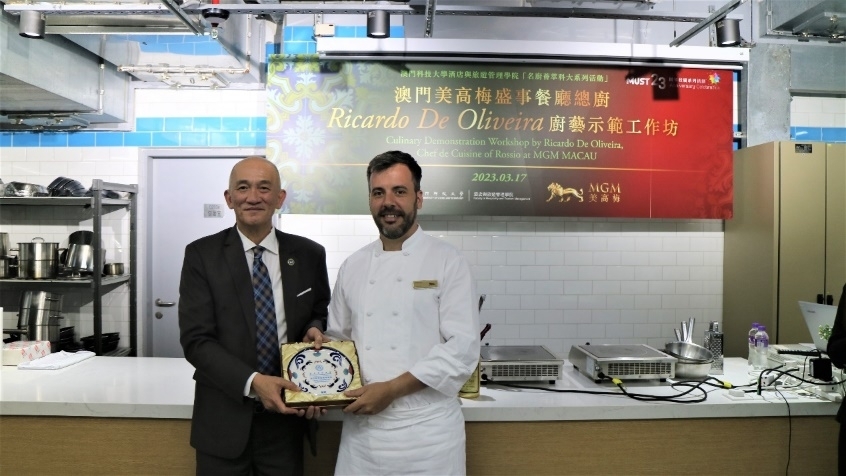 Prof, Ben K. Goh Presented a Souvenir to Chef Ricardo De Oliveira
Prof. Ben K. Goh gave a warm welcome speech to the guests and said that over the past two decades, M.U.S.T. has made great strides and has been recognized for its focus on cutting-edge, innovative education, and research. FHTM continuously engaged all the stakeholders to further contribute to Macao's social and economic development. With the aim of promoting tourism and hospitality in Macao, FHTM devotes to talent development and cultivation in the hospitality industry through cooperation with industry partners and academic institutions. FHTM has kept enriching the student's learning and experiences and enhancing their professional skills through offering or holding all kinds of courses, master lectures, and culinary workshops. The University expects that through these events students may have the opportunities to learn from top chefs.
Chef Ricardo De Oliveira Shared his Experiences with Students
Chef Ricardo De Oliveira is originally from Portugal. He joined MGM in 2021 and tenured Rossio with a wealth of experience accumulated in the past 28 years. Growing up in France, Chef Ricardo was influenced by the long history of French cuisine culture. At the age of 14, he started to pursue his career as a professional chef by enrolling in culinary schools in France. With a bachelor's degree in Kitchen and Management at Lycée François Rabelais, Chef Ricardo honed his skills in London, Paris, and his hometown Portugal for an extensive experience in kitchen operations. His passion for culinary arts also led him to an appearance on CCTV (Channel 2) in 2023, under the program "Macau Parallel Lines", a gastronomy and cultural docuseries featuring Macao, which was jointly launched by the Macao SAR Government and the China Central Television Boarding Company. Chef Ricardo showcased his Portuguese and Macanese dishes with intertwining traditional and innovative approaches to tell the story of Macao's unique gastronomic characteristics.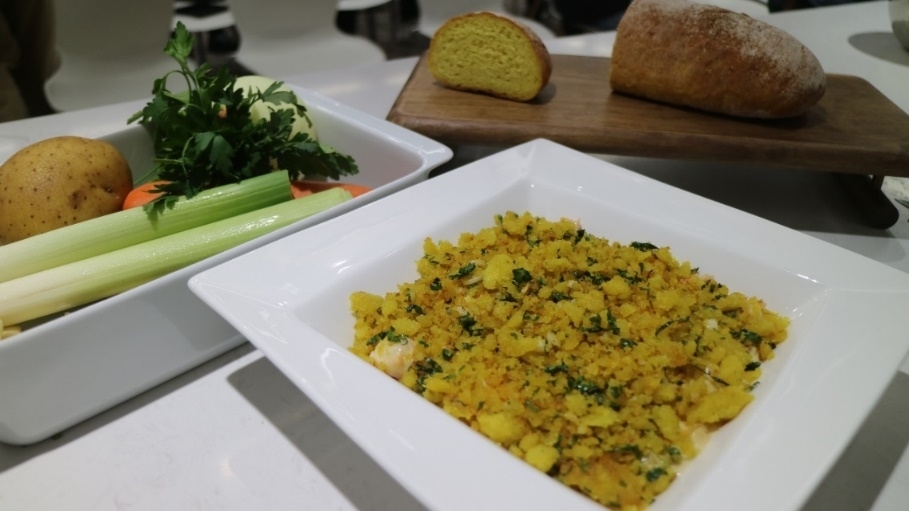 Signature Dish: Cod Gratin
During the sharing session, Chef Ricardo De Oliveira demonstrated his signature dish, Cod Gratin. The Culinary Demonstration Workshop enriched the students' knowledge and experiences and enhanced their professional skills in Portuguese cuisine, which would certainly be a great treasure in their future careers.