In order to enhance the environmental awareness and the understanding of current environmental policies in Macau, Social Service Team, which was managed by the student affairs office of MUST, visited Centro Ambiental Alegria de Seac Pai Van in the afternoon of 6th March. Lead by mentor Ms. Hao Chi Wan and vice caption Wang Zhuohui, the group of 15 people enjoyed this environmental journey so much.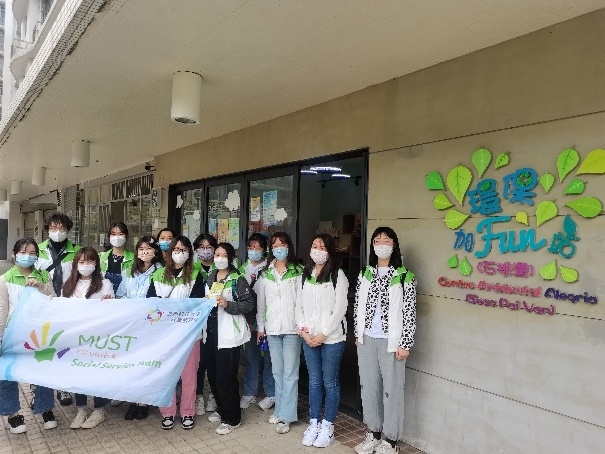 Members of SST posed for pictures
During the visit, the staff of the Direcção dos Serviços de Protecção Ambierital first taught the knowledge of recovery through slides. Afterwards, under the guidance of the staff, team members experienced operating the recycling machine on their own. Finally, the staff patiently answered all the questions from our team members. Through the whole event, team members had a clear picture of specific classification of recyclables and how to operate the recycling machine via pictures and practices. Some members even applied for Pontos "verdes" membership cards and put ideas of classifying and recycling into practice. Through this activity, team members not only learned the environmental protection practices, but also indeed enhanced their awareness of environmental protection.
Huang Sifan, who participated in this activity, expressed that she benefited a lot from the staff's detailed explanation about the methods and basic rules of recycling waste. Though the Centro Ambiental Alegria is small, it is complete with all the essential organs, including various recycling bins, machines and waste transformation crafts. She hope there will be more environmental activities like Pontos "Verdes" can be promoted and publicize on campus so as to implement environmental protections in our life. Team member Chen Danni said that during this activity, she learned different kinds of plastic bottles, and learned how to use plastic recycling machine. Moreover, she knew that a large number of express boxes can also be collected and sent to the nearby station for unified recycling. In the future, she will participate in more environmental protection activities.
To promote "Source Reduction" strategy, Direcção dos Serviços de Protecção Ambierital utilises the start of classifying garbage recovery as the official beginning of Centro Ambiental Alegria and set up certain stations in different community. These stations regularly collect three main items, including plastic bottles, aluminium cans/tin cans and paper. As long as you provides certain amounts of recycling objects, you will obtain scores to get rewards.
Members of SST learned recycling knowledge taught by the staff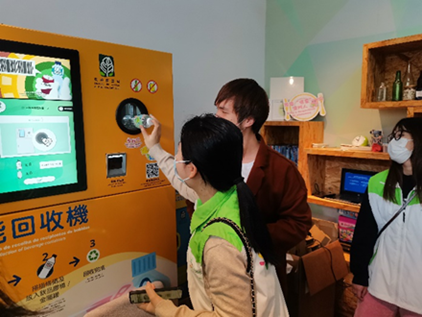 Members of SST use the plastic bottle recycling machine under the guidance of the staff