Macau University of Science and Technology held an Award-Presentation Ceremony for the 7th "University Motto Cup" Reading and Composition Competition and a Great Master Lecture at N101 on March 23, 2018. The event was organized by the Department of General Education, co-organized by the University International College and the Faculty of Humanities and Arts and sponsored by the Macao Foundation. Guests who attended the ceremony and lecture include Prof. Zhang Bo Wei of the School of Liberal Arts, Nanjing University, Prof, Lin Zhi Jun, Vice President of M.U.S.T., Prof. Xu Ao Ao, Advisor to Chancellor of M.U.S.T., Prof. Chen Xi, Advisor to President of M.U.S.T., Prof. Dai Long Ji, Librarian of the M.U.S.T. Library, Prof. Sun Jian Rong, Dean of University International College, Ms. Chu Oi Mei, Vice Dean of the Faculty of Hospitality and Tourism Management, Ms. Yang Qing Fan, Course Coordinator of Chinese subjects, Department of General Education, Chinese teachers of the University International College, and a great many award-winning students.
Vice President Lin Zhi Jun addressed the Ceremony. He looked back on the history of the "University Motto Cup" Reading and Composition Competition, affirmed the significance of humanistic education and liberal arts studies, and gave thanks to Prof. Zhang Bo Wei for bringing such a treat of cultural and philosophical ideas to M.U.S.T. students. Afterwards, the guests presented awards to winners of the 7th "University Motto Cup" Reading and Composition Competition, and took photos with the winners.
Following the award-presentation Ceremony, guest speaker Prof. Zhang Bo Wei gave a lecture titled "Chinese Culture and East-Asian Civilization". Prof. Zhang briefly outlined the composition of East-Asian civilization, systematically approached the connection of Chinese culture and East-Asian civilization in terms of Chinese characters, Confucianism, Buddhism, and literature, and identified the theoretical construction, schools and directions of traditional Chinese culture under the impact of western cultures in the past hundred years. Prof. Zhang pointed out that there was a time before the contemporary time, when Chinese characters were regarded as the noblest representative of the writing system of East Asia. Starting from the Han Dynasty, Confucianism has been distorted by politics and authorities, the consequence of which was "to get educated" has come to mean only "to pass the Keju examinations (equivalent of modern-day civil servant examinations)"; this has trained somewhat competitive individuals, who are either self-interest or egocentric. Chinese Buddhist archives encompass various aspects of culture; studies of ancient Chinese culture must seek new materials, new problems and new methodologies. At the end, Prof. Zhang took the audience to interpret and appreciate an old saying, "Ancient scholars worked for the self; contemporary scholars work for the people", encouraging students to appreciate classics, advance their studies step by step, shape their characters, improve their qualities, and learn to conduct their life and studies with a sincere heart.
This has been the 7th year for M.U.S.T. to hold the "University Motto Cup" Reading and Composition Competition, which has become important part of the series of anniversary celebration activities of the University; the organizers wish to continue to further this meaningful event, inspire the university students to get into the habit of reading books and enjoy reading books, and nurture a good atmosphere for learning at the University.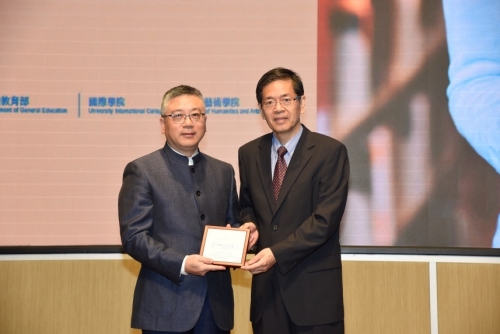 Vice President Lin Zhi Jun presented a souvenir to Prof. Zhang Bo Wei.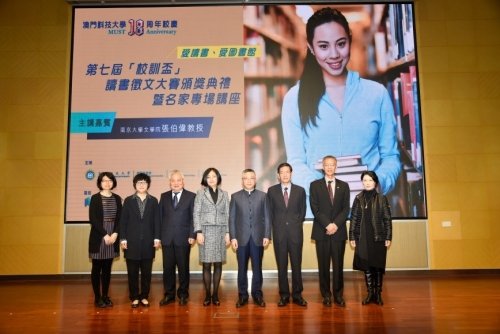 Attending guests took photos.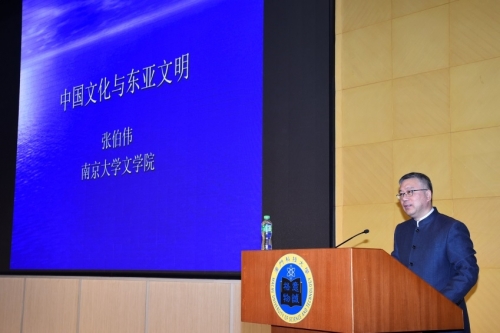 Prof. Zhang Bo Wei lectured on "Chinese Culture and East-Asian Civilization"