Student Affairs Office is striving toward for Care, Educate and Supervise students.
The Central Role of Student Affairs Office:
To assist for building up a harmonious and innovative campus culture spirit.
To provide rich and colorful student activities and helping students develop comprehensively to experience campus life.
To provide safe and harmonious students residential life experience.
To provide happy and healthy growing environment, supporting and helping student have a sense of physical and spiritual well-being.
The Goals for Student Affairs Office
To provide the very best out of class campus life experience for our students, to foster the whole-person development around student, to accomplish the social-campus supporting network, and to enhance the students' learning outcome with the university.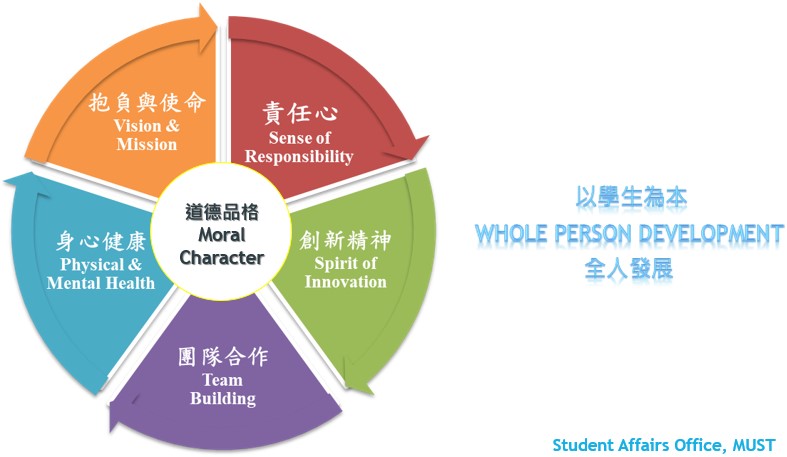 The Daily Function of Student Affairs Office:
To offer pastoral care, support and guidance to students
Student Activities Management
To promote well-coordinated development for Student Associations
Student Psychological Counseling Services
Student Dormitory Operation Management
Student Visa and Student's Group Medical Insurance
Student Scholarship and Award Scheme
Student case-handling and disciplinary affairs
Mentorship Program collaboration
Formulation for Rules and Regulations of Student Affairs
Organization Chart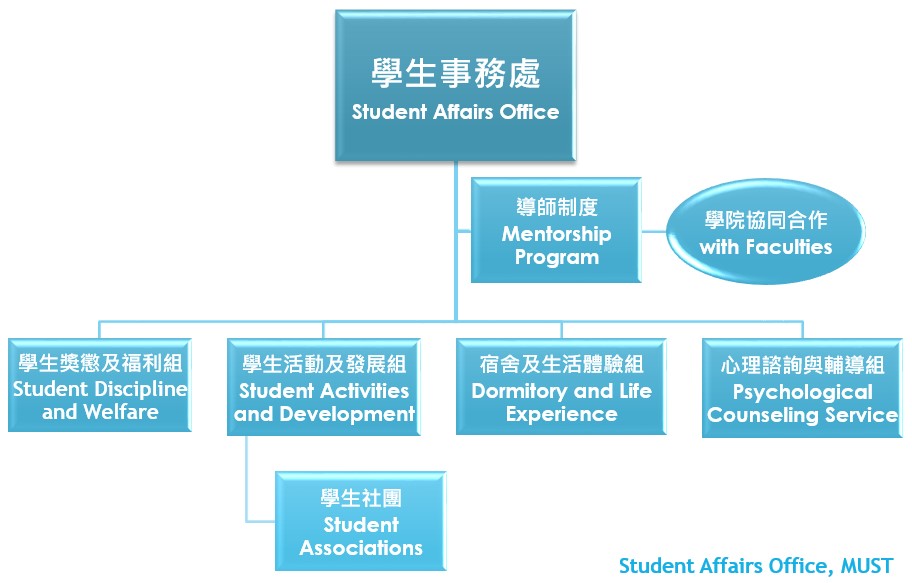 Contact Us
Student Affairs Office
Location: Block J, Gymnasium, MUST, Avenida Wai Long, Taipa, Macau
Tel: (+853) 8897 2277
E-mail: [email protected]
Student Activities
Location: Room J102, Gymnasium, Block J
E-mail: [email protected]
Tel: (+853) 8897 1905 / 8897 1906 / 8897 1909
Service Hours: Monday to Friday 9:00am – 1:00pm, 2:30pm – 6:20pm
(Closed on public holidays)
Student Dormitory
Location: Room J108, Gymnasium, Block J
E-mail: [email protected]
Tel: (+853) 8897 1772
Service Hours: Monday to Friday 9:00am – 1:00pm, 2:30pm – 6:20pm
(Closed on public holidays)
Student Visa and Group Insurance
Location: Student Service Center, Room R102, Block R
E-mail: [email protected]
Tel: (+853) 8897 2277
Service Hours: Monday to Friday 9:00am – 1:00pm, 2:30pm – 6:20pm
(Closed on public holidays)
Counseling Services
Location: Room J114, Gymnasium, Block J
E-mail: [email protected]
Tel: (+853) 8897 1922
Service Hours: Monday to Friday 9:00am – 1:00pm, 2:30pm – 6:20pm
(Closed on public holidays)
* Service hours are subject to changes as the University deems necessary and announcement will be made accordingly before new service hours coming into effect